Fearing water contamination and pollution, over ten thousand people in Cajamarca, Peru are taking part in protests against mining plans by US-company Newmont Mining Corporation. In its sixth day, the growing protests have caused flights in and out of Cajamarca to be cancelled. According to Reuters, police also clashed with protestors today, injuring two dozen.



Newmont plans a $4.8 billion gold and copper mine in the region, which protestors say will destroy vital water resources. In response, Newmont says it will build reservoirs to replace destroyed lakes. As a part of the protests last week, rural people traveled to four mountain lakes that would be moved for the open-cast goldmine, reports the BBC.



To date, Peru's new president, Ollanta Humala, has supported mining plans, calling the Conga mine, as it is known, "an important project for Peru." Humala was voted into office promising better lives for Peru's poor, and mitigating conflict over natural resources. He has tried to reassure protestors that good water sources will be available, stating, "You can't drink gold."



Two officials in Humala's administration have left over the mining issue. Carlos Tapia, a special advisor to Humala, was removed for supporting the protestors, and Jose de Echave, deputy minister for environmental management, resigned yesterday over the issue.



To date, Humala has not visited the area as protestors have requested.
Related articles



Brazilian dam-builder quits Peru project after indigenous protest

(11/23/2011) A large Brazilian construction company has pulled out of a Peruvian dam project citing opposition from indigenous communities, reports International Rivers.
Peruvian authorities raid illegal gold mining operations

(11/07/2011) Peru's Defense Ministry destroyed at least 75 illegal dredges and seized 15 vehicles from gold miners operating illegally in one of the most biodiverse parts of the Amazon rainforest.
Peru's real test is a 200km pipeline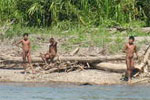 (10/27/2011) One of Ollanta Humala's most striking achievements since becoming Peru's president three months ago is new legislation guaranteeing indigenous people the right to be consulted about and in agreement with any project that affects them. Leading indigenous organization AIDESEP, usually so critical of the government, cautiously welcomed the move, while Survival International called it 'a significant step away from the policies of former Peruvian president Alan Garcia, who vetoed a similar bill.'