Asia Pulp & Paper (APP) misled the public when the paper products giant claimed a paper testing company had found its fiber clear of rainforest fiber, says Greenpeace.



Last week Asia Pulp & Paper issued a press release claiming that Greenpeace New Zealand's campaign against Cottonsoft, a New Zealand toilet paper brand, had "no scientific basis". As evidence APP cited a letter from Integrated Paper Services (IPS), a paper services firm that tested Cottonsoft fiber for Greenpeace, which APP claimed cleared it of any link to deforestation.



"Greenpeace based its misguided and misleading campaign against Cottonsoft on a single premise: it had commissioned tests which proved that APP products contained fibre from what Greenpeace called 'trashed Indonesian rainforest,'" said Cottonsoft's corporate affairs director Steve Nicholson in the press release. "The company Greenpeace employed to carry out the tests, Integrated Paper Services, has since stated categorically in a letter that there is no scientific basis for this claim."




The 1.3 million hectare Kerumutan Peat Swamp Forest.




Click image to view map.
But Greenpeace has now produced a second set of results from another firm confirming what IPS's testing found: presence of rainforest fiber in Cottonsoft products. Furthermore both Greenpeace and IPS dispute APP's characterization of the letter, which APP has refused to release despite multiple requests from mongabay.com.



Greenpeace also said that its campaign is based on more than fiber testing.



"Greenpeace has always made clear that the laboratory provided only analysis of the toilet papers for rainforest and other fibres," said Greenpeace New Zealand in a statement. "The additional evidence confirming the source of the rainforest fibre as being from Indonesia was provided by Greenpeace research on the ground, and a search of company records."



The evidence included APP's own 2008/2009 corporate social responsibility (CSR) report, which the paper giant seems to have since removed from its web site.



"APP admits to using fibre that comes from Indonesia's rainforests in its pulp mills, as confirmed by its most recent CSR report," said Greenpeace New Zealand. "It terms this fibre 'mixed wood residues.'"



"APP has also announced that it will need to remain dependent on the clearance of Indonesia's rainforests until the end of 2015. APP's business development strategy is based on the ongoing expansion of its suppliers into rainforest areas."



Greenpeace New Zealand added that APP/Cottonsoft has failed to produce test results backing their claim that their toilet paper is sourced from sustainable plantations.



"Once again APP/Cottonsoft has been caught red-handed," said Greenpeace NZ Executive Director Bunny McDiarmid in the statement. "No amount of PR sleight of hand changes the facts – which are that APP/Cottonsoft's supply chain is contaminated with rainforest fibre."



The accusations comes just days after it was revealed that another APP press release also contained unsupported statements. That release, which was distributed at the beginning of November, used the same IPS letter to make the same claims about testing of packaging material used by U.S. toy manufacturers. In the statement, Aida Greenbury, APP Managing Director, used very similar language to Cottonsoft's Nicholson.
"Greenpeace based its entire global campaign against APP on a single premise: it had commissioned tests which proved that APP products contained Indonesian rainforest fibre. The company Greenpeace asked to carry out the tests has admitted this claim cannot be justified," said in a statement.
Greenpeace also shot holes through that press release.



"Firstly, IPS was asked to test the virgin fibre component of the packaging products, a fact that was ignored. Secondly, IPS testing procedures do identify recycled fibre content if present, a fact that was also ignored. Finally APP appears to imply that IPS gave them specific information about testing for recycled fibre content, something that IPS has confirmed is not the case."



Greenpeace and several other prominent environmental groups, including the Rainforest Action Network, the Rainforest Alliance, and WWF, say that APP continues to drive destruction of important rainforest habitat for endangered wildlife in Sumatra. APP has previously pledged to phase out conversion of natural forests for acacia and eucalyptus but has continually missed its targets for doing so. Nonetheless, in recent marketing campaigns APP has portrayed itself as a leader on environmental issues.



Related articles



Report questions legitimacy of Asia Pulp & Paper's conservation initiatives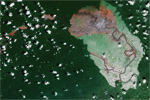 (11/22/2011) A new report by an Indonesian environmental group casts doubt on Asia Pulp & Paper's commitment to sustainability. In its corporate social responsibility reports and advertisements, Asia Pulp & Paper (APP), one of Indonesia's largest pulp and paper suppliers, has touted several forest reserves as indicators of its commitment to environmental stewardship. APP has portrayed these as voluntary, goodwill efforts to conserve Sumatra's endangered wildlife. But in a new report, Greenomics-Indonesia, a Jakarta-based NGO, says that at best these projects represent compliance with existing Indonesian laws or are in areas where commercial exploitation isn't viable.
War of words between Greenpeace, Asia Pulp & Paper over deforestation allegations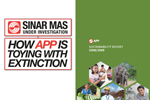 (11/16/2011) Greenpeace and Asia Pulp & Paper (APP), a giant global paper supplier, are locked in a heated battle over the activist group's allegations that APP products contain fiber sourced from the destruction of forests in Indonesia. At stake is APP's access to some of the world's most lucrative markets