Race to the bottom as a paper supplier may prove costly for Indonesia.


Indonesia needs to re-evaluate forest areas and peatlands granted for pulp and paper plantations to reduce the risk of damaging the international reputation of its forest products and undermining its commitment to greenhouse gas emissions reductions, argues a new report published by an Indonesian activist group.



Greenomics-Indonesia says that ongoing conversion of carbon-dense ecosystems in Sumatra for industrial plantations is jeopardizing the country's effort to position itself as a global leader on addressing climate change. At the same time, Indonesian pulp and paper suppliers continue to see their products associated with deforestation, tarnishing the entire forestry sector. In seeking to become the lowest cost producer of fiber by converting ecologically-important rainforests and peatswamps, Indonesia is effectively selling its most irreplaceable assets at a considerable loss to its broader economy.



Greenomics warns that pulp and paper operators are worsening the situation through 'greenwashing' or misrepresenting their environmental record. The group singles out Asia Pulp & Paper (APP), one of Indonesia's two largest pulp and paper suppliers, which claims to have set aside 72,000 hectares of forest areas as a conservation initiative. Yet Greenomics says this area is largely deep peat forest, which under Indonesian law cannot be converted. Therefore APP is claiming credit for avoiding an activity that would be illegal, says Greenomics.



| | |
| --- | --- |
| | All figures in hectares |
"The use of the term 'set aside' is designed by APP to give the impression to the global public that they have sacrificed something by allocating part of their concessions for deep peat conservation," states Greenomics. "In fact, this is not the case."



To counter allegations of 'greenwashing' and degradation of Indonesia's image abroad, Greenomics says the Ministry of Forestry should comprehensively document forest cover and land use change.



The report also recommends that the Ministry of Forestry should "redelineate" concessions drawn by pulp and paper operators. These revisions should be based on actual forest cover.



"The micro-delineation documents that provide the basis for the development of the plantations are not effective as they are fraught with data manipulation," said the report. "Accordingly, they will also be ineffective for the purpose of saving intact natural forest within the said pulpwood plantations."



Greenomics suggests that redelineation of a concession held by PT RAPP, which is owned by Asia Pacific Resources International Holding Limited (APRIL) would claw back a portion of 31,000 hectares of natural forest slated for logging.



Greenomics concludes with a call for the Ministry of Forestry to commit to a rapid redelineation of all pulpwood concessions in intact natural forest areas.



"If the Ministry of Forestry fails to reposition Indonesia as a pulp and paper producer by conducting a redelineation process for intact natural forest, including deep peatlands areas, located with pulpwood plantation concessions, Indonesia will lose its last opportunity for redemption," it states. "In the end, historical evidence will show that the present Ministry of Forestry's tenure produced no meaningful change, meaning it continues to be business as usual."



Redelineation: Last Opportunity to Save Natural Forest and Peatland in Indonesian Pulpwood Plantation Concessions. 7 October 2011. Greenomics-Indonesia.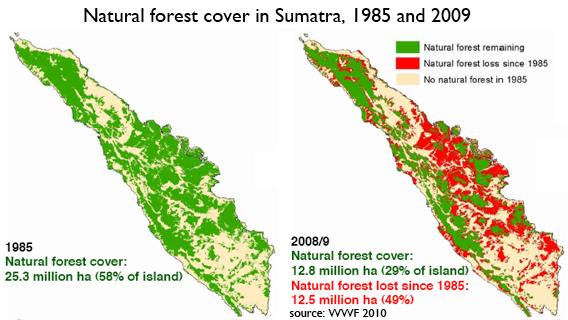 Related articles



Toy giant Mattel drops paper from APP and other 'controversial sources'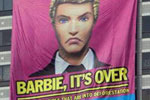 (10/05/2011) The world's biggest toy-maker Mattel has pledged to overhaul its paper sourcing policies after a hard-hitting campaign from Greenpeace linked the toy giant to rainforest destruction in Indonesia by Asia Pulp and Paper (APP). Today, Mattel pledged to increase the use of recycled paper and sustainably-certified fiber to 70 percent by the year's end, and 85 percent by 2015. In addition, the company has said any 'controversial' company engaged in natural forest destruction will be kept out of its supply line, referring to, but not naming directly, APP. Surprisingly, APP told mongabay.com that it 'applauds' Mattel's new commitments.
Asia Pulp & Paper to undertake human rights audit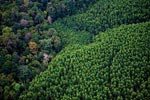 (09/22/2011) Paper products giant Asia Pulp & Paper (APP) will undertake a human rights audit across its Indonesian operations. The move, which APP says is an acknowledgment of a recent United Nations call for the global protection of human rights by businesses, comes as APP intensifies its effort to improve its image abroad. APP, a brand for paper products manufactured by several subsidiaries in Indonesia, has been beset by criticism from environmental and human rights group over its development of timber plantations on the island of Sumatra. The complaints have cost APP a number of prominent customers.
Palm oil, paper drive large-scale destruction of Indonesia's forests, but account for diminishing role in economy, says report

(07/27/2011) Indonesia's forests were cleared at a rate of 1.5 million hectares per year between 2000 and 2009, reports a new satellite-based assessment by Forest Watch Indonesia (FWI), an NGO. Expansion of oil palm and wood-pulp plantations were the biggest drivers of deforestation, yet account for a declining share of the national economy. The study, which compared year 2000 data with 2009 Landsat images from NASA, found that Indonesia's forest cover declined from 103.32 million hectares to 88.17 million hectares in ten years. Since 1950 Indonesia lost more than 46 percent of its forests.