Brazil's push to expand infrastructure in the Amazon region will require at least 212 Brazilian reals ($120 billion) in public and private sector investment by 2020, reports Folha de Sao Paulo.



Dozens of large-scale projects — including dams, high-speed rails, roads, electricity transmission systems, mines, and industrial farms — are planned or already in progress in the nine states that make up the "Legal Amazon" in Brazil. By 2020, the government aims to more than double the Amazon's share of power generation to 23 percent of national output, up from 10 percent today. The target represents 45 percent of planned energy expansion during the period.



According to Folha de Sao Paulo, the Growth Acceleration Plan (PAC) will likely require weakening of existing social and environmental laws, potentially antagonizing environmentalists.



"To accelerate the implementation of projects, the federal government is considering a series of legal changes," reports the newspaper. "Among them are expressly granting of environmental licenses, the creation of laws that allow mining on indigenous lands, and changing the system of administration of environmentally protected areas."



"The advance on the Amazon generates controversy among environmentalists, who accuse the government of repeating a model of unsustainable development… that leads to social collapse."



Brazilian companies also have ambitions in the Amazon outside of Brazil. Oil and gas development, dam projects, gold mines, industrial agriculture, and roads are major areas of investment for Brazilian firms in neighboring countries, including Bolivia, Peru, Ecuador, Colombia, and Suriname.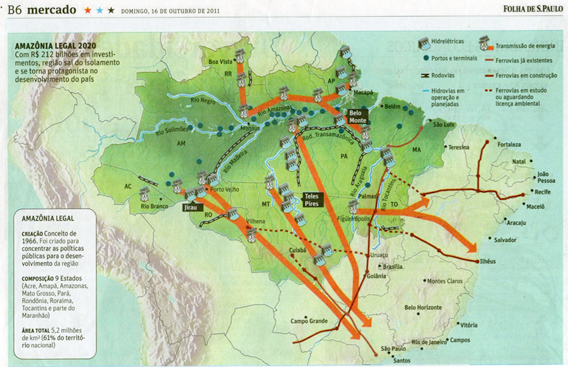 Image courtesy of Folha de Sao Paulo. Click to enlarge.



Related articles