View Larger Map

Arrow shows very approximate location of the forest where an Amur leopard was photographed in China.



The Amur leopard has been confirmed in China with a camera trap taking the first photos of the cat in the country in 62 years, reports Xinhua. The Amur leopard (Panthera pardus orientalis) is on the edge of extinction with some 25-45 individuals left in the world.



The Amur leopard was photographed twice by camera trap in Wangqing County, China by Sun Ge, a PhD candidate with Peking University. Technically, the Amur leopard, also known as the Manchurian leopard, is considered extinct in China. But officials say as many as 10 leopards may inhabit this part of China, likely crossing nearby borders with Russia and North Korea.



Ge told the Telegraph: "I am actually researching herbivorous animals in three forests around the county, and I had not expected to capture an image of an Amur leopard at all."



Poaching, habitat loss, road building, climate change, and declines in prey have led to the Amur leopard being listed as Critically Endangered by the IUCN Red List.



Longer fur, for cold winters in these regions, paler coats, and longer tails distinguish Amur leopards from other leopard subspecies.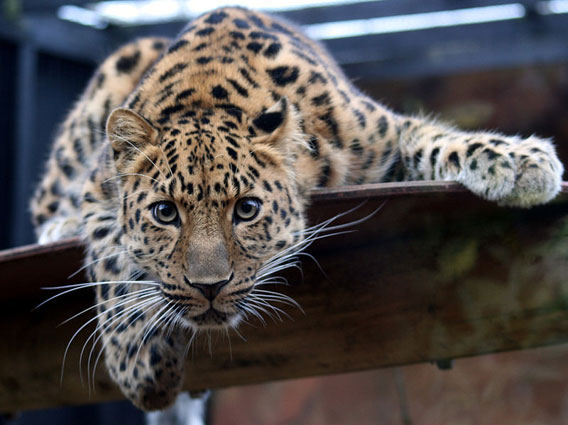 Captive young Amur leopard at the Colchester Zoo. Photo by: Keven Law.






Related articles



Leopards losing out to bushmeat hunters in competition for prey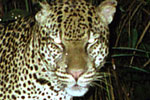 (08/25/2011) According to a surprising new study in the Journal of Zoology, bushmeat hunting is imperiling jungle-dwelling leopards (Panthera pardus) in Africa, even though hunters aren't targeting the elusive big cats themselves. Instead, by hunting many of the leopard's preferred prey—such as red river hogs and forest antelopes—bushmeat hunters are out-competing leopards.
Cameratraps take global snapshot of declining tropical mammals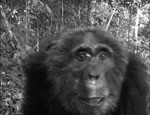 (08/17/2011) A groundbreaking cameratrap study has mapped the abundance, or lack thereof, of tropical mammal populations across seven countries in some of the world's most important rainforests. Undertaken by The Tropical Ecology Assessment and Monitoring Network (TEAM), the study found that habitat loss was having a critical impact on mammals. The study, which documented 105 mammals (nearly 2 percent of the world's known mammals) on three continents, also confirmed that mammals fared far better—both in diversity and abundance—in areas with continuous forest versus areas that had been degraded.
Rare Amur leopard photographed for the first time with kill

(10/08/2008) With just over thirty individuals left, every photograph of an Amur leopard in the wild is news. But recently released photos are the first to show an Amur leopard at a livestock kill, making them even more important. According to an article from Wildlife Alliance, on September 8th a staff member of the Gamov sika deer farm contacted Eugene Stoma with news about an Amur leopard that had entered the farm and killed three deer. Stoma is the leader of an anti-poaching squad that protects the remaining leopards. After locating the leopard's kill, Stoma and his team placed camera traps around the kill, hoping the leopard would return. The leopard did return yielding three photos from various angles.