The decades-long fight over Brazilian megadam, the Belo Monte, has taken another U-turn after a judge ordered work to stop immediately since the dam would devastate vital fishing grounds for local people. In June the Brazilian government gave a go-ahead to the $11-17 billion dam, despite large-scale opposition from indigenous groups along the Xingu River and international outcry, including a petition signed by 600,000 people.



The judge, Carlos Castro Martins, ordered construction work by consortium Norte Energia S.A. to a halt immediately, saying he would fine the group around $110,000 for every day in which work continues.



Siding with a local fisheries group, the judge forbid Norte Energia S.A from "building a port, using explosives, installing dikes, building canals and any other infrastructure work that would interfere with the natural flow of the Xingu river, thereby affecting local fish stocks". Many locals and indigenous groups depend on local fishing for their livelihood.



Diverting 80 percent of the Xingu River's flow, the dam is also expected to displace 16,000 people, according to the Brazilian government, although environmentalists estimate that 40,000 could be forced to move. Amazon Watch, a group campaigning against Belo Monte, says the dam will flood more than 40,000 hectares of rainforest.



The Brazilian government says the megadam must be built to meet the rising nation's power needs. The dam would provide enough energy to power 23 million homes, yet during three to four months of the year critics say it will run on only 10-30 percent capacity due to low waters.



Brazil's environmental agency, IBAMA, signed off on the dam. However IBAMA president, Curt Trennepohl, recently told an Australian news program that his job was not to protect the environment, but "to minimize the impact". When thinking that the microphones were off Trennepohl also told the reporter that Brazil would do to its indigenous people what Australia had done to theirs. Critics called Trennepohl's statement a 'proclamation of genocide'.



Hydropower has been publicized as green, however dams built in the tropics have been shown to release massive amounts of the methane, a greenhouse gas 25 times more potent than carbon dioxide over 100 years.



Backed by Brazil's National Development Bank (BNDES), the consortium behind the dam are expected to appeal.



If built, Belo Monte would be the world's third largest dam.



Related articles



Protesters demand end to controversial Amazon dam

(08/23/2011) Protesters in dozens of cities demanded Brazil abandon a plan to build a dam on one of the Amazon's largest tributaries, reports Amazon Watch, an NGO that helped organize the events.
Environmental protection agency chief: Brazil will do the same to indigenous as 'Australians did to the Aborigines'

(07/17/2011) Curt Trennepohl, president of Brazil's environmental protection agency (IBAMA), caused an uproar last week when he told an Australian TV crew that his agency's role "is not caring for the environment, but to minimize the impact". Later when Trennepohl believed the cameras were off he went on to say Brazilian indigenous tribes would suffer the same fate as Australia's Aborigines, reports Folha de S.Paulo.
Deforestation in Brazil's Amazon continues to rise; clearing highest near Belo Monte dam site

(06/17/2011) Deforestation in the Brazilian Amazon continued to rise as Brazil's Congress weighed a bill that would weaken the country's Forest Code, according to new analysis by Imazon.
Last chance to see: the Amazon's Xingu River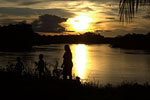 (06/15/2011) Not far from where the great Amazon River drains into the Atlantic, it splits off into a wide tributary, at first a fat vertical lake that, when viewed from satellite, eventually slims down to a wild scrawl through the dark green of the Amazon. In all, this tributary races almost completely southward through the Brazilian Amazon for 1,230 miles (1,979 kilometers)—nearly as long as the Colorado River—until it peters out in the savannah of Mato Grosso. Called home by diverse indigenous tribes and unique species, this is the Xingu River.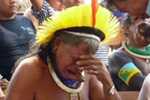 (06/03/2011) As an American I know a lot about shame — the U.S. government and American companies have wrought appalling amounts of damage the world over. But as an admirer of Brazil's recent progress toward an economy that recognizes the contributions of culture and the environment, this week's decision to move forward on the Belo Monte dam came as a shock. Belo Monte undermines Brazil's standing as a global leader on the environment. Recent gains in demarcating indigenous lands, reducing deforestation, developing Earth monitoring technologies, and enforcing environmental laws look more tenuous with a project that runs over indigenous rights and the environment.
Peru cancels massive dam project after years of protests

(06/16/2011) Three years of sustained community opposition have brought down plans for a massive dam on the Madre de Dios River in Peru. Yesterday the Peruvian government announced it was terminating the contract with Empresa de Generación Eléctrica Amazonas Sur (Egasur) to build a 1.5 gigawatt dam, known as the Inambari Dam. The dam was one of six that were agreed upon between Peru and Brazil to supply the latter with energy.
Amazon mega-dam gets final approval

(06/01/2011) Brazilian authorities gave final approval to the controversial Belo Monte dam, reports AFP.