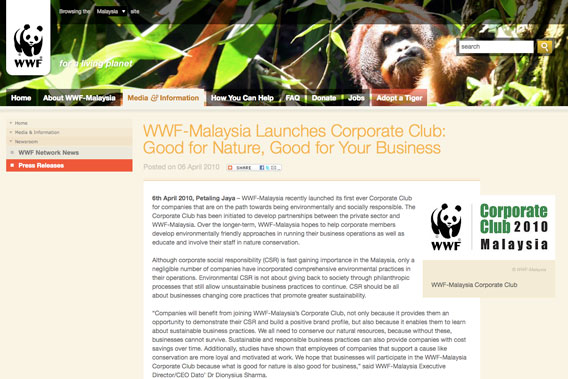 A new report finds that conservation giant WWF may demand too little when working with logging companies. Screenshot of WWF website.



Arguably the globe's most well-known conservation organization, the World Wide Fund for Nature (WWF), has been facilitating illegal logging, vast deforestation, and human rights abuses by pairing up with notorious logging companies in a flagging effort to convert them to greener practices, alleges a new report by Global Witness. Through its program, the Global Forest and Trade Network (GFTN), WWF—known as World Wildlife Fund in the US and Canada—has become entangled with some dubious companies, including one that is imperiling orangutans in Borneo and another which has been accused of human rights abuses in the Congo rainforest. Even with such infractions, these companies are still able to tout connections to WWF and use its popular panda logo. The Global Witness report, entitled Pandering to the Loggers, calls for WWF to make large-scale changes in order to save the credibility of its corporate program.



WWF's 20-year-old Global Forest and Trade Network (GFTN) is an effort to support the trade of legal and sustainable timber products by molding the global market 'into a positive force to save the world's most valuable and threatened forests'. The program seeks to work with companies to end unsustainable practices—including illegal logging—within 5 years of joining. In all GFTN works with nearly 300 companies, 75 of which are loggers, to achieve better practices in the forestry and wood products industries. Yet the new report by Global Witness argues that GFTN is failing in its efforts to clean-up dirty companies, allowing some corporations to abuse their connections with the conservation giant.



| | |
| --- | --- |
| | Illegally logged wood in Indonesian Borneo. Photo by: Rhett A. Butler. |
"When a landmark scheme created in the name of sustainability and conservation tolerates one of its member companies destroying orangutan habitat, something is going seriously wrong," says Tom Picken, Forest Campaign Leader at Global Witness, in a press release.



Global Witness points to three case studies that they say illustrate overall problems with WWF's GFTN program.



A Malaysian logging company, Ta Ann Holdings Berhad, is clear-cutting rainforests in Borneo, including forests within the Heart of Borneo, an ambitious conservation campaign, headed by WWF, that focuses on preserving 220,000 square kilometers (85,000 square miles) across three countries in Borneo. Although achieving tacit agreement by the countries involved in 2007, the area continues to see vast forest clearing and fragmentation. Despite the fact that Ta Ann Holdings Berhad is one the companies clearing forests in WWF's key conservation program, the wildlife organization has partnered with the logging company under GFTN.
However, a representative from WWF told mongabay.com that there has been some miscommunication related to its specific relationship with Ta An Holdings Berhad. WWF says the company has been approved as a trade member (i.e. a company that processes, manufacturers, or trades in wood products) but not as a logging company.



"The application from the forestry operations arm of Ta Ann has not been accepted yet, and therefore the company has never been listed, approved or regarded as a GFTN Forest Participant," WWF explains.



WWF's position on primary forest logging




WWF is also opposing a U.S. Senate resolution to prohibit allocation of conservation funding to "the expansion of industrial logging in primary tropical forests", despite its intent to protect old-growth rainforests from destruction. Such rainforests have the highest levels of biodiversity and sequestered carbon of the world's rainforests. The provision has received broad support from smaller environmental groups. When asked about its apparent support for the first-time logging of primary rainforests, WWF told mongabay.com that it wants to see improvement of forest management practices outside protected areas.




"While protected forest areas are keystones to any effective conservation strategy, their fate lies in the conservation, responsible management and restoration of the 80+% majority of the world's forests that occur outside of parks and reserves," a WWF representative told mongabay.com. "WWF is concerned that the FY11 full-year continuing appropriation bill fails to see the forest for the trees and may unwittingly undercut support to international programs that are addressing the drivers of deforestation."




In 2010, WWF and other large environmental groups successfully blocked an earlier resolution which prohibited support for "industrial logging in tropical forests". which led to the revised provision prohibiting funding for "the expansion of industrial logging in primary tropical forests."
Yet, Global Witness says that when they attempted to contact WWF regarding Ta An Holdings Berhad's membership they received mixed messages, including statements from a few that Ta An Holdings Berhad is a forestry member.



WWF, however, insists that the company is not a logging member. WWF admitted to mongabay.com that they made a mistake and apologized 'unreservedly for the resulting confusion', but they say it is an 'isolated incidence'.



But Global Witness points to this confusion an example of systematic problems.



"The apparent contradictions and confusion surrounding Ta Ann's membership signifies a worrying lack of consistency and communication within GFTN, exacerbated by a lack of transparency," reads the report.



Beyond this mistake, WWF does not deny that Ta Ann Holdings Berhad is clearing rainforests in Borneo, calling it an 'an important forest and concession operator with associated operations in the Sarawak landscape and within the Heart of Borneo'. But WWF argues that despite current practices, the logging company is looking to turn a new leaf.



"[Ta Ann Holdings Berhad] is open and willing to engage with [us] on moving towards responsible forestry," WWF says. "Meanwhile, [we] continues to assist Ta Ann on the mainly [High Conservation Value Forest] assessment, [Reduced Impact Logging] RIL operation and Forest Management Plan preparation."



According to WWF, Ta Ann Holdings Berhad, has obtained a Timber Legality and Traceability Verification [TLTV] from SGS, a prominent certification company, for two of its timber concessions, and is working with HSBC bank on implementing new forest policies.



Yet Global Witness quotes an Environmental Impact Assessment (EIA) for Ta Ann Holdings Berhad timber plantations in the Heart of Borneo, which finds the company is destroying the habitat of orangutans, clouded leopards, and gibbons. The Global Witness report goes on to say that WWF's own data found this conclusion to be apt: "WWF maps suggest orangutans became extinct between 1989 and 2004 in a 135,000 hectare area where Ta Ann was licensed or contracted to log during at least part of that period."



| | |
| --- | --- |
| | The Bornean orangutan is currently listed as Endangered by the IUCN Red List. Photo by: Rhett A. Butler. |
Ta Ann Holdings Berhad is not the only target in Global Witness' report, nor is WWF only partnering with dubious foresters: Jewson, a UK building supplier (i.e. trade member), was still selling illegally sourced timber 10 years after joining WWF's GFTN.



In 2003 and 2004 Jewson purchased wood products from Samling, which is embroiled in a court cases in the Malaysian state of Sarawak over the land rights of indigenous Penan people. The company has also been accused of human rights abuses against the Penan people.



"GFTN membership rules proved ineffective in stopping these purchases in any reasonable timeframe," the report concludes, adding that "due diligence checks by either Jewson or GFTN could have alerted Jewson to obvious concerns with its controversial suppliers abroad."



Jewson has since stopped trading with Samling, which WWF argues is evidence of GFTN's efficacy, not negligence.



Finally the report points to a third example of WWF partnering with a controversial logging company, in this case Danzer Group. WWF accepted Danzer as a member even after the company's sordid history of purchasing timber in Liberia that was helping fund a devastating and bloody civil war, according to Global Witness' report. In addition, one of Danzer's subsidiary companies, Siforco in the Democratic Republic of Congo (DRC), recently made news when its clash with local protestors resulted turned deadly.



In April of this year, local communities protested against Danzer for not following through on promises to build community infrastructure. The subsidiary, Siforco, called on local authorities to quell protesters, resulting in 16 men being beaten, 3 women and 3 minors raped, and one man, Momoma Tika Frédéric, killed.



In response WWF suspended its work with Siforco; but parent company, Danzer, remains a member of GFTN, meaning that timber from Siforco is still moving through GFTN's supply chain with WWF's permission.



| | |
| --- | --- |
| | Screenshot from WWF website announcing partnership with Ta Ann Holdings Berhad. |
"WWF should publicly disassociate itself from any company using timber from illegal or unethical sources. It's shocking that one of the world's most trusted conservation groups deems it acceptable to take money from such companies" says Pickens in a press release.



Systematic problems within GFTN have led to this point, according to the report, including a low bar for membership, a lack of transparency, companies monitoring themselves, and no procedures to assess how much progress the program is actually making.



"Even if current GFTN rules are implemented to their fullest extent […] there is nothing to prevent a company from joining GFTN, obtaining high-value marketing for up to five years at low cost through association with the WWF name and its iconic panda brand, then quietly resigning or having its membership terminated without meeting stated
commitments," reads the report.



WWF argues that the bar for membership companies is set low purposefully: to allow troubled companies a chance to change with help from the organization. Still the group says the program is not entirely without initial requirements.



"GFTN forest participants must supply only timber that has been legally harvested, and pay all harvesting charges as they become due while making clear commitments to achieve credible forest certification of one FMU [Forest Management Unit] within 5 years and all FMUs within 10 years," WWF told mongabay.com. Such certification schemes include the Forest Stewardship Council (FSC), which has also been heavily criticized by some in the environmental community.



| | |
| --- | --- |
| | Aerial view of burning peatlands and forest in Indonesian Borneo. Photo by: Rhett A. Butler. |
WWF says that there is an initial evaluation of companies before they are admitted. Once admitted, an 'action plan' is created and companies are checked up on annually. If an infraction occurs, WWF suspends the company. If it is not made right within a 'defined period' the company is terminated from the list. However, once instated, companies rarely leave or are kicked out. Since 2008, eleven companies out of over 300 involved have left, but reasons for leaving aren't released.



Despite criticism from the report as to a lack of transparency, one of WWF's core principles when working with big business is 'transparency' according to the organization's website. Yet many of the agreements between WWF's GTFN and big loggers are completely hidden from the public. For example, WWF does not even provide how many hectares are logged by Danzer Group or how much wood the company produces.



"Some company information particularly related to sourcing could have an implication on the company's commercial information. As a result, WWF is not legally allowed to disclose that information due to the confidentiality agreement," WWF explains, adding that, "GFTN has improved the transparency of participants' progress and is committed to making continuous improvements."



WWF further defends itself by saying GTFN is in no way a certification scheme—and therefore not attempting to hold a line on sustainability—but simply an avenue to encourage companies to improve their practices in order to later qualify under such schemes.



"GFTN does not make any sustainability claims, nor endorse companies, their policies, or their products," the organization says. "WWF challenges companies to aspire to leadership on environmental issues. GFTN is WWF's program that works with committed companies to make changes in their forestry operations and/or sourcing practices."



| | |
| --- | --- |
| | Extent of Deforestation in Borneo 1950-2005, Projection to 2020. |
Global Witness concludes in its report that GFTN's 'woeful lack of public accountability' requires major changes to the program, especially since much of the program is funded publically.



"Through government grants, taxpayers are footing a large part of this scheme's annual US $7 million (£4 million) budget and they have a right to know their money isn't being spent greenwashing bad practice," Picken says.



Global Witness recommends a full and independent evaluation of the program, in addition to GFTN kicking to the curb any company found trading in illegal timber, destroying forests, or abusing human rights. They also suggest a change in outlook. According to Global Witness, GFTN currently defines success much like a major corporation: in terms of growth (i.e. the number of companies it works with) instead of the ensuring the member companies are moving sustainably forward on the ground. A similar criticism has been made of the FSC.



While it may appear surprising that WWF, an organization devoted to wildlife conservation and the environment, would be working with companies perceived as destroying forests, threatening species, and violating human rights, such partnerships are becoming commonplace between many large environmental NGOs and environmentally-troubled companies. Conservation International (CI) has faced criticism for working with Brazilian soy giant Bunge as well as big oil and mining companies. The Nature Conservancy (TNC) has given 'conservation leader awards' to big oil companies like Exxon Mobil and Shell Oil. Philosophically, conservation organizations argue that partnering with such companies—and almost always receiving big donations from them—is one of the most effective ways to push for more environmentally friendly corporate practices. From the conservation organization's point of view, if they don't work with these companies to improve their practices, who will?



| | |
| --- | --- |
| | Forest destruction in Borneo. Photo by: Rhett A. Butler. |
In a TEDx talk last year, WWF's Senior Vice President of Market Transformation Jason Clay argues that his organization's work on changing how 100 big companies operate could drastically shift how the world consumes the most environmentally-destructive commodities.



"If these [100] companies demand sustainable products, they'll pull 40-50 percent of production. Companies can push producers faster than consumers can. By companies asking for this we can leverage production so much faster than by waiting for consumers to do it," explains Clay.



But, not everyone is convinced WWF is moving in the right way.



"This investigation raises bigger questions about the underlying strategy and efficacy of such voluntary schemes. To protect the world's remaining forests and avoid duping consumers, initiatives should focus on reducing overall demand rather than certify ever-expanding areas of forest being felled," says Pickens.
Related articles



Cargill adopts 'greener' palm oil policy

(07/12/2011) Agribusiness giant Cargill will ensure all palm oil supplied to customers in Europe, United States, Canada, Australia and New Zealand is certified under the Roundtable on Sustainable Palm Oil (RSPO), an environmental standard, or originated from smallholder growers by 2015, according to a statement issued by the company. Cargill says it will extend the commitment to 100 percent of its products and customers globally – including China and India, the largest consumers of palm oil – by 2020.

Lego banishes Asia Pulp & Paper due to deforestation link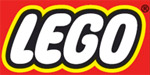 (07/07/2011) In response to a campaign by Greenpeace asserting that packaging used for its iconic toy building blocks is contributing to deforestation in Indonesia, the LEGO Group on Thursday announced it is taking steps to reduce the environmental impact of packaging materials and paper used in its products.
Brazilian government: Amazon deforestation rising

(06/30/2011) Satellite data released today by the Brazilian government confirmed a rise in Amazon deforestation over this time last year.
Green tigers: new research shows protecting forests will deliver new economic boom for Southeast Asia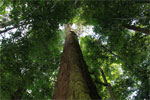 (06/27/2011) A raft of new studies show that protecting Southeast Asia's forests could provide an enormous economic lift for Southeast Asia. Indeed, the studies suggest, forest conservation, sustainable forestry, and agricultural improvements, along with investments in clean energy, could spur the rise of regional "Green Tiger" economies whose development levels surpass even those achieved during the boom years of the 1990's. The studies provide a striking rebuttal to palm oil and timber industries' claims that deforestation is necessary for the region's growth.
FSC mulls controversial motion to certify plantations responsible for recent deforestation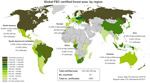 (06/24/2011) Members of the Forest Stewardship Council (FSC), meeting in Malaysia this week for its General Assembly, will consider various changes to the organization, including a vote on a controversial motion that would open the door—slightly at first—to sustainable-certification of companies that have been involved in recent forest destruction for pulp and paper plantations. Known as Motion 18, the change is especially focusing on forestry in places where recent deforestation has been rampant, such as Indonesia and Malaysia.
Laos announces crackdown on illegal logging, timber smuggling

(06/22/2011) Laos Prime Minister Thongsing Thammavong ordered authorities to crack down on illegal logging and timber trafficking in the midst of accelerating forest loss, reports the Vientiane Times.
Indonesia's moratorium undermines community forestry in favor of industrial interests

(06/21/2011) Indonesia's moratorium on new concessions in primary forest areas and peatlands "completely ignores" the existence of community forestry management licenses, jeopardizing efforts to improve the sustainability of Indonesia's forest sector and ensure benefits from forest use reach local people, say environmentalists. According to Greenomics-Indonesia, a Jakarta-based NGO, community and village forestry licenses are not among the many exemptions spelled under the presidential instruction that defines the moratorium. The instruction, issued last month, grants exemptions for industrial developers and allows business-as-usual in secondary forest areas by the pulp and paper, mining and palm oil industries.
(06/17/2011) World Resource Institute's summary of key elements, and unanswered questions, in Indonesia's recent moratorium on new forest permits.
Poverty doesn't drive deforestation, argues new survey

(06/16/2011) Income from forests and other ecosystem generates a significant proportion of household income in developing countries, finds a six-year survey of 8,000 families from 60 sites in 24 countries.
East Kalimantan's forests heavily impacted, finds new assessment

(06/15/2011) 30 percent of forests and peatlands in Indonesia's East Kalimantan has been destroyed, while a substantial extent of the remainder has been damaged, finds a new assessment that identifies key areas for preservation.
Profit, not poverty, increasingly the cause of deforestation

(06/13/2011) A new report highlights the increasing role commodity production and trade play in driving tropical deforestation.
Mattel to investigate toy packaging sources after Greenpeace alleges deforestation link

(06/09/2011) Mattel will investigate the sources of its packaging material following a prominent campaign by Greenpeace that linked the Los Angeles-based toy-maker to deforestation in Indonesia. In a statement, Mattel said it "does it contract directly with Sinar Mas/APP" — the paper products Greenpeace has tied to destruction of rainforests in Sumatra. But Mattel said it has instructed its packaging suppliers to stop sourcing pulp from Sinar Mas/APP until it has investigated the Greenpeace's allegations.
Barbie, Legos, other toys linked to destruction of Indonesia's rainforests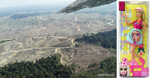 (06/07/2011) Some of the world's largest and most prominent toy-makers are sourcing their packaging materials from companies linked to large-scale destruction of Indonesia's rainforests, alleges a new report from Greenpeace. The report, How APP is Toying with Extinction, is based on forensic analysis of toy packaging from Mattel, which manufacturers Barbie and Hot Wheels toys; Disney, which makes a variety of toys linked to its movies; Hasbro, which produces GI Joe, Star Wars, and Sesame Street toys and various games like Monopoly and Scrabble; and Lego, which makes the iconic plastic building blocks. The analysis found traces of mixed-tropical hardwood (MTH) and acacia fiber which are principally sourced from Asia Pulp & Paper (APP), an umbrella paper products brand that sources from several companies that have been linked to rainforest destruction in Sumatra.
90% of tropical forests managed poorly or not at all

(06/07/2011) More than 90 percent of tropical forests are managed poorly or not at all, says a new assessment by the International Tropical Timber Organization (ITTO).