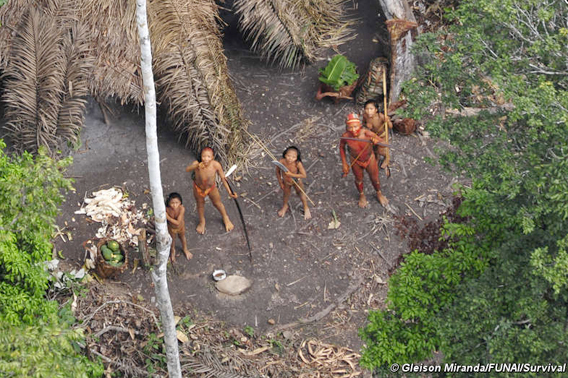 Uncontacted indigenous group near the Brazil-Peru border. Photo released earlier this year by Gleison Miranda/FUNAI/Survival


Territory inhabited by an uncontacted Amazon tribe in Peru is again up for grabs, warns Survival International.



The indigenous rights' group says Peru's Indian Affairs Department (INDEPA) is planning to "abolish" the Murunahua reserve, an area of forest inhabited by an uncontacted branch of the Amerindian tribe. Survival says the group is threatened by illegal loggers that the Peruvian government has failed to control.



The Murunahua made headlines earlier this year when Survival released aerial pictures of the group in part of its effort to publicize the threat from illegal loggers. Brazil has already protected the nomadic tribe's land on its side of the border. Survival said Peru had also agreed to protect the Murunahua's land, but is now reneging on the deal.



| | |
| --- | --- |
| | Oil and gas blocks in the western Amazon as of February 2010. Solid yellow indicates blocks already leased out to companies. Hashed yellow indicates proposed blocks or blocks still in the negotiation phase. Protected areas shown are those considered strictly protected by the IUCN (categories I to III). Image modified from Finer at al. (2008): Oil and Gas Projects in the Western Amazon: Threats to Wilderness, Biodiversity, and Indigenous Peoples. |
"The uncontacted Indians living in this reserve have been the unwitting victims of a really cynical maneuver by the Peruvian authorities," said Survival International's Director Stephen Corry in a statement. "Since the government has done nothing to stop the influx of loggers, the Indians seem to have fled into Brazil – so now the government says it will abolish the reserve as the Indians are no longer living there."



Survival says that a recent investigation by the U.S.-based Upper Amazon Conservancy found five logging camps inside the Murunahua reserve, which was established in 1997.



The loggers are a danger to the Murunahua because they may expose the tribe to new diseases. First contact between loggers and another Murunahua group in 1995 resulted in a 50 percent die-off of the indigenous community.



Jose Meirelles, formerly the uncontacted Indians expert at Brazil's Indian Affairs Department (FUNAI), attributed the Peruvian government's decision to interest in logging energy exploration.



"It is completely absurd to abolish the reserve," he said in a statement. "I would bet all my money that this is down to the interests of illegal logging and oil."



More than 75 percent of the Peruvian Amazon has been allocated for oil and gas exploration. Some of the concessions overlay protected areas and indigenous reserves.



Survival International is calling on supporters to lodge complaints to INDEPA over the decision not to protect Murunahua lands.



"I hope anyone moved by February's extraordinary images will let the Peruvian government know just what they think of this plan," said Corry.
Related articles
ConocoPhillips withdraws from oil exploitation in uncontacted indigenous territory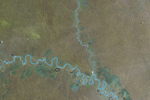 (05/11/2011) ConocoPhillips has announced it is withdrawing from its 45% share of oil drilling in Block 39 of Peru's Amazon rainforest. The withdrawal comes after pressure from indigenous-rights and environmental groups to leave two Peruvian oil blocks—39 and 67—alone, due to the presence of indigenous people who have chosen to remain uncontacted. ConocoPhillips and other companies have been warned they will 'decimate' tribes if they remain. However, Spanish oil company Repsol-YPF still operates in block 39 and is currently doing seismic testing for oil reserves in the untouched region. ConocoPhillips has not divulged what company is taking their place.
Renewed conflict between tribes and oil companies looms in Peru

(01/06/2011) Indigenous peoples and their allies have intensified their fight against two oil companies over contamination in the Peruvian Amazon. Last week, a group of indigenous protesters blockaded portions of the Marañon and Corrientes Rivers in the province of Loreto in northeastern Peru. The protesters were demanding that Pluspetrol, an Argentinean oil company, compensate them for a recent oil spill. As of December 28th, after eight days, the blockade remained unbroken.
50 NGOS tell big oil to get out of uncontacted natives' territory

(11/21/2010) A letter signed by over 50 NGOs is calling on three big oil companies—Perenco, Repsol-YPF, and ConocoPhillips—to withdraw from Peruvian territory inhabited by uncontacted indigenous tribes. The letter states that the oil companies' presence in the area threatens the uncontacted tribe with diseases, for which they have little immunity, and puts the lives of oil company workers in jeopardy, since past encounters have ended in violence.
NGO warns oil exploration in Peru may 'decimate' uncontacted tribes

(10/17/2010) Survival International has warned that oil exploration in northern Peru threatens two uncontacted tribes. The organization, devoted to indigenous rights, has sent a letter to the UN's Special Rapporteur on indigenous peoples, James Anaya, alleging that Peru is "violating international law" by allowing oil companies to explore a region home to uncontacted people, who are especially vulnerable to disease.
More of the Amazon opened to oil development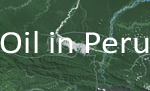 (05/24/2010) Perupetro, the Peruvian government's oil and gas corporate leasing body, announced last week that it will open an additional 25 lots for oil and gas exploration in the Amazon covering an area of 10 million hectares (nearly 25 million acres). Peru's national Amazon indigenous group, AIDESEP, criticized the move calling it a 'new threat' to Peru's indigenous group. According to Amazon Watch these new lots mean that 75 percent of the Peruvian Amazon is now open to oil and gas exploration and drilling.
Spanish oil company develops own rules for contacting uncontacted Amazon tribes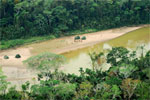 (03/26/2010) Imagine you're in one of the remotest parts of the Amazon rainforest and suddenly you come across members of an uncontacted tribe. What should you do? The experts say, "Turn around. At all costs, make no attempt at contact." Repsol YPF, exploring for oil in northern Peru, has taken a different approach. Despite the extreme vulnerability of the tribes to any form of contact, the company suggests that its workers talk to them in certain instances, and even provides specific phrases to use and conversation topics to address.
Under siege: oil and gas concessions cover 41 percent of the Peruvian Amazon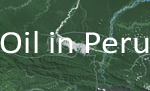 (02/16/2010) A new study in the Environmental Research Letter finds that the Peruvian Amazon is being overrun by the oil and gas industries. According to the study 41 percent of the Peruvian Amazon is currently covered by 52 separate oil and gas concessions, nearly six times as much land as was covered in 2003. "We found that more of the Peruvian Amazon has recently been leased to oil and gas companies than at any other time on record," explained co-author Dr. Matt Finer of the Washington DC-based Save America's Forests in a press release. The concessions even surpass the oil boom in the region during the 1970s and 80s, which resulted in extensive environmental damage.