| | |
| --- | --- |
| | Kayapo Chief Raoni weeps at a funeral in 2002. Raoni has been a fierce opponent of the Belo Monte dam, which will flood his tribe's lands along the Xingu River. |
As an American I know a lot about shame — the U.S. government and American companies have wrought appalling amounts of damage the world over.



But as an admirer of Brazil's recent progress toward an economy that recognizes the contributions of culture and the environment, this week's decision to move forward on the Belo Monte dam came as a shock.



The dam will generate lots of electricity — more than 10 percent of Brazil's current capacity during the rainy seasons, much less during the dry season — but the cost is tremendous: more than 16,000 people will be displaced by flooding and 40,000 hectares (100,000 hectares) of rainforest will be inundated. The project will redirect the flow of roughly 100 kilometers' worth of the Xingu River, disrupting fisheries and local livelihoods. Power generated by the dam will fuel industries that convert the Amazon rainforest into hamburgers, soybeans, soda cans, and minerals (the Brazilian mining giant Vale is a major investor in Belo Monte).



| | |
| --- | --- |
| | |
But perhaps most importantly, Belo Monte undermines Brazil's standing as a global leader on the environment. Recent gains in demarcating indigenous lands, reducing deforestation, developing Earth monitoring technologies, and enforcing environmental laws look more tenuous with a project that runs roughshod over indigenous rights and the environment.



When I speak to audiences, I use Brazil as an example of a country that is leading the transition toward a more just and sustainable economy. With Belo Monte, I'm no longer certain Brazil is the model to emulate.



What happened Brazil?





Related articles
Amazon mega-dam gets final approval

(06/01/2011) Brazilian authorities gave final approval to the controversial Belo Monte dam, reports AFP.
Controversial Brazilian mega-dam receives investment of $1.4 billion

(05/02/2011) Brazil's most controversial mega-dam, Belo Monte, which is moving full steam ahead against massive opposition, has received an extra infusion of cash from Vale, a Brazilian-run mining company.
Bill Clinton takes on Brazil's megadams, James Cameron backs tribal groups

(03/28/2011) Former US President, Bill Clinton, spoke out against Brazil's megadams at the 2nd World Sustainability Forum, which was also attended by former California governor, Arnold Schwarzenegger, and film director, James Cameron, who has been an outspoken critic of the most famous of the controversial dams, the Belo Monte on the Xingu River.
Half a million people sign petition against Belo Monte, Brazilian mega-dam

(02/08/2011) In a protest today in Brasilia, Brazil, indigenous people delivered a petition to authorities signed by 500,000 people calling on them to cancel the controversial Belo Monte dam. They hope the petition, organized by online activist group Avaaz, will help convince Brazil's new president, Dilma Rousseff, to cancel the project. However, actions by Brazil's first female president have pushed the dam forward.
Brazil's environment chief resigns over controversial Amazon dam

(01/14/2011) The president of Brazil's environmental agency IBAMA has resigned over pressure to grant a license for the Belo Monte dam, a hydroelectric project on the Xingu River that faces strong opposition from environmental groups and indigenous tribes, reports O Globo.
Google Earth animation shows Brazilian plans to turn Amazon into 'series of stagnant reservoirs'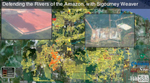 (08/30/2010) The decision last week by the Brazilian government to move forward on the $17 billion Belo Monte Dam on the Xingu river will set in motion a plan to build more than 100 dams across the Amazon basin, potentially turning tributaries of the world's largest river into 'an endless series of stagnant reservoirs', says a new short film released by Amazon Watch and International Rivers.