Amazon forest clearing. Photo by Rhett Butler 2009


Deforestation has increased sharply in Mato Grosso over the past nine months according to information leaked to Folha.com.



The news, revealed during a lecture last Friday in Cuiaba, is significant because INPE, Brazil's space research agency that tracks deforestation has unusually not provided any updates from its rapid deforestation detection system (DETER) since February, a period during which Brazil's forest code has been hostly debated in Congress. The agricultural lobby is pushing for reductions in the amount of forest farmers and ranchers must set aside for conservation under the forest code. Environmentalists call the proposed changes a weakening of the code and fear it could be used to grant amnesty to deforesters and encourage more forest clearing in the future. Some green groups say there has already been an uptick in clearing in anticipation of amnesty.



According to Folha.com, deforestation in Mato Grosso climbed 43% between August 2010 and April 2011 compared with the same period last year. Mato Grosso, which accounts for the bulk of Amazon deforestation in most years, is a bellwether for deforestation trends in Brazil.



While the data raises concern, INPE officials have long cautioned about making judgements about deforestation trends based on DETER, which has coarser resolution than Brazil's annual tracking system called PRODES. DETER's accuracy can also obscured by cloud cover, which is especially common during the rainier times of the year from November through June.



Brazil is testing a new system to improve the accuracy of its deforestation tracking. Over the past couple of years some officials have expressed concern that deforesters are clearing smaller tracts of land to avoid detection by satellite. While the individual tracts are smaller, the number of cleared areas is greater.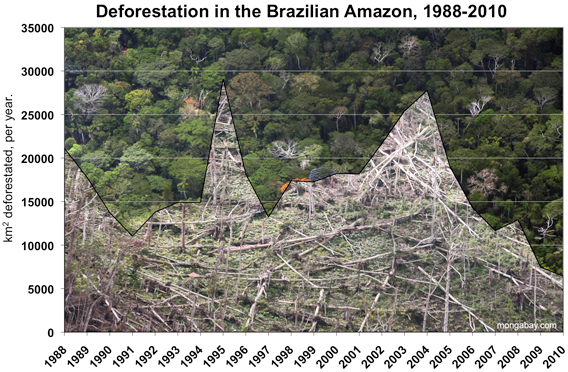 Related articles



Monitoring deforestation: an interview with Gilberto Camara, head of Brazil's space agency INPE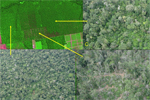 (02/08/2011) Perhaps unsurprisingly, the world's best deforestation tracking system is found in the country with the most rainforest: Brazil. Following international outcry over immense forest loss in the 1980s, Brazil in the 1990s set in motion a plan to develop a satellite-based system for tracking changes in forest cover. In 2003 Brazil made the system available to the world via its web site, providing transparency on an issue that was until then seen as a badge of shame by some. Since then Brazil has become recognized as the standard-bearer for deforestation tracking and reporting—no other country offers the kind of data Brazil provides. Space engineer Gilberto Camara has overseen much of INPE's earth sensing work and during his watch, INPE has released several new exciting capabilities.
How satellites are used in conservation

(04/13/2009) In October 2008 scientists with the Royal Botanical Garden at Kew discovered a host of previously unknown species in a remote highland forest in Mozambique. The find was no accident: three years earlier, conservationist Julian Bayliss identified the site—Mount Mabu—using Google Earth, a tool that's rapidly becoming a critical part of conservation efforts around the world. As the discovery in Mozambique suggests, remote sensing is being used for a bewildering array of applications, from monitoring sea ice to detecting deforestation to tracking wildlife. The number of uses grows as the technology matures and becomes more widely available. Google Earth may represent a critical point, bringing the power of remote sensing to the masses and allowing anyone with an Internet connection to attach data to a geographic representation of Earth.
37,000 sq km of Amazon rainforest destroyed or damaged in 2008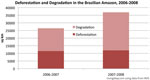 (03/19/2009) Logging and fires damaged nearly 25,000 square kilometers (9,650 square miles) of Amazon rainforest in the August 2007-July 2008 period, an increase of 67 percent over the prior year period, according to a new mapping system developed by Brazil's National Institute for Space Research (INPE). The damage comes on top of the nearly 12,000 sq km (4,600 sq mi) of rainforest that was cleared during the year.