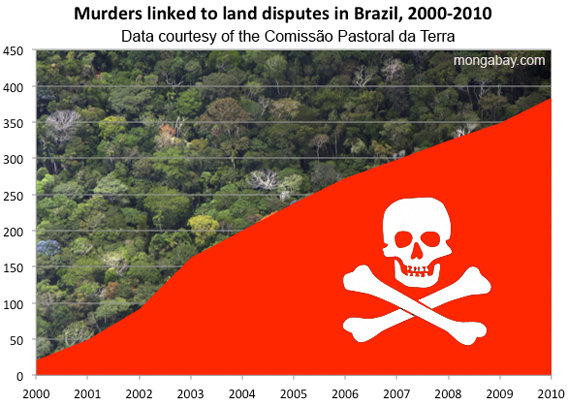 Murders tied to land disputes in rural Brazil, cumulative total of 383 since 2000.


A community leader in the Brazilian Amazon was slain Friday just three days after two environmentalists were killed in a neighboring state, reports Reuters.



Adelino "Dinho" Ramos, the president of the Movimento Camponeses Corumbiara e da Associação dos Camponeses do Amazonas, a small farmers association, was gunned down front of his family Friday morning in Rondônia. Brazil's Special Secretariat for Human Rights, an office of the president, said it was unclear who killed Ramos, who had received death threats from loggers. Ramos survived a 1995 massacre in which 13 people were killed.



His killing came just three days after Joao Claudio Ribeiro da Silva and his wife, Maria do Espirito Santo, were killed in an ambush near their home in the state of Pará. Suspicion immediately fell on illegal loggers linked to the charcoal trade that supplies pig iron smelters in the region. Da Silva had been a prominent environmentalist and the recipient of international recognition as well as numbers death threats.



Brazil's President Dilma Rousseff has already ordered a federal investigation into the murder of the da Silvas, which has been widely condemned.



Environmentalists say their death could catalyze further opposition to proposed changes to Brazil's Forestry Code, which would weaken protections for the Amazon rainforest. They cite the 1988 murder of rubber-tapper Chico Mendes, which helped spark global awareness of destruction of the Amazon rainforest, and the 2005 killing of Dorothy Stang, an American nun who opposed illegal logging and land-grabbing, which triggered a crack down by federal agents and the establishment of new protected areas.



The Brazilian Amazon remains a violent region. According to the Pastoral Land Commission (Comissão Pastoral da Terra) some 393 people were killed in rural land disputes between 2000 and 2010, including 71 murders in Rondonia since 2001. Crimes are rarely solved.



Tensions are presently high in the Brazilian Amazon due to rising commodity prices, which boost land values and exacerbates conflict. The agricultural lobby is pushing for a relaxation of the Forest Code to allow more rainforest to be cleared for crops and pastureland. The present Forest Code requires farmers and ranchers to maintain 80 percent forest cover on their land, although the rule is widely ignored.



Anticipation of amnesty for illegal deforestation under the new Forest Code is thought to be a contributing factor in a sharp rise in deforestation over land year.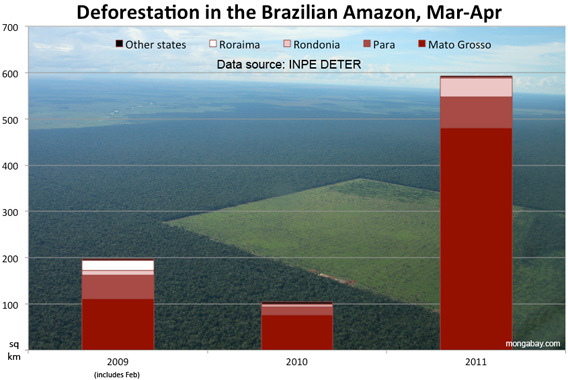 Click to enlarge

Related articles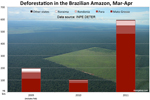 Amnesty for illegal rainforest loggers moves forward in Brazil

(05/25/2011) A controversial bill environmentalists say could increase deforestation in the Amazon rainforest moved a step forward to becoming law in Brazil after winning approval in Brazil's lower house of Congress. The measure, which has been hotly debated for months, next goes to the Senate where it is expected to pass, before heading to President Dilma Rousseff, who has vowed to veto any bill that grants amnesty for illegal deforestation. The bill includes such a measure, although it could be subject to change before a final decision by the president. The bill aims to reform Brazil's Forest Code, which requires landowners in the Amazon rainforest to maintain 80 percent of their holdings as forest.
Killing in the name of deforestation: Amazon activist and wife assassinated

(05/24/2011) José Cláudio Ribeiro da Silva and his wife, Maria do Espírito Santo da Silva, were gunned down last night in an ambush near their home in the Brazilian state of Pará. Da Silva was known as a community leader and an outspoken critic of deforestation in the region. Police believe the da Silvas were killed by hired assassins because both victims had an ear cut off, which is a common token for hired gunmen to prove their victims had been slain, according to local police investigator, Marcos Augusto Cruz, who spoke to Al Jazeera. Suspicion immediately fell on illegal loggers linked to the charcoal trade that supplies pig iron smelters in the region.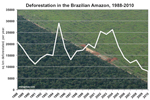 Brazil confirms big jump in Amazon deforestation

(05/18/2011) New data from the Brazilian government seems to confirm environmentalists' fears that farmers and ranchers are clearing rainforest in anticipation of a weakening of the country's rules governing forest protection. Wednesday, Brazil's National Space Research Agency (INPE) announced a sharp rise in deforestation in March and April relative to the same period last year. INPE's rapid deforestation detection system (DETER) recorded 593 square kilometers of forest clearing during the past two months, a 473 percent increase over the 103.5 sq km chopped down from March-April 2010.