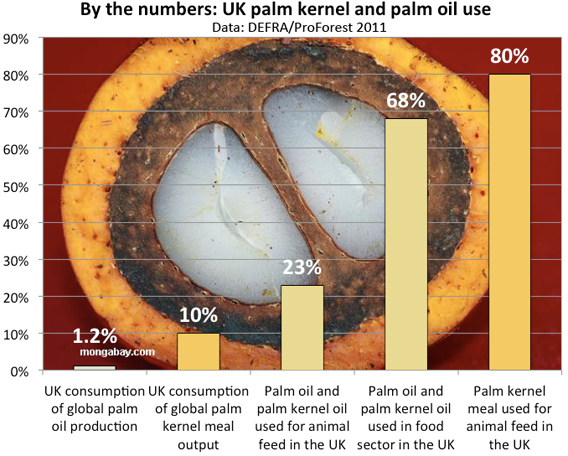 By the numbers: UK palm kernel and palm oil use


A new study for the U.K. government found that in 2009 Britain imported at least 1.65 million metric tons of palm oil-related products for production of food, fuel, and cosmetics. Notably, the study, which was conducted by Proforest for the Department for Environment, Food and Rural Affairs (DEFRA), concluded Britain's consumption of palm kernel — typically considered a byproduct of palm oil production — was actually higher than its palm oil demand and accounted for roughly 10 percent of global palm kernel output.



The findings could open a new front in environmentalists' efforts to reduce the environmental impact of oil palm expansion. Palm oil, rather than palm kernel, is presently the focus of initiatives like the Roundtable on Sustainable Palm Oil's (RSPO) eco-certification standard, mostly because palm oil is the main product of oil palm harvesting, accounting for nearly 90 percent by volume. But palm kernel meal and palm kernel oil are high-value products with important uses of their own. For example, due to its high protein content, palm kernel is often used as animal feed, especially for dairy cattle. Accordingly, the United States and Britain are major importers of palm kernel. The Proforest study estimates Britain's 2009 imports at 660,000 metric tons, ahead of the world's two largest importers of palm oil: China (500,000 tons in 2010) and India (235,000 tons in 2010). The U.S. imported 247,000 tons in 2010, according to the Department of Agriculture.




| | |
| --- | --- |
| | Healthy forest and an oil palm plantation. The difference is bigger than it looks: oil palm plantations store less carbon, house less biodiversity, and are more prone to erosion than natural forests. But oil palm is a highly productive crop, yielding more oil per unit of area than any other oilseed. Furthermore, because the oil palm is a tree grown over a 25-year harvest cycle, it stores more carbon than other crops. |
Already some environmental activists have began campaigning around palm kernel used in animal feed. Greenpeace-New Zealand has targeted dairy producer Fonterra over its use of palm kernel According to Greenpeace, New Zealand is the world's largest importer of palm kernel feed, importing around 1 million tons in 2010.



Given its outsized significance in markets where consumers show sensitivity to environmental performance, palm kernel may offer new leverage for campaigners in their efforts to push new oil palm expansion away from peatlands and natural forests.



Lindsey Allen, Forests Program Director at the Rainforest Action Network, which is in the midst of a palm oil campaign, says that companies shouldn't overlook palm kernel meal and oil as they develop palm oil sourcing policies.



"The public increasingly understands the devastating connections between palm oil expansion, rainforest destruction, and the choices they make at the grocery store," she told mongabay.com. "Given that palm kernel oil is used in so many of the products we buy daily, consumers want to be assured they are not unwittingly driving deforestation and climate change with their purchases."



"Global trading giants like Cargill and IOI need to invest in meeting customer demands by creating safeguards in the production of palm kernel oil."



Palm kernel and palm oil certification





Expansion of the oil palm estate and natural forest loss in Indonesia and Malaysia, 1990-2008. Click image to enlarge


Palm oil is now found in up to half of packaged processed foods in some markets. By virtue of its high yield, palm oil is a cheaper substitute than other vegetable oils, but it has lately been targeted by environmentalists because its production has at times taken a heavy toll on wildlife-rich rainforests and carbon-dense peat swamps in Indonesia and Malaysia. The RSPO is the palm oil industry's response to these concerns.
The body that devises sustainability criteria for palm oil products, the RSPO, last year established interim rules for RSPO-certified sustainable palm kernel products. But the supply chains for palm kernel products aren't yet traceable, according to group.



Still, adoption of certified sustainable palm oil (CSPO) has been slow in Britain. The Proforest study found that only 55,000 tons of Britain's 595,000 tons of palm oil imports in 2009 were RSPO-certified. But the low number was augmented by roughly 100,000 tons worth of GreenPalm certificates, which represent CSPO produced and allow companies to support greener palm oil production even if their suppliers can't immediately provide certified oil. The new study says that U.K. companies have pledged to source nearly a quarter of a million tons worth of CSPO by 2015, an amount which is equivalent to 37 percent of present imports.



The study concludes that a public procurement policy on the part of the U.K. government, combined with awareness raising in the private sector, could help spur broader use of more sustainable palm oil products.



Related articles



Breakthrough? Controversial palm oil company signs rainforest pact

(02/09/2011) One of the world's highest profile and most controversial palm oil companies, Golden Agri-Resources Limited (GAR), has signed an agreement committing it to protect tropical forests and peatlands in Indonesia. The deal—signed with The Forest Trust, an environmental group that works with companies to improve their supply chains—could have significant ramifications for how palm oil is produced in the country, which is the world's largest producer of palm oil.
Greening the world with palm oil?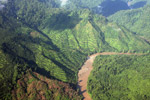 (01/26/2011) The commercial shows a typical office setting. A worker sits drearily at a desk, shredding papers and watching minutes tick by on the clock. When his break comes, he takes out a Nestle KitKat bar. As he tears into the package, the viewer, but not the office worker, notices something is amiss—what should be chocolate has been replaced by the dark hairy finger of an orangutan. With the jarring crunch of teeth breaking through bone, the worker bites into the "bar." Drops of blood fall on the keyboard and run down his face. His officemates stare, horrified. The advertisement cuts to a solitary tree standing amid a deforested landscape. A chainsaw whines. The message: Palm oil—an ingredient in many Nestle products—is killing orangutans by destroying their habitat, the rainforests of Borneo and Sumatra.