The Roundtable on Sustainable Palm Oil (RSPO), a body that sets criteria for social and environmental certification of palm oil, weighed in on the debate over Australia's proposal to require listing of palm oil as an ingredient on package labels. At the same time, the RSPO announced its own labeling initiative to distinguish products that use RSPO-certified palm oil from those that do not.



Darrel Webber, Secretary General of the RSPO, said that if the purpose of the bill is to encourage the adoption of "greener" palm oil, rather than discourage use of all palm oil, the RSPO supports the bill. But he added truth-in-labeling should apply to all vegetable oils.



"Distinguishing palm oil as the only edible oil that requires labeling implies that other edible oils do not face similar challenges," Webber said in a statement. "RSPO takes a strong view against this supposition as issues surrounding environmental destruction, social concerns and wildlife conservation are prevalent across the board with cultivation of any type of monoculture crops."



| | |
| --- | --- |
| | Oil palm seed. Palm oil is used widely in processed foods. By virtue of its high yield, palm oil is a cheaper substitute than other vegetable oils. Photo by: Rhett A. Butler. |
"Further to this, such a labeling exercise that singles out palm oil may only serve to ostracize agricultural farmers in developing countries such as Indonesia, Malaysia, Papua New Guinea, South America, West Africa, etc. whose key source of income comes from palm oil. These smallholders need to be educated, guided, encouraged and inspired to adopt sustainable standards and solutions, rather than have their livelihoods affected. RSPO certification program aims to support smallholders in this light."



Webber added that if the bill causes a shift away from palm oil, the vegetable oils that replace it would also need to be evaluated on their social and environmental performance. As the world's highest yielding oilseed, palm oil produces more oil per unit of area than any other crop. As such the palm oil industry argues its crop requires less land to produce the same amount of oil as canola/rapeseed, soy, coconut, and corn.



"The long term repercussion of this proposed Bill may decrease the demand for palm oil but will not eliminate the key reasons this proposal is aimed at addressing in the first place," he said. "This is because edible oil is a key ingredient in most consumer products. Demand would merely shift to other vegetable oils, increasing the sustainability problems connected to these other particular crops."



Webber took the opportunity to announce the RSPO trademark, which will be used on product packaging and labels which contain RSPO Certified Sustainable Palm Oil (CSPO). The label will be available later this year.



| | |
| --- | --- |
| | Oil palm estates and forest in Pahang, Malaysia. Image courtesy of Google Earth |
"The trademark will enable consumers to confirm very quickly that the products they buy contribute to sustainable production of palm oil," said the RSPO statement. "The trademark logo could end up on the packaging of thousands of consumer products worldwide."



Up to half of packaged products in some markets contain palm oil.



RSPO also announced record production of certified palm oil, which reached 4.7 million metric tons in the year to date, up from 2.8 million tons for all of 2010.



The RSPO



RSPO was formed in 2004 as a response to concern from environmentalists who maintain that oil palm production has driven large-scale destruction of rainforests across southeast Asia over the past two decades, triggering the release of billions of tons of carbon dioxide emissions and imperiling rare species, including the Sumatran tiger and the orangutan. RSPO has created a set of criteria to make palm oil production less damaging to the environment and local communities. These include using natural pests and composting in place of synthetic pesticides and fertilizers whenever possible, implementing no burn policies, sparing high conservation value forests from development, taking measures to reduce air pollution, and creating catchment ponds to prevent palm oil mill effluent from entering waterways where it would damage aquatic habitats. The hope is that CSPO can be sold at a premium to recoup the increased costs that certification entails.



RSPO has at times been criticized for being slow to act when members are found to be operating in violation of productions standards, but the body has recently rebuked IOI Group, a Malaysian producer, and Golden Agri Resources (GAR), a Singapore-based firm, for social and environmental transgressions. GAR has since taken steps to come back into compliance, including establishing a new forest policy.
Related articles



Malaysian palm oil giant in fight with forest people gets rebuke from RSPO

(04/06/2011) A Malaysian palm oil company facing criticism for a land use dispute with forest people in Borneo has been suspended from the Roundtable on Sustainable Palm Oil (RSPO), an eco-certification body.
Palm oil company gives up land contested by local communities as part of sustainability pledge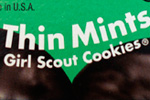 (03/21/2011) An Indonesia palm oil company has relinquished part of its plantation concession to communities that traditionally use the land as part of its commitment to sustainability principles under the Roundtable on Sustainable Palm Oil (RSPO), reports the Forest Peoples Programme. The move is a response to a new procedure that could reduce conflict between palm oil developers and forest-dependent communities.
Coalition calls on Europe to label palm oil on food products

(03/15/2011) Do you have the right to know whether the chocolate bar you're munching on includes palm oil, which is blamed for vast deforestation in Malaysia and Indonesia? How about that frozen pizza? According to a coalition of environmental and conservation groups it's time for food manufacturers to add palm oil to the label in Europe, instead of currently being listed as simply, and erroneously (palm kernels are fruits), 'vegetable oil'.
Greening the world with palm oil?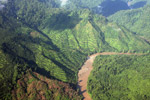 (01/26/2011) The commercial shows a typical office setting. A worker sits drearily at a desk, shredding papers and watching minutes tick by on the clock. When his break comes, he takes out a Nestle KitKat bar. As he tears into the package, the viewer, but not the office worker, notices something is amiss—what should be chocolate has been replaced by the dark hairy finger of an orangutan. With the jarring crunch of teeth breaking through bone, the worker bites into the "bar." Drops of blood fall on the keyboard and run down his face. His officemates stare, horrified. The advertisement cuts to a solitary tree standing amid a deforested landscape. A chainsaw whines. The message: Palm oil—an ingredient in many Nestle products—is killing orangutans by destroying their habitat, the rainforests of Borneo and Sumatra.
Sales of RSPO-certified palm oil surge 225%

(01/10/2011) Sales of palm oil certified under the leading sustainability standard surged 225 percent in 2010, suggesting growing consumer interest in more responsibly-sourced palm oil.
Converting palm oil companies from forest destroyers into forest protectors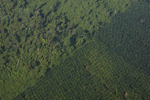 (01/02/2011) In efforts to save the world's remaining rainforests great hopes have been pinned on "degraded lands" — deforested lands that are presently sitting idle in tropical countries. Optimists say shifting agriculture to such lands will help humanity produce enough food to meet growing demand without sacrificing forests and biodiversity and exacerbating social conflict. But to date, degraded lands remain an enigma, especially in Indonesia, where deforestation continues at a rapid pace. Degraded lands are often misclassified by various Indonesian ministries—land in a far-off province may be listed as "wasteland" by Jakarta, but in reality is blanked by verdant forest that sequesters carbon, houses wildlife, and affords communities with food, water, and other essentials. Granting logging and plantation concessions on these lands can result in conflict and environmental degradation.
Lack of price premium for certified palm oil endangers sustainability initiative

(12/19/2010) The palm oil industry's sustainability initiative is making considerable progress toward improving its environmental performance, but needs to do more to accelerate the adoption of responsible practices, argue researchers writing in mongabay.com's open access journal Tropical Conservation Science.
U.S. companies should help drive push toward sustainable palm oil

(11/09/2010) U.S. companies should take a leadership role in helping ensure that palm oil production is sustainable and does not come at the cost of forests, climate, and communities, argues a new report published ahead of the annual meeting of the Roundtable on Sustainable Palm Oil (RSPO). The report, published by the National Wildlife Federation (NWF), says that while the U.S. is only a minor consumer of palm oil, its demand for the vegetable oil is fast rising, increasing four-fold since 2006. Palm oil, which is among the cheapest of vegetables owing to its high yield, is now found in up to 50 percent of packaged retail food products.
Dutch to use only certified palm oil by 2015

(11/04/2010) The Netherlands has committed to only using palm oil certified under the Roundtable on Sustainable Palm Oil (RSPO) by 2015, providing a huge boost for the certification standard which aims to improve the social and environmental performance of the world's most productive oil crop. The pledge makes the Netherlands the first country to commit itself to using only sustainable palm oil.
Nestle's palm oil debacle highlights current limitations of certification scheme

(03/26/2010) Last week Nestle, the world's largest food processor, was caught in a firestorm when it attempted to censor a Greenpeace campaign that targeted its use of palm oil sourced from a supplier accused of environmentally-damaging practices. The incident brought the increasingly raucous debate over palm oil into the spotlight and renewed questions over an industry-backed certification scheme that aims to improve the crop's environmental performance.
Consumers should help pay the bill for 'greener' palm oil

(01/12/2010) Palm oil is one of the world's most traded and versatile agricultural commodities. It can be used as edible vegetable oil, industrial lubricant, raw material in cosmetic and skincare products and feedstock for biofuel production. Growing global demand for palm oil and the ensuing cropland expansion has been blamed for a wide range of environmental ills, including tropical deforestation, peatland degradation, biodiversity loss and CO2 emissions. In response to these concerns, a group of stakeholders—including activists, investors, producers and retailers—formed the Roundtable on Sustainable Palm Oil (RSPO) to develop a certification scheme for palm oil produced through environmentally- and socially-responsible ways. It is widely anticipated that the creation of a premium market for RSPO-certified sustainable palm oil (CSPO) would incentivize palm oil producers to improve their management practices.