APP's response to this article






Forest to pulp mill in Riau Province, Sumatra, Indonesia. Eyes on the Forest presented its case for a stronger moratorium in a report sent to Kuntoro Mangkusubroto, head of Indonesia's REDD task force, an authority especially directly by President Susilo Bambang Yudhoyono. This image is from the Eyes on the Forest filing with Kuntoro.



Indonesian environmental groups launched a urgent plea urging the country's two largest pulp and paper companies not to clear 800,000 hectares of forest and peatland in their concessions in Sumatra.



Eyes on the Forest, a coalition of Indonesian NGOs, released maps showing that Asia Pulp and Paper (APP) and Asia Pacific Resources International Limited (APRIL) control blocks of land representing 31 percent of the remaining forest in the province of Riau, one of Sumatra's most forested provinces. Much of the forest lies on deep peat, which releases large of amount of carbon when drained and cleared for timber plantations.



Another 400,000 ha of forest is controlled by other operators.



Eyes on the Forest says the proposed forest moratorium, which was supposed to be signed January 1, 2011 but has been held up due to intense political pressure from the forestry sector, will not protect the forest areas since the concessions have already been granted. The moratorium would only apply to new concessions in still unspecified types of forests.



"Eyes on the Forest calls on both companies to voluntarily and immediately stop all natural forest clearance and peat drainage to support our President's commitment to reduce Indonesia's emissions by 26%," said Susanto Kurniawan of Jikalahari in a statement. "We urge them to become part of the solution rather than continue to be an embarrassment."



| | |
| --- | --- |
| | Concessions held by affiliates of Asia Pulp and Paper (APP) and Asia Pacific Resources International Limited (APRIL) in Riau. Image courtesy of Eyes on the Forest. |
"Pulping of Riau's critically important natural forests and draining of Riau's deep peat have made these companies the two most significant reasons for the province's position as the number one carbon emitter in Indonesia," added Suhandri of WWF Indonesia's Riau Program. "We fear that both groups will accelerate their wood sourcing in Riau concessions as the moratorium prevents the companies to clear elsewhere."



Eyes on the Forest estimates that APP, which is owned by the multinational Sinar Mas conglomerate, and APRIL, which is owned by the Singapore-based Royal Golden Eagle Group, have together cleared roughly 2 million hectares of natural forests in Riau, accounting for nearly half the province's recent forest loss. Riau lost 4.4 million hectares of its 6.9 million hectares (63 percent) of forest cover between 1985 and 2009.



Eyes on the Forest says conversion of already concessioned forest lands to pulp plantations in Riau would generate nearly 500 million tons in CO2 emissions.



The demand comes at a difficult time for APP and APRIL. Both groups have been targeted by environmental groups and human rights groups for alleged transgressions, including deforestation, drainage of peatlands, and social conflict.



For example, APP maintains it sources its timber responsibly, yet it has consistently failed to meet its targets for wood-pulp sourcing. According to Greenpeace, one of the environmental groups that has campaigned against APP, the paper products giant has twice claimed it would use only plantation timber. The first commitment came in 2004, when APP said it would phase out all sourcing from natural forest by 2007. After missing that target, APP failed to meet a 2009 deadline. APP now says it will meet the target by 2015. Further APP and APRIL have allegedly run afoul of the law. Three APP affiliates — PT Wirakarya Sakti, PT Rimba Hutani Mas, and PT Tebo Multi Agro — were named by the state audit agency (BPK) as delinquent in paying timber royalties or fines to the Jambi forestry service, while several APP and APRIL affiliates were named in a Riau illegal logging case that was "abruptly closed" in December 2008, according to Eyes on the Forest. Both APP and APRIL have extensive networks of affiliate companies outside Indonesia and are believed to be moving substantial portions of their profits offshore to avoid taxes. In fact APRIL's oil palm subsidiary Asian Agri has been under investigation by Indonesia's tax department for such activities.



| | |
| --- | --- |
| | Concessions held by affiliates of Asia Pulp and Paper (APP) and Asia Pacific Resources International Limited (APRIL) in Riau. Image courtesy of Eyes on the Forest. |
APP and APRIL have also been linked to substantial greenhouse gas emissions in the production of their paper products. The new statement from Eyes on the Forest says that APRIL is currently clearing draining of deep peat in Semenanjung Kampar, which it calls "the largest and most intact peat swamp ecosystem on the island, with possibly the largest concentration of peat carbon in Southeast Asia." APP has claimed its paper production is roughly carbon neutral, but its carbon accounting ignores emissions from deforestation and peat drainage, according to environmentalists. An assessment released last year by the Rainforest Action Network and the Japan Tropical Forest Action Network estimated APP's actual emissions at 500 times great than claimed. APP has since announced a new research initiative to quantify the the impact of plantation development and greenhouse gas emissions.



Both paper suppliers have also been under fire for contributing to the endangerment of rare animals, including Sumatran elephants, tigers, and rhinos. Earlier this year APP launched what it calls a tiger conservation initiative, which consists of a plan to relocate critically endangered tigers from their logging concession to a protected area that has an existing tiger population. APP recently established a tiger conservation group—Sumatran Tiger Preservation Foundation – YPHS—for the cause. Tiger researchers and conservation groups contacted by mongabay.com were unsure what to make of the initiative.



Fighting back




Forest conversion in Jambi, Sumatra, in February 2011. Photo by Rhett A. Butler.



Norway has pledged $1 billion to help Indonesia reduce its deforestation rate. By as highlighted in a recent report by Greenomics, an Indonesian NGO, the Norway Pension Fund is invested in PT Indah Kiat Pulp and Paper (IKPP), an APP subsidiary.
Environmental complaints have caused both APP and APRIL to lose high profile customers in the United States and Western Europe. APP has especially suffered, losing Carrefour, Tesco, Kraft, Unisource, Staples, Walmart, Ricoh, Woolworths, Gucci, H&M, and Fuji Xerox, among others, since 2007. It has lost the right to use the FSC eco-certification label on its products. Meanwhile APRIL has been rebuked by the Rainforest Alliance's SmartWood Program, which suspended the company's FSC certification in April 2010. The defections have been painful for both firms, which have gone to great lengths to win back customers.



APP has focused on public relations and marketing to rehabilitate its image. Beyond the initiatives mentioned above, it has released a trove of sustainably reports and regularly runs full-page advertisements in publications like The Economist touting its environmental record. APP has also used more questionable methods, including hiring groups like World Growth International and the Tea Party-affiliated Consumer Alliance for Global Prosperity to launch public attacks on companies that have dropped its products and environmental organizations that have raised concerns about its environmental conduct. When auditors have presented results it didn't like, APP has hired PR consultants — including ITS Global and Greenspirit — to put their own spin on the conclusions and produce favorable reports passed off as "independent audits." While it remains unclear whether these measures are the work of APP or the PR and lobbying firms it has retained in recent years — including Ogilvy & Mather, Weber Shandwick, Cohn & Wolfe, Clark & Weinstock — the messaging has been consistent: APP claims it is protecting the environment and alleviating poverty in Indonesia. But even these economic claims are now being questioned. Independent research has shown that the pulp and paper sector creates a relatively limited number of jobs relative to the amount of land it holds, while debt defaults, subsidies, and apparent tax evasion by some firms, reduce the industry's overall contribution to Indonesia's economy.





Sample of employment per hectare
APP says it employs roughly 70,000 people and holds 2.4 million hectares of concessions, or about one person per 34 hectares of concession, in Indonesia (or 1 worker per 20 ha if the area APP has set aside for conservation is excluded). For comparison, average smallholder holdings for agroforestry in West Java (Ginoga 2004) were 0.5 ha, 2 ha oil palm Indonesia-wide (IPOC 2009), and cacao 0.5 to 1.5 ha (Yasa 2007) (A smallholder is counted as a single person).
Nevertheless, the influence of the pulp and paper sector remains strong in Indonesia. Last year, APP's parent Sinar Mas Group hired Cameron Hume, the former U.S. ambassador to Indonesia, as an "adviser" less than four months after leaving his position. While not technically in violation of U.S. State Department ethics guidelines for seeking post-government employment roles, Hume's move, raised eyebrows in some circles.



"Hume's hiring occupies a bit of a grey area," said a State Department official reached by mongabay.com. "But they always tell us to 'avoid the appearance of impropriety' so you can see why it didn't sit well with some." The official asked to remain anonymous.



APP's move came as it contested a decision by the U.S. Department of Commerce to impose a anti-dumping tariff on some of its paper products. It is unclear whether Hume's hiring was related to that dispute or what role the former ambassador plays at the conglomerate.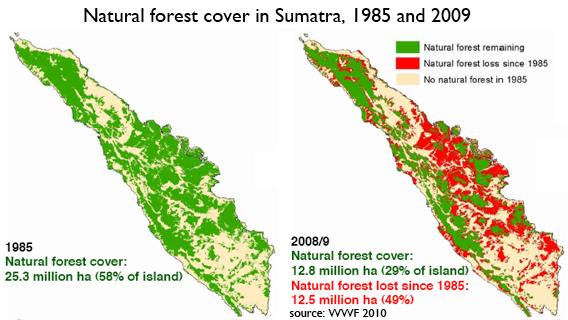 Support for moratorium not enough for environmentalists



For its part, APP says it supports the planned two-year moratorium on new forest concessions.



"I think it is really good to have a break," Aida Greenbury, then sustainability manager for Asia Pulp & Paper, told Voice of America last year. "We have been under enormous criticism from all over the world. So let us just stop everything, tell us where did we do wrong and let us analyze it, see where we can improve according to national regulations and then come up with a new set of regulations or system."



But environmentalists are now calling on pulp and paper companies to do more: forgo conversion of forest and peatland in concessions they have already secured.



Eyes on the Forest "recommends… a complete moratorium on all natural forest and peat conversion operations in Riau to avoid the destruction of forests that may eventually be found to be illegal."



Related articles



Does chopping down rainforests for pulp and paper help alleviate poverty in Indonesia?

(01/13/2011) Over the past several years, Asia Pulp & Paper has engaged in a marketing campaign to represent its operations in Sumatra as socially and environmentally sustainable. APP and its agents maintain that industrial pulp and paper production — as practiced in Sumatra — does not result in deforestation, is carbon neutral, helps protect wildlife, and alleviates poverty. While a series of analyses and reports have shown most of these assertions to be false, the final claim has largely not been contested. But is conversion of lowland rainforests for pulp and paper really in Indonesia's best economic interest?
Will Indonesia's big REDD rainforest deal work?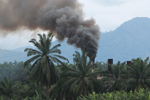 (12/28/2010) Flying in a plane over the Indonesian half of the island of New Guinea, rainforest stretches like a sea of green, broken only by rugged mountain ranges and winding rivers. The broccoli-like canopy shows little sign of human influence. But as you near Jayapura, the provincial capital of Papua, the tree cover becomes patchier—a sign of logging—and red scars from mining appear before giving way to the monotonous dark green of oil palm plantations and finally grasslands and urban areas. The scene is not unique to Indonesian New Guinea; it has been repeated across the world's largest archipelago for decades, partly a consequence of agricultural expansion by small farmers, but increasingly a product of extractive industries, especially the logging, plantation, and mining sectors. Papua, in fact, is Indonesia's last frontier and therefore represents two diverging options for the country's development path: continued deforestation and degradation of forests under a business-as-usual approach or a shift toward a fundamentally different and unproven model based on greater transparency and careful stewardship of its forest resources.
Pulp plantations destroying Sumatra's rainforests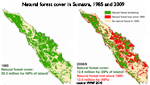 (11/30/2010) Indonesia's push to become the world's largest supplier of palm oil and a major pulp and paper exporter has taken a heavy toll on the rainforests and peatlands of Sumatra, reveals a new assessment of the island's forest cover by WWF. The assessment, based on analysis of satellite imagery, shows Sumatra has lost nearly half of its natural forest cover since 1985. The island's forests were cleared and converted at a rate of 542,000 hectares, or 2.1 percent, per year. More than 80 percent of forest loss occurred in lowland areas, where the most biodiverse and carbon-dense ecosystems are found.


Statement from Asia Pulp and Paper in response to this article



Asia Pulp and Paper Group (APP) remains committed to preserving the natural treasures of Riau in Sumatra and has a long history of investing in and helping manage critical conservation programs in the area. Two sites you mention – the UNESCO Biosphere at Giam Kecil-Bukit Batu Reserve and the Bukit Tigapuluh forests – exist today, in part, because of APP's continued support. In addition, last year we created the Kampar Carbon Reserve within a supplier concession area specifically to protect valuable peat deposits in Kampar. It was the first plantation-to-carbon sink conversion in the world and revenues from carbon credits sold will fund both community development and forest restoration.



We fully support the moratorium on new concessions and believe it offers both Indonesia and companies like ours a chance to take stock and plan for the future. APP recently announced a series of activities and programs the company will undertake during this timeframe, all aimed at assessing and enhancing its sustainable practices.



APP will conduct research and expansion initiatives in its flagship conservation areas. APP has set aside thousands of hectares of natural forest rich in biodiversity and social value for the Taman Raja Nature Preserves. The company will embark on an expansion program designed to create a critical wildlife corridor linking the Taman Raja Nature Preserve to Bukit Tiga Puluh National Park [Flickr].



Reducing carbon emissions and preserving valuable carbon sinks while enhancing the sustainable livelihood of people in surrounding communities will be one major focus over the next two years. APP has engaged third-party research groups to analyze and take reliable carbon stock calculations in plantation development, with an emphasis on assessing carbon emissions in all soil types YouTube. This will be the first independent research project conducted in Indonesian pulpwood plantations that covers analysis of all soil types for a full year crossing all seasons. It is expected to provide valuable learning to guide future sustainable forestry programs. The analysis will measure greenhouse gas emissions (CO2 and CH4) and loss of organic materials in lowland forest and adjacent upland in pristine and degraded natural peat forest over the course of one year. Equipment is currently being installed in and around concessions managed by APP pulpwood suppliers in Riau, Jambi and South Sumatra.



APP is also engaging a wide range of experts from within Indonesia and around the world to work closely with us on creation of a sustainability roadmap. We are currently assessing all APP mills, pulpwood supplier operations and community development programs as part of our 2020 vision for sustainable management. This roadmap will serve as a guide for the future of our business. It will address critical areas such as tracking and reducing our carbon and water footprint, advancing certification commitments in our mills and pulpwood supplier concessions, assessing and expanding conservation and preservation initiatives, and engaging with stakeholders in the communities we serve to help ensure we are doing our part to create economic development opportunities and social programs that benefit the people of Indonesia.



We are proud of our achievements to date, but we also recognize there is much left to do. We fully support the moratorium and take very seriously our responsibility to use this timeframe to continue to advance our sustainability programs and support the sustainable forest management, economic and social development goals set forth by the government of Indonesia.