The Indian government has announced that it plans to develop a program to raise the population of its native Ganges river dolphin (Platanista gangetica gagnetica), a subspecies of the South Asian river dolphin. During a question and answer session Jairam Ramesh, India's Environment and Forests Minister, said that the dolphin's current population was estimated at 2,000 to 3,000 individuals in the Ganges. However, other estimates have placed it lower.



The South Asian river dolphin is currently listed as Endangered by the IUCN Red List, although it has been difficult for researchers to conduct a rigorous population survey. The species range has shrunken dramatically over the past century, as well it is currently threatened by dams, canals, barges, pollution, and entanglement in fishing gear.



As if to highlight such the impacts of such threats five Indus river dolphins(Platanista gangetica minor)—the second subspecies of the South Asian river dolphin—were found dead in January in Pakistan. Autopsies are currently being carried out on three of them, but it is believed they succumbed to either entanglement in nets or toxic chemical pollution.



Already, one of the world's four freshwater dolphin species has likely gone extinct. In 2006 a survey for the Yangtze River dolphin, or baiji, failed to find a single surviving animal. The baiji suffered from many of the same impacts that the South Asian river dolphins face.



The Ganges river dolphin is India's national aquatic animal.



Related articles



Extinct animals are quickly forgotten: the baiji and shifting baselines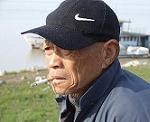 (02/23/2010) In 2006 a survey in China to locate the endangered Yangtze River dolphin, known as the baiji, found no evidence of its survival. Despondent, researchers declared that the baiji was likely extinct. Four years later and the large charismatic marine mammal is not only 'likely extinct', but in danger of being forgotten, according to a surprising new study 'Rapidly Shifting Baselines in Yangtze Fishing Communities and Local Memory of Extinct Species' in Conservation Biology. Lead author of the study, Dr. Samuel Turvey, was a member of the original expedition in 2006. He returned to the Yangtze in 2008 to interview locals about their knowledge of the baiji and other vanishing megafauna in the river, including the Chinese paddlefish, one of the world's largest freshwater fish. In these interviews Turvey and his team found clear evidence of 'shifting baselines': where humans lose track of even large changes to their environment, such as the loss of a top predator like the baiji.
Massive population of rare Irrawaddy dolphins discovered in Bangladesh

(03/31/2009) The Wildlife Conservation Society (WCS) has discovered an unknown population of the rare Irrawaddy dolphin in Bangladesh numbering 6,000 individuals. The dolphins were found in the freshwater areas of the Sundarbans mangrove forest. Prior to this discovery, the largest known populations of Irrawaddy dolphins numbered only in the hundreds.
The extinction of the baiji a 'wake-up call' to conserve vaquita and other cetaceans

(08/25/2008) In December of 2006 an expedition spent six weeks surveying the Yangtze River in China for one of the world's rarest cetaceans, the baiji. Also known as 'The Goddess of the Yangtze' the shy river-dolphin had roamed the river for millions of years locating fish with echolocation. The survey came back empty-handed without a spotting a single dolphin. Dr. Jay Barlow, a member of the surveying team, described his emotions on the expedition's findings in an interview with Mongabay.com: "I was stunned. I knew the species was in trouble, but I did not think they were already gone. We really had not seen the extinction of a large mammal species in 50 years, so we grew complacent."