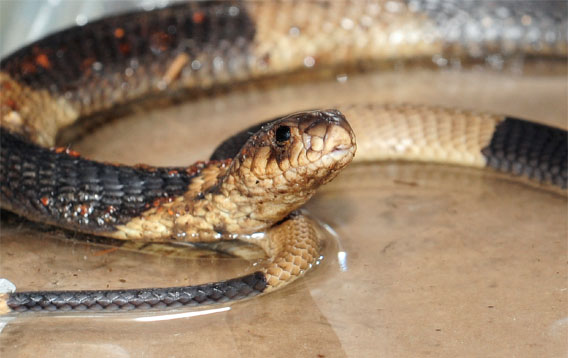 The missing Bronx Zoo cobra has been recaptured. Photo by Julie Larsen Maher of WCS.
The missing Bronx Zoo cobra that became a pop culture sensation and caused consternation among some New York residents whas been found after a thorough search of the zoo's Reptile House.



The escaped serpent was found in a non-public, off-exhibit area in the Reptile House, which will reopen soon, according to the Wildlife Conservation Society (WCS), which runs the zoo.



The Egyptian cobra was said to be in good condition, but it will be placed under observation and evaluated.



"As you can imagine, we are delighted to report that the snake has been found alive and well," said Jim Breheny, WCS Senior Vice President of Living Institutions and Director of the Bronx Zoo. "I really want to thank our staff for their determination and professionalism as we conducted the methodical search. We appreciated the public's support throughout the past week and we thank the media for helping keep the public informed."



"The key strategy here was patience."



The missing snake was found after searches of the Reptile House, which was under lock-down since its escape last Friday. The cobra's recapture was made difficult by its size and the abundance of hiding places in the facility.



"The difficulty was that the small snake, which is months old and weighs about 3 ounces, had sought out a secure hiding spot within the holding areas of the Reptile House – an extremely complex environment with pumps, motors, and other mechanical systems," said WCS in a statement.



The missing snake became somewhat of a celebrity while it was on the run. A twitter account (@bronxzooscobra) purportedly providing updates on the snake's whereabouts by the cobra itself acquired more than 180,000 followers as of this morning.



Related articles



Photo: new vipers discovered in Asia's rainforests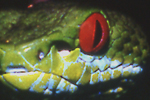 (03/30/2011) Researchers have discovered two new species of pitviper in Southeast Asia. After collecting snakes throughout the Asian tropics—Thailand, Laos, Vietnam, and Cambodia—researchers were able to parse out a more complex set of species than had been recognized. One of the new vipers has been dubbed Cryptelytrops rubeus for its ruby-colored eyes.
U.S. government bombs Guam with frozen mice to kill snakes

(09/28/2010) In a spectacularly creative effort to rid the island of Guam of an invasive species, the US Department of Agriculture is planning to 'bomb' the rainforests with dead frozen mice laced with acetaminophen. The mice-bombs are meant to target the brown tree snake, an invasive species which has ravaged local wildlife, and angered local residents, since arriving in the 1940s.
Photo: Fire-headed dragon discovered in Southeast Asia

(04/27/2010) Just weeks after scientists announced the discovery of a new monitor lizard in the Philippines, researchers have uncovered another unknown monitor inhabiting Southeast Asia. Described in Zootaxa, the new torch monitor (Varanus obor) is found only on the tiny island of Sanana, in the western Moluccan islands of Indonesia.
Photo: Fruit-eating dragon discovered in the Philippines

(04/07/2010) Scientists have discovered a new species of giant lizard in the unlikeliest of places: a highly populated, deforested landscape in the Philippines.

(04/06/2010) Call them survivors: blindsnakes have been identified as one of the few groups of organisms that inhabited Madagascar when it broke from the Indian subcontinent around 100 million years ago. According to a new study in Biology Letters, blindsnakes not only survived the split of Madagascar and India, but likely traveled from Asia to Australia and Africa to South America on floating vegetation, the latter a journey that may have taken six months of drifting on ocean currents. "Blindsnakes are not very pretty, are rarely noticed, and are often mistaken for earthworms," says Blair Hedges of her subjects. "Nonetheless, they tell a very interesting evolutionary story."
Secrets of the Amazon: giant anacondas and floating forests, an interview with Paul Rosolie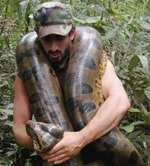 (03/10/2010) At twenty-two Paul Rosolie has seen more adventure than many of us will in our lifetime. First visiting the Amazon at eighteen, Rosolie has explored strange jungle ecosystems, caught anaconda and black caiman bare-handed, joined indigenous hunting expeditions, led volunteer expeditions, and hand-raised a baby giant anteater. "Rainforests were my childhood obsession," Rosolie told Mongabay.com. "For as long as I can remember, going to the Amazon had been my dream […] In those first ten minutes [of visiting], cowering under the bellowing calls of howler monkeys, I saw trails of leaf cutter ants under impossibly large, vine-tangled trees; a flock of scarlet macaws crossed the sky like a brilliant flying rainbow. I saw a place where nature was in its full; it is the most amazing place on earth."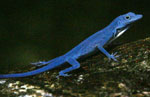 (03/07/2007) High above the forest floor on the remote Colombian island of Gorgona lives a lizard with brilliant blue skin, rivaling the color of the sky. Anolis gorgonae, or the blue anole, is a species so elusive and rare, that scientists have been unable to give even an estimate of its population. Due to the lizard&spod;s isolated habitat and reclusive habits, researchers know little about the blue anole, but are captivated by its stunning coloration.
Doctor performs kidney surgery on egg-eating snake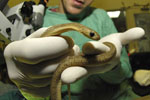 (02/22/2007) In early February Dr. Robert Moore performed microsurgery on an adult African egg-eating snake at the Bronx Zoo's Animal Health Center.
Snake becomes poisonous by eating toxic frogs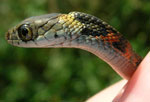 (01/29/2007) A new study shows that the Asian snake Rhabdophis tigrinus becomes poisonous by sequestering toxins from its prey which consists of venomous toads. While sequestering defensive toxins from prey is unusual among terrestrial vertebrates it is not unknown. Research published last year by Valerie C. Clark of Cornell University showed that poison dart frogs (Dendrobates species) and their Madagascar counterparts, the Mantella frogs, sequester toxic skin chemicals, called alkaloids, from the ants they eat. These alkaloids protect the frogs from predation. Similarly, some garter snakes are known to store tetrodotoxin from ingested newts while birds in New Guinea appear to sequester poisons from insects.
China uses snake-based earthquake prediction system

(12/27/2006) A province in southern China has come up with a unique way to predict earthquakes: snakes. According to China Daily and as reported by Reuters, the earthquake bureau in Nanning, capital of the Guangxi province, has set up a 24-hour video feed to monitor the behavior of snakes at snake farms. The scientists say that snakes are particularly sensitive to vibrations caused by impending earthquakes.
Python explodes after swallowing 6-foot alligator in Florida Everglades

(10/05/2005) The National Park Service released photos that show the carcass of an American alligator that was almost swallowed by a Burmese python.