Along Sega never knew exactly how old he was, but when he passed away yesterday in a hospital far from the forest where he born, he was likely in his 70s. Leader among the once-nomadic hunter and gatherer Penan people of Borneo and mentor to Swiss activist, Bruno Manser, Along Sega will be remembered for his work to save the Penan's forest—and their lifestyle and culture—from logging companies, supported by the Sarawak government and provided muscle by the state police.



"We want our forest to remain untouched. Because only then we can go hunting. […] We don't want the animals to get disturbed. When I was young, no one disturbed the animals: the forest was good and we could go hunting close to where we lived. The women could easily catch the fish and get their food," Along Sega, who was old enough to remember when Queen Elizabeth of England was still a princess, told the Bruno Manser Fonds
in an interview in 2005.



| | |
| --- | --- |
| | Along Sega in 1986 with a "seperut" stick which is used by the Penan as both an ornament and talisman. Photo courtesy of the Bruno Manser Fonds. |
In the 1980s logging companies entered the forests of the Penan, overturning a way of life. The tribes built roadblocks against the logging companies, filed lawsuits, and lobbied passionately for the forest they lived in. During this time, a young Swiss activist, Bruno Manser, helped bring international attention to the plight of the Penan after living with them for 6 years. Along Sega was one of Manser's mentors.



"I met Bruno the first time at Long Napir. In the beginning, when he arrived with us, he did not know how to speak Penan. The only words he said were 'Bakeh, bakeh' (friend). […] He came up to me and said: I am Bruno. May I come and join your group? I replied: if you want to stay with us, you are welcome," Along Sega said in the same interview.



Yet, decades later and much of the Penan's forest are gone, and what remains continues to be gravely threatened. Logging companies continue to encroach on Penan territory. Land lawsuits have waited decades to be resolved. Hydro-electric dams have disrupted the flow of rivers, forcing tribes to move or perish, and more are planned. State officials have announced plans to plant a million hectares of palm oil, much of which could end up on native customary lands. As for Manser, he disappeared in Sarawak in 2000. His disappearance remains a mystery, but he was no stranger to death threats.



Without the forests, the Penan people have been forced to change, as Along Sega explained in 2005: "The pelayo reisin tree is one of the most wanted timber trees, so they were mostly cut down. The dart poison trees and the trees for the blowpipes have been bulldozed. Only very few of these trees are left. This is why many nomadic Penan are now getting settled. There is no choice. Our sago palms have been destroyed as well. The logging company destroyed all our area, even our graveyard, and they never paid any compensation for it. Sometimes they just come in, cut down all the trees and don't even bother to take them out."



Jailed twice for his struggle against logging companies, Along Sega stated that promises made by the Sarawak government to create a primary forest protected area in 1993 for the Penan people were "all lies."



Still, he said even after he is gone the next generation must take up the cause.



"When I die, they will continue our struggle because I asked them not to give up."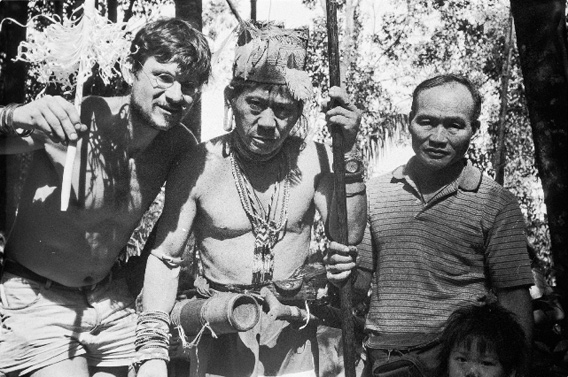 Along Sega (center) in 1996 with Bruno Manser on the left. Photo courtesy of Bruno Manser Fonds.
Related articles



Rainforest people sue logging company, Sarawak govt over planned deforestation

(12/22/2010) A community of forest people is taking a logging company and the state government of Sarawak to court over a plan to log 15,000 hectares of tropical rainforest, reports the Bruno Manser Fund.
Sarawak to cut down 1 million ha of rainforest for palm oil

(12/14/2010) The government of Sarawak aims to convert more than 1 million hectares (2.5 million acres) of tropical forest by 2020, according to the Malaysian state's Land Development Minister, James Masing.
Violence at indigenous logging blockade in Borneo

(06/21/2010) A road blockade organized by Penan tribesmen in Malaysian Borneo turned violent over the weekend when a timber company official allegedly struck a native protester, reports the Bruno Manser Fund. Malaysian state police, who arrived in logging company vehicles, subsequently told the Penan to dismantle their blockade, which was established to protest continued logging of rainforest lands.