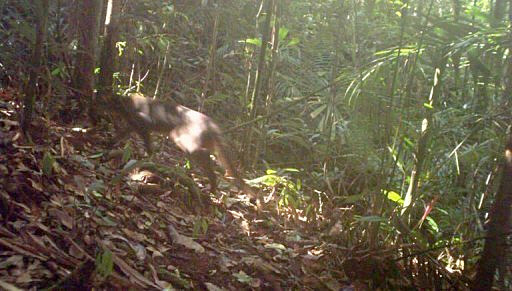 Photograph released by the Sarawak forestry department



Camera traps have photographed a rare small cat species in Borneo, but contrary to claims in The Telegragh, which reported on the story, the Bornean bay cat was not believed to be extinct, only rare.



"No one thought this species was extinct," said Andrew Hearn, a small cat specialist at Oxford University's Wildlife Conservation Research Unit (WildCRU) who works in Borneo. "Very rare, yes, and probably always naturally rather rare, even relative to other Bornean felids."



"Not one of us believes the bay cat is extinct," confirmed Jim Sanderson, a cat expert at the Small Cat Conservation Alliance. "Certainly we believe the bay cat is rare."



According to Hearn, since first photographed by Vladimir Dinets in 2002 in Sarawak and then Azlan Azad in 2003, the bay cat has been photographed on multiple occasions in several Sabah forest reserves in Malaysian Borneo.



"It takes a really quite large effort to get this species to appear on the cameras, but of 5 forest sites I've surveyed so far, 4 of which were previously logged, we were only unable to detect this cat in one, the Lower Kinabatangan Wildlife Sanctuary."



The latest images were captured in 2009 and 2010 by camera traps set by the forest department on the edge of Pulong Tai national park in northern Sarawak. Two or three individuals were photographed.



Wilhelmina Cluny, a research officer with the forest department, told AFP she was "encouraged" by the sighting.



"I do feel encouraged, this photograph was taken in a logged forest," she is quoted as saying. "When we saw this it made us wonder whether this kind of habitat can sustain wildlife, even for rare and important species like the bay cat."



"We had been looking for any mammals and this bay cat came up, it's quite exciting that we got the photograph."



Sanderson said the reason the bay cat is typically photographed in logged forests is that "it's easier to travel a logging road and set a camera than it is to trek through forest and set a camera."
Related articles



Saving the world's most recently discovered cat species in Borneo

(04/10/2008) Last year two teams of scientists announced the discovery of a new species of clouded leopard in Borneo. The news came as conservationists launched a major initiative to conserve a large area of forest on an island where logging and oil palm plantations have consumed vast expanses of highly biodiverse tropical rainforest over the past thirty years. Now a pair of researchers are racing against the clock to better understand the behvaior of these rare cats to see how well they adapt to these changes in and around Danum Valley in Malaysia's Sabah state. Andrew Hearn and Joanna Ross run the Bornean Wild Cat and Clouded Leopard Project, an effort that aims to understand and protect Borneo's threatened wild cats, which include the flat-headed cat (Prionailurus planiceps), marbled cat (Pardofelis marmorata) leopard cat (Prionailurus bengalensis) the endemic bay cat (Catopuma badia) and the Bornean clouded leopard (Neofelis nebulosa).
Often overlooked, small wild cats are important and in trouble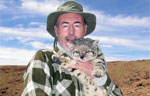 (08/05/2008) While often over-shadowed by their larger and better-known relatives like lions, tigers, leopards, and jaguars, small cats are important indicators of the health of an ecosystem, says a leading small cat expert who uses camera traps extensively to document and monitor mammals in the wild. Dr Jim Sanderson, a scientist with the Small Cat Conservation Alliance and Conservation International, is working to save some of the world's rarest cats, including the Andean cat and Guigna of South America and the bay, flat-headed, and marbled cats of Southeast Asia. In the process Sanderson has captured on film some of the planet's least seen animals, including some species that have never before been photographed. He has also found that despite widespread criticism, some corporate entities are effectively protecting remote wilderness areas.