New satellite data reveals active burning in Sava, a region in Madagascar that has been ravaged by illegal logging for rosewood and other valuable rainforest timber.



| | |
| --- | --- |
| | Click to enlarge |
According to data provided by the Fire Alert System, a joint monitoring program run by NASA, Conservation International and the University of Maryland, more than 1,100 fires have burned in Andapa, Antalaha, Sambava, and Vohimarina—districts where the bulk of Madagascar's illegal logging is taking place—since October 1. Roughly a quarter of these fires have burned in, or on the margins, of forest areas. A handful of fires have occurred in protected areas, including Masoala National Park, a World Heritage Site that has been besieged by illegal logging since last year. A biological survey in October turned up evidence of as many as 10,000 people living in the park.



The remote sensing data seems to support on-the-ground reports of a large number of fires in the region. Dry conditions are likely a contributing factor—the rainy season is late this year, so annual fires set for land-clearing are burning longer than usual. Politic conditions may also be a factor: since last year's military coup, governance in Madagascar has been substantially weakened. As a result, there is less control over illegal fire-setting and logging.



Nevertheless, while the aggregate number of fires for October through December 2010 are higher than normal, they are down from the year earlier period, when more than 1,300 were recorded. The number of fires burning in forest areas is similar over the past two years, but markedly higher than 2008 and 2007, the first year the Fire Alert System was operational.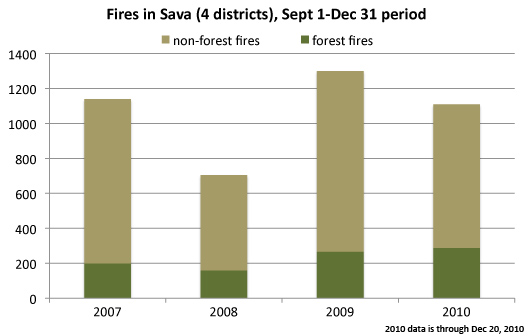 Neighboring regions are also seeing heavy burning. Analanjirofo, the region which contains parts of Makira and Masoala protected areas, had 553 forest fires in October and November, up from 421 a year earlier. Diana, which houses Analamerana and Andavakoera-Andrafiamenta-Ambohipiraka protected areas, and Sofia, which borders Makira, had more than 500 forest fires during the two months.



Final data for December 2010 will be available next month, making annual comparisons more complete.
Related articles



Extensive logging, lemur hunting in Madagascar national park despite moratorium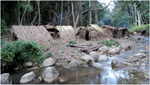 (11/16/2010) A biological survey in Northeastern Madagascar has turned up evidence of extensive logging in Masoala National Park, a UNESCO World Heritage Site renowned for its biologically-rich rainforest. The findings suggest that harvesting of valuable hardwoods—including rosewood, ebony, and palissander—continues despite an official ban on the logging and export of timber.
Local efforts block attempt to ship illegal rosewood from Madagascar

(11/10/2010) Authorities in Madagascar successfully blocked an attempt to ship illegally logged rosewood from the port of Vohemar over the weekend, according to local reports. The incident, while isolated, suggests citizens, the Waters and Forests Administration, local media, and shipping companies are having an impact on slowing the rosewood trade that has devastated Madagascar's rainforest parks, wildlife, and rural communities.
Madagascar's president linked to illegal logging (video)

(11/05/2010) Video released by the Environmental Investigation Agency reveals Chinese rosewood traders have direct links to Madagascar's President Andry Rajoelina, who seized power during a March 2009 military coup.
The $1M bed: why Madagascar's rainforests are being destroyed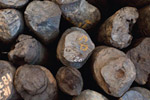 (10/26/2010) Consumer demand for rosewood furniture and musical instruments is driving illegal logging in Madagascar's national parks, endangering wildlife and undermining local community livelihoods, according to a new report from the Environmental Investigation Agency (EIA) and Global Witness. The report, based on more than a year of investigations, shows that Madagascar's valuable hardwoods—including ebony, pallisander, and rosewood—are being illegally harvested from rainforest parks and trafficked to Asia, Europe, and the United States. The vast majority of timber however ends up in China, where it is converted into luxury furniture.