Guyana's deforestation rate over the past 12 months was roughly three times the average annual rate over the prior 20 year period, but was still well below the baseline under the recent $250 million forest conservation partnership with Norway, according to a new report released by Guyana Forestry Commission's REDD+ Monitoring Reporting and Verification System (MRVS).



As reported in Stabroek News, the Interim Measures Report 2010 found that Guyana lost 10,287 hectares of forest from October 1, 2009 to September 2010, or about 0.06 percent of its forest cover. While the loss was three times the 0.02 percent annual rate from 1990 to 2009, it came in 12,969 hectares below the level allotted under the Guyana-Norway partnership, meaning that Guyana has met its fist year commitment despite a rising deforestation rate.



The report attributed 91 percent of last year's deforestation to mining, which has accounted for 60 percent of Guyana's deforestation since 2000. 85 percent of last year's deforestation occurred on state forest lands. Most forest conversion is occurring near "existing road infrastructure and navigable rivers".



High mineral and metal prices are contributing to the increase in mining in Guyana.









Related articles



Guyana bans gold mining in the 'Land of the Giants'


(03/01/2010) Guyana has banned gold dredging in the Rewa Head region of the South American country after pressure from Amerindian communities in the area. A recent expedition to Rewa Head turned up unspoiled wilderness and mind-boggling biodiversity. The researchers, in just six weeks, stumbled on the world's largest snake (anaconda), spider (the aptly named goliath bird-eating spider), armadillo (the giant armadillo), anteater (the giant anteater), and otter (the giant otter), leading them to dub the area 'the Land of the Giants'. "During our brief survey we had encounters with wildlife that tropical biologists can spend years in the field waiting for. On a single day we had two tapirs paddle alongside our boat, we were swooped on by a crested eagle and then later charged by a group of giant otters."
Guyana to increase oversight of gold mining under deal to save forests with Norway

(12/21/2009) As apart of a deal with Norway to preserve its rainforests, Guyana will step up oversight of its gold mining industry, which has been accused of causing significant environmental damage including deforestation and mercury and cyanide pollution.
Guyana expedition finds biodiversity trove in area slated for oil and gas development, an interview with Robert Pickles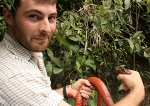 (11/29/2009) An expedition deep into Guyana's rainforest interior to find the endangered giant river otter—and collect their scat for genetic analysis—uncovered much more than even this endangered charismatic species. "Visiting the Rewa Head felt like we were walking in the footsteps of Wallace and Bates, seeing South America with its natural density of wild animals as it would have appeared 150 years ago," expedition member Robert Pickles said to Mongabay.com.
Norway to give Guyana up to $250M for rainforest conservation

(11/09/2009) Norway will provide up to $250 million to Guyana as part of the South American country's effort to avoid emissions from deforestation.
Norway to pay Guyana to save its rainforests

(02/05/2009) Norway will provide financial support for Guyana's ambitious plan to conserve its rainforests, reports the Guyana Chronicle. Meeting in Oslo, Norway on Tuesday, Guyana President Bharrat Jagdeo and Norwegian Prime Minister Jens Stoltenberg signed a Memorandum of Understanding agreeing to establish a partnership to reduce greenhouse gas emissions from deforestation and forest degradation (REDD). The leaders will push for the incorporation of a REDD mechanism that includes low deforestation countries like Guyana in a post-2012 climate change agreement.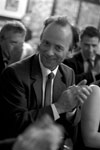 (04/02/2008) Last week London-based Canopy Capital, a private equity firm, announced a historic deal to preserve the rainforest of Iwokrama, a 371,000-hectare reserve in the South American country of Guyana. In exchange for funding a "significant" part of Iwokrama's $1.2 million research and conservation program on an ongoing basis, Canopy Capital secured the right to develop value for environmental services provided by the reserve. Essentially the financial firm has bet that the services generated by a living rainforest — including rainfall generation, climate regulation, biodiversity maintenance and carbon storage — will eventually be valuable in international markets. Hylton Murray-Philipson, director of Canopy Capital, says the agreement — which returns 80 percent of the proceeds to the people of Guyana — could set the stage for an era where forest conservation is driven by the pursuit of profit rather than overt altruistic concerns.
Private equity firm buys rights to ecosystem services of Guyana rainforest

(03/27/2008) A private equity firm has purchased the rights to environmental services generated by 371,000 hectare rainforest reserve in Guyana. Terms of the deal were not disclosed, but the agreement is precedent-setting in that a financial firm is betting that the services generated by a living rainforest — including rainfall generation, climate regulation, biodiversity maintenance and water storage — will eventually see compensation in international markets.
Is Guyana's logging deal in its best interests?

(02/21/2008) In January Guyana awarded U.S. timber firm Simon & Shock International a 400,000-hectare (988,400-acre) logging concession near the Brazilian border. Final approval hinges on the completion of an environmental impact survey and a tree inventory. While Simon & Shock International says it plans to conduct selective logging, the firm has not announced whether it will seek Forest Stewardship Council certification, a mark for responsibly-harvested timber. Is there an alternative that can improve the lot for the average Guyanese? There may be. Last fall Guyana's President, Bharrat Jagdeo, hinted at the potential of using the country's forests as a giant carbon offset to counter climate change.