Morgan Stanley, CIMB Securities, and Credit Suisse will underwrite the initial public offering of PT Borneo Lumbung Energi (Borneo Energy), a company that owns Asmin Koalindo Tuhup, a mining company that operates in Central Kalimantan in Indonesia Borneo, reports ANTARA.



The listing aims to raise roughly $250 by selling 30 percent of the firm on the Indonesian Stock Exchange.



The news comes on the same day that India's state-run National Aluminum Co. Ltd (NALCO) said it plans to "buy stakes in Indonesian coal mines to secure supplies for its aluminum project in East Kalimantan," according to Reuters. Nalco said it is seeking to buy 8-10 million metric tons per year of thermal coal, half of which would go towards its Borneo operation and half of which would be shipped abroad.



The Borneo Energy offering may prove controversial for the underwriters, with environmentalists ramping up campaigns around coal production in Borneo. Green groups fear that increased coal production could increase deforestation and pollution on the rainforest island, while boosting greenhouse gas emissions globally. Today, two UK-based organizations published reports on coal mining: Mines and Communities, an activist network, released Dark Materials, a paper which details increased coal use in Asia, while Down To Earth issued a sister report on coal mining in Indonesia.



Activist efforts recently have focused on a proposed coal-fired plant in Sabah, Malaysia, on the northern part of Borneo. The plant, which would come second-hand from China and be supplied with coal from Kalimantan, would be situated between a protected rainforest reserve and the world-renowned Coral Triangle. Analysis by Daniel M. Kammen, director of the Renewable and Appropriate Energy Laboratory at Berkeley, has shown that Sabah has cleaner energy options than the coal plant, a finding that has increased opposition to the plant.



Although it doesn't rank among the world's top ten in coal reserves, Indonesia was the fifth largest coal producer in 2009 following China, the U.S., Australia and India. It is the largest exporter of thermal coal.
Related articles



U.S. government may finance massive coal projects in India, South Africa

(08/26/2010) The United States Export-Import Bank (Ex-Im Bank) voted on Wednesday to seek a final review of a $900m loan for a controversial 3,960 MW coal-fired power plant in India, reports Pacific Environment, a San Francisco-based environmental group.
Allegations abound: are nepotism and corruption behind the Sabah coal plant?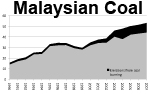 (08/25/2010) Allegations of government corruption and corporate kick-backs are swirling around a planned 300 MW Chinese coal plant in the Malaysian state of Sabah. While the plan to build the coal plant in Lahad Datu Bay has come up against strong and unrelenting grassroots opposition, the federal government continues to turn a deaf ear to opposition, arguing that the energy plant is necessary to power Sabah and stop blackouts. However, critics say the coal plant—which is to be built on the edge of the Coral Triangle and 20 kilometers from Tabin Wildlife Reserve—will damage fish stocks with chlorine and thermal discharges, upend the lives of locals dependent on fishing, and devastate eco-tourism in the region. In addition, the coal plant goes directly against Prime Minister Najib Tun Razak's agreement at Copenhagen to reduce the country's carbon emission intensity by 40 percent by 2020.
Environmental assessment for Borneo coal plant riddled with errors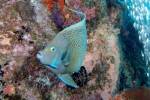 (08/03/2010) The Detailed Environmental Impact Assessment (DEIA) for a proposed coal plant in Sabah is full of holes, according to activists with the organization Green SURF (Sabah Unite to Re-Power the Future), which opposes the plant. The official environmental report from Lahad Datu Energy lists species not endemic to Borneo, mistakes the nearest ecosystem to the coal plant, and confuses indigenous groups. Even more seriously, the DEIA leaves out information on the coal plant's specifics and possible 'green' alternatives.
Analysis shows Borneo can say 'no' to coal power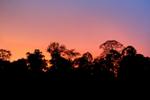 (03/17/2010) Plans for a coal power plant in the Malaysian state of Sabah in northern Borneo have run into stiff opposition. Environmentalists say the coal plant could damage extensive coral reef systems, pollute water supplies, open rainforests to mining, and contribute to global climate change, undercutting Sabah's image as a 'green' destination. The federal government contends that the coal plant is necessary to fix Sabah's energy problems. However, a recent energy audit by the Renewable and Appropriate Energy Laboratory (RAEL) at the University of California Berkeley shows that pollution-intensive coal doesn't have to be in Sabah's future.