The Roundtable On Sustainable Palm Oil (RSPO), a body the sets standards for eco-friendly palm oil production, on Thursday said Indonesian palm oil producer Sinar Mas Agro Resources and Technology (SMART) breached its sustainability criteria and faces expulsion, reports AFP.



"The Roundtable on Sustainable Palm Oil takes all infringements of its Code of Conduct and Principles and Criteria very seriously," the group said in a statement on its website.



"Members who have been found to not be in compliance and who continue to be in non-compliance with the RSPO regulations could ultimately face sanctions, including the suspension and, eventually, the termination of their membership of the RSPO."




SMART's response to criticism has been to launch a PR campaign that includes lobbying by an 'anti-poverty' group that routinely makes false claims about the environmental and social performance of palm oil.



Draining and clearing of peat forest in Central Kalimantan, Indonesia. Photo by Rhett A. Butler.
RSPO's statement comes after a Greenpeace investigation found evidence of SMART clearing peatlands and rainforests in Central Kalimantan and Sumatra in violation of RSPO principles. A subsequent audit—commissioned by SMART—largely confirmed Greenpeace's findings, although the company initially tried to claim the 'verification excercise' cleared it of wrong doing.



The audit also found that SMART failed to get necessary environmental permits before clearing forest in eight out of 11 concessions investigated.



SMART has lost a number of major customers—Unilever, Kraft, Nestle, Burger King, and General Mills—over the revelations.



The RSPO said it has also asked SMART's parent company, Singapore-listed Golden Agri-Resources Ltd (GAR), to stop claiming it is an RSPO member.



| | |
| --- | --- |
| | |
"GAR should not publicly suggest that it is in the process of obtaining RSPO certification of all its operating units, nor should the company publicly claim that it plans to become an RSPO member," read the statement from RSPO. "GAR is not a member of the RSPO, nor has the RSPO yet received a membership application from the company. The Panel encourages GAR to submit a full and complete application for membership and it has specified to the company which documentation RSPO would need in order to review the application, including a sufficiently challenging time-bound plan for certification."



RSPO's public rebuke of Smart is unusual for the body, which has criticized in some environmentalist circles for failing to take action against errant members.



The RSPO was established in 2004 in response to concerns that oil palm expansion was driving large-scale destruction of tropical rainforests and peatlands, putting biodiversity at risk and generating substantial greenhouse gas emissions. The multi-stakeholder body meets on a regular basis to establish and refine criteria for reducing the social and environmental impacts of palm oil production.



Palm oil is a highly profitable oil crop used in a wide variety of products including processed foods, cooking oil, and cosmetics and soaps. It is also increasing used for biodiesel.



Indonesia and Malaysia account for nearly 90 percent of palm oil production.








Related articles



Another food goliath falls to palm oil campaign

(09/22/2010) One of the world's biggest food makers, General Mills, has pledged to source only sustainable and responsible palm oil within five years time. With this announcement, General Mills becomes only the most recent food giant to pledge to move away from problematic sources of palm oil, which is used in everything from processed foods to health and beauty products. Nestle made a similar pledge earlier this year after a brutalizing social media campaign that lasted for months while Unilever, the world's biggest palm oil buyer, has been working closely with green groups for years.
Burger King drops palm oil supplier linked to Borneo rainforest destruction

(09/02/2010) Burger King announced it would no longer source palm oil from Sinar Mas, an Indonesian conglomerate, after an independent audit showed one of the company's subsidiaries had destroyed rainforests and carbon-dense peatlands in Borneo and Sumatra, according to a statement on the fast food chain's Facebook page.
Cargill backtracks on sustainability push for palm oil, says activist group

(08/26/2010) Cargill has not suspended its relationship with a palm oil company recently exposed for misleading investors and buyers on its environmental transgressions, reports the Rainforest Action Network (RAN), an activist group campaigning against environmentally-damaging forms of palm oil production.
Fraud allegations against Indonesian palm oil giant widen, tarnishing auditors and sustainable palm oil initiative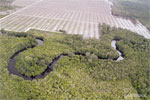 (08/19/2010) Sinar Mas, an Indonesian conglomerate whose holdings include Asia Pulp and Paper, a paper products brand, and PT Smart, a palm oil producer, was sharply rebuked Wednesday over a recent report where it claimed not to have engaged in destruction of forests and peatlands. At least one of its companies, Golden Agri Resources, may now face an investigation for deliberately misleading shareholders in its corporate filings.
How Greenpeace changes big business

(07/22/2010) Tropical deforestation claimed roughly 13 million hectares of forest per year during the first half of this decade, about the same rate of loss as the 1990s. But while the overall numbers have remained relatively constant, they mask a transition of great significance: a shift from poverty-driven to industry-driven deforestation and geographic consolidation of where deforestation occurs. These changes have important implications for efforts to protect the world's remaining tropical forests in that environmental groups now have identifiable targets that may be more responsive to pressure on environmental concerns than tens of millions of impoverished rural farmers. In other words, activists have more leverage than ever to impact corporate behavior as it relates to deforestation. A prime example of this power is evident in a string of successful Greenpeace campaigns, which have targeted some of the largest drivers of deforestation, including the palm oil industry in Indonesia and Malaysia and the soy and cattle industries in the Brazilian Amazon. The campaigns have shared a common approach: target large, conspicuous consumer-facing companies that sell in western markets.
Nestle caves to activist pressure on palm oil

(05/17/2010) After a two month campaign against Nestle for its use of palm oil linked to rainforest destruction spearheaded by Greenpeace, the food giant has given in to activists' demands. The Swiss-based company announced today in Malaysia that it will partner with the Forest Trust, an international non-profit organization, to rid its supply chain of any sources involved in the destruction of rainforests. "Nestle's actions will focus on the systematic identification and exclusion of companies owning or managing high risk plantations or farms linked to deforestation," a press release from the company reads, adding that "Nestle wants to ensure that its products have no deforestation footprint."
Certified sustainable palm oil sales reach record level

(04/09/2010) Sales of palm oil certified under the green criteria set by the Roundtable on Sustainable Palm Oil (RSPO) reached a record high in March, climbing nearly 8 percent over February 2010 to 136,000 metric tons, reports the RSPO in its monthly bulletin.
Nestle's palm oil debacle highlights current limitations of certification scheme

(03/26/2010) Last week Nestle, the world's largest food processor, was caught in a firestorm when it attempted to censor a Greenpeace campaign that targeted its use of palm oil sourced from a supplier accused of environmentally-damaging practices. The incident brought the increasingly raucous debate over palm oil into the spotlight and renewed questions over an industry-backed certification scheme that aims to improve the crop's environmental performance.
A new world?: Social media protest against Nestle may have longstanding ramifications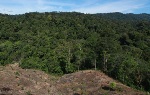 (03/20/2010) The online protest over Nestle's use of palm oil linked to deforestation in Indonesia continues unabated over the weekend. One only needed to check-in on the Nestle's Facebook fan page to see that anger and frustration over the company's palm oil sourcing policies, as well as its attempts to censor a Greenpeace video (and comments online), has sparked a social media protest that is noteworthy for its vehemence, its length, and its bringing to light the issue of palm oil and deforestation to a broader public.