General Mills pledges to source only sustainable palm oil by 2015.



One of the world's biggest food makers, General Mills, has pledged to source only sustainable and responsible palm oil within five years time. With this announcement, General Mills becomes only the most recent food giant to pledge to move away from problematic sources of palm oil, which is used in everything from processed foods to health and beauty products. Nestle made a similar pledge earlier this year after a brutalizing social media campaign that lasted for months while Unilever, the world's biggest palm oil buyer, has been working closely with green groups for years.



In a statement General Mills said they planned "to help ensure our purchases are not associated in any way with deforestation of the world's rainforests—and to further reinforce the development of certified sustainable palm oil production practices."



Outspoken critic of General Mills, the Rainforest Action Network (RAN), welcomed the decision in a press release. RAN had campaigned against General Mills as recently as January when they unfurled a giant banner at company headquarters condemning the food giant for deforestation.



"As a company with some of the most beloved brands in the nation, including Cheerios, Betty Crocker and Hamburger Helper, General Mills' decision to address deforestation in its supply chain is a major industry signal that palm oil is a problem that can and should be addressed. The company's new policy respects indigenous rights, protects rainforests and peatlands and sets a goal for sourcing 100 percent environmentally responsible palm oil by 2015," RAN said in a statement.



The organization says it will now focus on another agricultural giant, Cargill, to press them to adopt similar goals as General Mills, Unilever, and Nestle.



While General Mills uses only one-tenth of one percent of the world's palm oil, environmental activists clearly see this as another in a string of victories against globally-known companies purchasing palm oil from Malaysia and Indonesia where forest cover has fallen dramatically over the past few decades linked to the rise in palm oil plantations, as well as logging and pulp and paper manufacturers. Green groups criticism is not without teeth: a study in Conservation Letters found that 55-59 percent of palm oil plantations in Malaysia built between 1990 and 2009 occurred on forested land. While a more recent study found that from 1980 to 2000 over 80 percent of agricultural expansion in tropical nations came at the expense of forests.



Deforestation is causing biodiversity loss in some of the world's richest habitats, conflict with indigenous groups who depend on the forest for their livelihood, destruction of vital freshwater sources, and greenhouse gas emissions that globally outstrip the transportation sector.



| | |
| --- | --- |
| | Beginning of the palm oil plantation in the foreground in Sumatra, Indonesia, forested hills in the back. Photo by: Rhett A. Butler. |
"This is an urgent issue for the planet we share," General Mills' Chief Sustainability Officer Jerry Lynch said today. "The increase in global demand for palm oil is putting pressure on some of the world's most valuable rainforest ecosystems. "



Yet, palm oil has become a hugely attractive commodity because it is the world's most productive oil seed (far outstripping soy, which is linked to deforestation in the Amazon). Proponents of the palm industry argue that the palm oil industry is pulling Malaysia and Indonesia out of poverty. While the industry provides a large tax base to local governments, critics point out that many of its employees live below the poverty line.



While the campaign against deforestation linked to palm oil continues to have success with big companies in western markets, activists have not yet tackled the biggest consumers of palm oil: China and India.











Related articles



Cheerios maker linked to rainforest destruction

(01/19/2010) An activist group linked General Mills to destruction of rainforests in Southeast Asia in dramatic fashion on Tuesday, when it unfurled a giant banner, reading "Warning: General Mills Destroys Rainforests", outside the company's Minneapolis headquarters building.
80% of tropical agricultural expansion between 1980-2000 came at expense of forests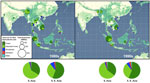 (09/02/2010) More than 80 percent of agricultural expansion in the tropics between 1980 and 2000 came at the expense of forests, reports research published last week in the early online edition of the Proceedings of the National Academy of Sciences (PNAS). The study, based on analysis satellite images collected by the United Nations Food and Agricultural Organization (FAO) and led by Holly Gibbs of Stanford University, found that 55 percent of new agricultural land came at the expense of intact forests, while 28 percent came from disturbed forests. Another six percent came from shrub lands.
Rapid growth of palm oil industry tramples indigenous peoples' rights, says report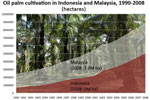 (08/30/2010) Rapid expansion of oil palm plantations across Southeast Asia have run roughshod over customary tenure systems, resulting in exploitation of local communities, conflict, and outright human rights abuses, reports a new assessment of the palm oil sector by the Forest Peoples Programme (FPP), an international indigenous rights group.