In what may amount to a historic moment in the quest to save the world's rainforests and mitigate climate change, Ecuador and the United Nations Development Fund (UNDF) have created a trust fund to protect one of the world's most biodiverse rainforests from oil exploration and development. The fund will allow the international community to pay Ecuador to leave an estimated 850 million barrels of oil in Yasuni National Park in the ground instead of extracting it. This first-of-its-kind agreement, known as the Yasuni-ITT Initiative, will allow the rainforest protected area to remain pristine: preserving one of the most species-rich places on Earth, safeguarding the lives of indigenous people, and keeping an estimated 410 million tons of CO2 out of the atmosphere.



"We welcome this long sought after final step to protect an important part of Yasuni National Park," said Kevin Koenig, the Ecuador Coordinator with Amazon Watch. "This is a big win for Ecuador, and the world. Now we need more countries to contribute, and for [Ecuadorian] President Correa to keep his word."



| | |
| --- | --- |
| | General location of the Yasuní Biosphere Reserve. The reserve, which is composed of Yasuní National Park and the Waorani Ethnic Reserve, is uniquely located at the intersection of the Amazon, Andes mountains, and the equator. Captions and images courtesy of Matt Finer, Varsha Vijay, Fernando Ponce, Clinton N Jenkins, and Ted R Kahn. Ecuador's Yasuní Biosphere Reserve: a brief modern history and conservation challenges. Environ. Res. Lett. 4 (July-September 2009) 034005 doi:10.1088/1748-9326/4/3/034005). |
Ecuador is asking for $3.6 US billion from international donors over the next ten years to keep the oil in the ground; the amount is half of what Ecaudor expected to receive if it developed the park. Oil is Ecuador's biggest exporter and the nation's economy remains largely dependent on the fossil fuel. But oil has also brought the nation trouble with pollution, disease, forest destruction, and conflict with indigenous people.



To date, a number of European nations have stepped forward with promises of pledges, although only Germany has put forward a hard number: $838 US million. It has been reported that Spain is likely to put in around a quarter billion, while France, Sweden, and Switzerland are also expected to contribute hefty donations each. In all, approximately half of the $3.6 US billion has already been raised.



Richest place on Earth?



While Yasuni National Park sits on nearly a billion barrels of oil, it is a rich place for another reason. Recent studies have shown that Yasuni may hold more species than anywhere else on Earth.



"Yasuní is at the center of a small zone where South America's amphibians, birds, mammals, and vascular plants all reach maximum diversity," Dr. Clinton Jenkins of the University of Maryland said in a press release for a study in PLoS ONE. "We dubbed this area the 'quadruple richness center.'"



Researchers have found that more tree species (655 to be exact) grow in a single hectare in Yasuni than in all of the US and Canada combined. The parks itself spreads over nearly a million hectares. Yasuni also contains the highest biodiversity of herpetofauna (i.e. reptiles and amphibians) in the world: 271 species. But bugs may win the day yet: according to entomologist, Dr. Terry Erwin, a single hectare of rainforest in Yasuni may contain as many as 100,000 insect species: an estimate that, if proven true, is the highest per unit area in the world for any taxa, plant or animal.



Yasuni National Park is also home to the Huaorani people, and two other indigenous tribes that have chosen voluntary isolation, the Tagaeri and the Taromenane. According to Amazon Watch, the Huaorani have been key in pressuring the Ecuadorian government not to give up on the Yasuni-ITT Initiative even when the program seemed doomed.



Oil in the Amazon



Given the new agreement, the rich biodiversity and the people of Yasuni National Park are safe for now, especially if the international community makes good on its rhetoric on combating deforestation and climate change. However, even as the initiative is moving forward, the Ecuadorian indigenous confederation, CONAIE, warns that the government is eyeing other sensitive areas for oil development.



| | |
| --- | --- |
| | The harpy eagle, the world's largest, is one of over 600 birds recorded in Yasuni. This individual is from Belize. Photo by: Rhett A. Butler. |
Just this week the Ecuadorian government announced that it would open areas of its southeastern Amazon to oil development and re-open oil blocks that had been abandoned due to resistance by indigenous people.



"We hope that the success of the Yasuni proposal doesn't mean a defeat for the forests and people of the southern rainforests," Marlon Santi, President of CONAIE, said. "We don't want Correa to offset his lost income from leaving the ITT oil in the ground by opening up other areas of equally pristine indigenous lands."



While headlines around the world have recently focused on the oil spill in the Gulf of Mexico, the Amazon has known oil exploitation and disaster for decades. A group of Ecuadorians are currently involved in a multi-billion lawsuit against Chevron Corp.-Texaco for oil contamination and the company's failure to successfully clean it up. The court fight has been going on for years, covered by the recent documentary film Crude, but Chevron has vowed not to pay even if they are found liable. Recently natives from Ecuador visited the Gulf of Mexico to provide support and advice on dealing with big oil companies.



Even as disasters unfold or remain unresolved, oil is enjoying a new boom in parts of the Amazon. According to Amazon Watch, Peru has opened 75 percent of its Amazon region—including protected areas and indigenous lands—to oil and gas exploration. Last year this push for fossil fuels in Peru turned deadly: a standoff between indigenous protestors and government police ended with 23 police officers and at least 10 protestors dead.



Is Yasuni the way of the future?



With the environmental and social problems linked to oil in South America, could the Yasuni ITT-Initiative prove a new way forward?



According to the Spanish news agency, Efe, both Guatemala and Nigeria have asked for assistance from Ecuador in coming up with similar programs. However, Cultural Patrimony Minister of Ecuador, Maria Fernanda Espinosa, told the Efe that nations should wait to see if the Yasuni ITT-Initiative succeeds.



"This model isn't for every country," she also said.



Still, Espinosa said that given the global environmental crisis, the world must rethink "the values and ethics of development."



If Ecuador succeeds in raising billions of dollars to keep rainforests standing and oil (as well as potential carbon emissions) in the ground, it will be due to a global 'rethink' indeed.











Related articles



Photos: park in Ecuador likely contains world's highest biodiversity, but threatened by oil


(01/19/2010) In the midst of a seesaw political battle to save Yasuni National Park from oil developers, scientists have announced that this park in Ecuador houses more species than anywhere else in South America—and maybe the world. "Yasuní is at the center of a small zone where South America's amphibians, birds, mammals, and vascular plants all reach maximum diversity," Dr. Clinton Jenkins of the University of Maryland said in a press release. "We dubbed this area the 'quadruple richness center.'"
Ecuador to be paid to leave oil in the ground

(12/23/2009) Ecuador will establish a trust fund for receiving payments to leave oil reserves unexploited in Yasuni National Park, one of the world's most biodiverse rainforest reserves, reports the UN Development Programme, the agency that will administer the fund.
Ecuador's Rafael Correa: Copenhagen Climate Hero or Environmental Foe?

(12/14/2009) As climate change negotiations continue full force in the Danish city of Copenhagen, Latin American countries are hoping the Global North will commit to its "climate debt" by reducing greenhouse gas emissions and providing resources to poor nations. It's certainly an understandable aspiration: Latin America only produces five per cent of global emissions of carbon dioxide, a chief greenhouse gas, yet the region has borne the brunt of extreme weather ranging from droughts to flooding.
Will Ecuador's plan to raise money for not drilling oil in the Amazon succeed?

(10/27/2009) Ecuador's Yasuni National Park is full of wealth: it is one of the richest places on earth in terms of biodiversity; it is home to the indigenous Waorani people, as well as several uncontacted tribes; and the park's forest and soil provides a massive carbon sink. However, Yasuni National Park also sits on wealth of a different kind: one billion barrels of oil remain locked under the pristine rainforest.
Amazon tribes have long fought bloody battles against big oil in Ecuador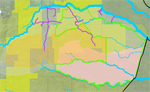 (09/03/2009) The promotional efforts ahead of the upcoming release of the film Crude have helped raise awareness of the plight of thousands of Ecuadorians who have suffered from environmental damages wrought by oil companies. But while Crude focuses on the relatively recent history of oil development in the Ecuadorean Amazon (specifically the fallout from Texaco's operations during 1968-1992), conflict between oil companies and indigenous forest dwellers dates back to the 1940s.
Germany to pay Ecuador $650 million to forgo oil drilling, protect rainforest reserve

(09/03/2009) Germany has apparently agreed to fund a significant portion of Ecuador's scheme to leave Amazon rainforest oil reserves in the ground, according to Business Green.
14,000-barrel oil spill in the Ecuadorean Amazon

(02/27/2009) A ruptured oil pipeline caused 14,000 barrels of crude to spill into a river in the Napo region in northeast Ecuador, an area known for its high biological diversity, reports Reuters.
Payments for eco services could save the Amazon


(02/12/2009) Paying for the ecological services provided by the Amazon rainforest could be the key to saving it, reports a new analysis from WWF. The study, Keeping the Amazon forests standing: a matter of values, tallied the economic value of various ecosystem services afforded by Earth's largest rainforest. It found that standing forest is worth, at minimum, $426 per hectare per year.
Ecuador's plan to protect rainforest from oil drilling looks doomed

(10/09/2008) Ecuador's proposal to protect one of the world's most biodiverse rainforests from oil development has failed to secure any funding ahead at its December deadline, reports the Guardian Unlimited.
Ecuador's plan to protect rainforest from oil drilling looks doomed

(10/09/2008) Ecuador's proposal to protect one of the world's most biodiverse rainforests from oil development has failed to secure any funding ahead at its December deadline, reports the Guardian Unlimited.