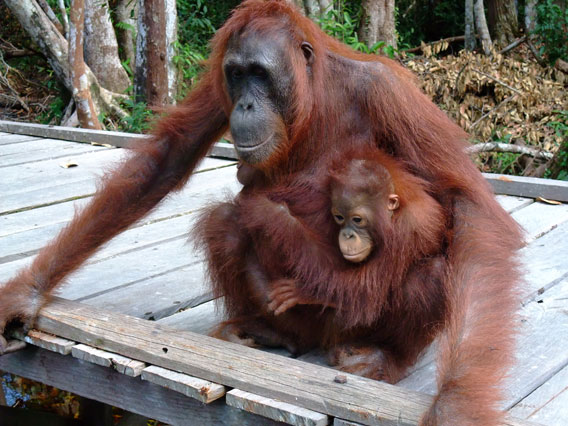 Mother and baby orangutan at Camp Leaky. Photo by Janie Dubman.



The lives of over 200 people have been linked to orangutans for 40 years. The people are biologists, firefighters, carpenters, veterinarians, drivers, artists and nurses. The orangutans are the only great apes in Asia, highly intelligent and highly endangered. The location is Borneo, Indonesia, and the mission is the save the orangutans from extinction. The leader is Dr. Birute Mary Galdikas.



Orangutan Foundation International has its beginnings in 1971, when a young Galdikas, a graduate student from L.A., came to study the poorly-known red apes of Borneo and Sumatra. She was anthropologist Dr. Louis Leakey's 'Last Trimate', his third protégée after Dr. Jane Goodall and Dr. Dian Fossey. Galdikas's project in Tanjung Puting National Park, South Borneo, quickly recognized the threat to the orangutans and became the Orangutan Research and Conservation Project (ORCP). At first, Galdikas, her first husband and a couple of local assistants collected data on orangutan sociality, diet, movement, behaviour, and forest ecology at the Camp Leakey research station. Simultaneously, they rehabilitated the occasional confiscated and surrendered orangutan orphans into the surrounding forest.



Despite the swarms of malarial swamp mosquitoes, the long and exhausting orangutan follows, and the rice and sardines diet, for Galdikas those were the carefree days.



Slowly but surely, the illegal loggers grew in numbers and resources and moved into the national park. Palm oil plantations spread their monoculture green desert across much of coastal Borneo's biodiverse rainforests. The ORCP grew, hiring local Indonesians, valuable for their tracking, climbing and observation skills, as research and rehabilitation assistants, but also as forest patrols.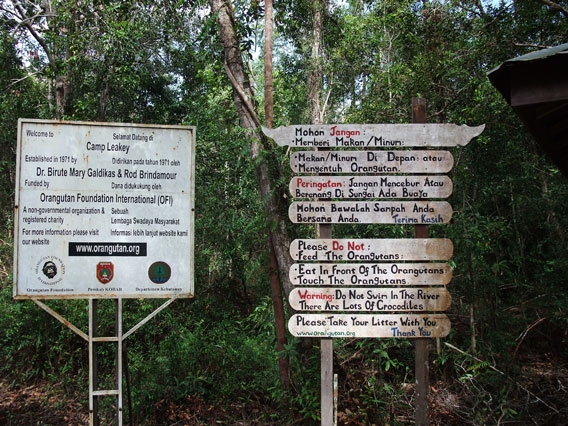 Mother and baby orangutan at Camp Leaky. Photo by Janie Dubman.



Orangutan habitat was melting under the heat of a growing population and large scale plantations, and protecting the park became critical. As their homes disappeared, the number of fuzzy orange babies (orphaned by illegal loggers, plantation owners or poachers) coming into Camp Leakey kept growing until it overflowed. To accommodate the expanding rehabilitation program, OFI created the Orangutan Care Centre and Quarantine in the village of Pasir Panjang, not far from Tanjung Putting Park, in 1998. The Care Centre is an employment mainstay for almost 100 local people (there are no Western employees), who have observed, rescued and nursed orangutans through three generations. To date, over 400 orangutans have been rehabilitated and are now successfully reproducing in Tanjung Puting and nearby Lamandau Reserve. But 320 more orphans in the OCCQ are being lovingly prepared for a release that is, at best, uncertain in the shrinking forest.



Leveraging local respect and influence, OFI has added another aspect to its conservation program in recent years when it began to actively purchase forest. The lowland forests around OFI's work area are some of Borneo's most productive and unique, and ironically, some of the most desirable for planting oil palm, being flat and easily accessible. Private ownership, be it individual or by an organization, is some of the jungle's best protection against destructive activities and uncertain fate. Hectare by hectare, OFI is building a reserve network between Tanjung Puting and nearby Lamandau Reserve, sheltering a broad sample of lowland Bornean wildlife, which includes, apart from orangutans, gibbons, Malay Sun bears, pythons, gorgeous orchids, countless butterflies, clouded leopards and hornbills.



It's a different Borneo, in a different world, than the endless equatorial paradise Dr. Galdikas entered four decades ago. But the cicadas still sing their afternoon chorus, and the serene brown eyes of the orangutans still give us the same glimpse into our ancient, tropical past. The rewards of preserving these precious pieces of our natural heritage are more than enough to motivate Galdikas and her team to persevere.




Orangutan Foundation International



Earlier article about Galdikas and Camp Leaky



Saving Orangutans in Borneo

(05/24/2006) A look at conservation efforts in Kalimantan, on the island of Borneo. I'm in Tanjung Puting National Park in southern Kalimantan on the island of Borneo. At 400,000 hectares (988,000 acres) Tanjung Puting is the largest protected expanse of coastal tropical heath and peat swamp forest in southeast Asia. It's also one of the biggest remaining habitats for the critically endangered orangutan, the population of which has been great diminished in recent years due to habitat destruction and poaching. And orangutans have become the focus of a much wider effort to save Borneo's natural environment. We are headed to Campy Leakey, named for the renowned Kenyan paleontologist Louis Leakey. Here lies the center of the Orangutan Research conservation Project. Established by Birute Mary Galdikas, a preeminent primatologist and founder of the Orangutan Foundation International (OFI), the project seeks to support the conservation and understanding of the orangutan and its rain forest habitat while rehabilitating ex-captive individuals. The Orangutan Research conservation Project is the public face of orangutan conservation in this part of Kalimantan, the Indonesia-controlled part of Borneo. Borneo, the third largest island in the world, was once home to some of the world's most majestic, and forbidding forests. With swampy coastal areas fringed by mangrove forests and a mountainous interior, much of the terrain was virtually impassable and unexplored. Headhunters ruled the remote parts of the island until a century ago.