Indonesia's chief economic minister said on Wednesday that the government will not revoke existing forestry licenses to develop natural forests under a billion dollar conservation deal signed last week with Norway.



"We want to keep to our targets of 40 million tons of crude palm oil," Chief Economic Minister Hatta Rajasa told Reuters. "We will not take away the existing licenses."



Rajasa's remark directly contradicts an earlier statement by Agus Purnomo, head of the secretariat of Indonesia's National Climate Change Council, that part of the billion dollars pledged by Norway would be used to compensate palm oil developers and timber companies that would lose forest concessions under the emissions mitigation program. Norway's commitment led the Indonesian government to announce a two-year moratorium on development of natural forests and peatlands, starting in 2011.



But the moratorium — and proposed plan to revoke concession permits — caught the country's forestry industry off-guard. Timber companies and palm oil producers have sought reassurance that they would be allowed to continue expansion. The area under oil palm cultivation in Indonesia expanded from 673,000 hectares in 1990 to more than 5 million in 2008 and the country expects to produce 21-23 million tons of palm oil this year, extending its lead as the world's top producer.



Derom Bangun, Vice Chairman of the Indonesian Palm Oil Board, a palm oil marketing body, told Reuters that the moratorium would limit the granting of new concessions, but not restrict existing forestry permits.



"The government has assured us that the expansion of oil palm estates will continue within reasonable limits," Bangun was quoted as saying.



The Indonesian government says that expansion could continue on some six million hectares of degraded and abandoned agricultural land across the country.



Prior to the announcement of the moratorium, developers had been eyeing forest lands in Jambi province of Sumatra, remote parts of Kalimantan, and Papua, the Indonesian controlled part of New Guinea, for new expansion.








Related articles



Norway's billion dollar contribution to Indonesian forests excludes national reforestation scheme

(06/01/2010) Norway's billion dollar contribution to forest and peatlands conservation in Indonesia will not fund reforestation of deforested areas, a government minister told The Jakarta Post.
Indonesia to revoke palm oil concession licenses under forest deal

(05/31/2010) Indonesia will revoke existing forestry licenses to cut down natural forests under the billion dollar deal climate deal signed with Norway last week, reports Reuters.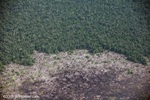 Indonesia announces moratorium on granting new forest concessions

(05/28/2010) With one of the highest rates of deforestation in the world, the world's third largest greenhouse gas emissions due mostly to forest loss, and with a rich biodiversity that is fighting to survive amid large-scale habitat loss, Indonesia today announced a deal that may be the beginning of stopping forest loss in the Southeast Asian country. Indonesia announced a two year moratorium on granting new concessions of rainforest and peat forest for clearing in Oslo, Norway, however concessions already granted to companies will not be stopped. The announcement came as Indonesia received 1 billion US dollars from Norway to help the country stop deforestation.