Researchers have discovered a new species of antpitta in the montane cloud forests of the Colibri del Sol Bird Reserve in western Colombia. A thrush-like bird, the new cinnamon and gray species was, according to a press release by the American Bird Conservancy (ABC), "captured, banded, measured, photographed, sampled for DNA, and then released alive back into the wild".



This is one of only a few incidences in which a new species has been described without 'collecting' an individual (i.e. killing) to provide a model of the species in a museum. The new bird has been named Fenwick's antpitta (Grallaria fenwickorum) after the President of ABC, George Fenwick, and his family.



| | |
| --- | --- |
| | Fenwick's Antpitta. Photo by: ©Fundacion ProAves |
"I am deeply honored by this naming. I know it reflects in equal parts on the contributions of both my family and the ABC organization, both of which have sought to further bird conservation efforts in Colombia," Dr. George Fenwick said in a press release. "I am especially pleased that this effort was achieved without the loss of the bird's life. Rare and special birds such as this should not have to be sacrificed to this process."



Colibri del Sol Bird Reserve, founded only five years ago, is managed by Fundación ProAves, a partner of ABC. The reserve is also home to the Critically Endangered (listed by the IUCN Red List) Dusky Starfrontlet that until 2004 hadn't been sighted for 50 years. Its rediscovery prompted the creation of the reserve.



Researchers have proposed that Fenwick's antpitta also be listed as Critically Endangered given that its population appears very small and much of the bird's original habitat has been cleared for pasturelands.











Related articles



First-ever photo of rare and spectacular hummingbird from Colombia

(03/31/2010) A conservationist has taken the first-ever photos of a living Santa Marta Sabrewing (Campylopterus phainopeplus) in the El Dorado Nature Reserve in the Sierra Nevada de Santa Marta in Colombia, reports ProAves, a bird conservation group.
Largely unexplored rainforest slated to be leveled for gold mining in Colombia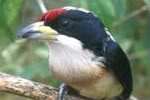 (08/13/2009) Serrania de San Luca is a rainforest-covered massif rising to 2,300 meters (7,500 feet) in northern Colombia. Despite being little-explored and containing several endangered species, the forest is threatened by industrial gold mining operations, according to the local conservation group ProAves. Already the forest has been reduced to 10 percent of its original 2.5 million acres due to agriculture, small-scale mining, and other human impacts. Now, the Colombian government has granted large concessions to AngloGold Ashanti, a gold mining company out of South Africa which has been criticized by the Human Rights Watch for allegedly aligning itself with locally armed gangs in the Democratic Republic of Congo.
Updated Red-List: 192 birds are Critically-Endangered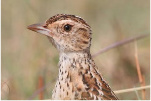 (05/14/2009) In this year's updated IUCN Red List on birds, six species were down-listed from Critically Endangered to Endangered, but eight species were up-listed to Critically Endangered, leading to the highest number of Critically Endangered birds ever on the list. In all 1,227 bird species (12 percent) are currently considered threatened with global extinction.