"Sustainable" palm oil effort may pressure Malaysia and Indonesia on environmental performance of widely used vegetable oil.



Brazilian President Lula da Silva on Thursday laid out plans to expand palm oil production in the Amazon while minimizing risk to Earth's largest rainforest, reports Globo and Terra Brasil.



The plan, called the Program for Sustainable Production of Palm Oil (O Programa de Produção Sustentável de Óleo de Palma), will provide $60 million to promote cultivation of oil palm in abandoned and degraded agricultural areas, including long-ago deforested lands used for sugar cane and pasture. Brazilian officials claim up to 50 million hectares of such land exist in the country.



| | |
| --- | --- |
| | Oil palm plantation and logged natural forest, in Sabah, Malaysia. |
Although Embrapa, Brazil's agricultural research agency, has identified some 29 million hectares (71.6 million acres) of land suitable for oil palm cultivation in the Amazon and 2.8 m ha (6.9 m acres) outside the region — an area that would dwarf the 13 m ha of oil palm currently cultivated worldwide — Brazil says it will strictly limit development to less than 5 million hectares. The program specifically prohibits expansion at the expense of native forests, a major concern among environmental groups that have watched the relentless conversion of tropical forests across Malaysia and Indonesia for oil palm over the past 25 years.



Provided the program can overcome pest and disease problems that have plagued the palm oil industry in parts of South America, oil palm could dramatically boost income and employment opportunities in rural Brazil relative to cattle ranching and sugar cane cultivation. The crop is the world's most productive and profitable oil seed and the Brazilian government estimates that shifting from manoic/cassava or acai to palm could increase average monthly income for a family from 415 reais to to 2,000 reais.



Palm oil is used in a wide variety of products including processed foods, industrial lubricants, cosmetics and soaps, and biofuel. Last June, Vale, the the world's largest miner of iron ore, signed a $500 million joint venture with Biopalma da Amazonia to produce 160,000 metric tons of palm oil-based biodiesel per year in order to reduce fuel costs. At the time of the announcement, Vale said it would save $150 million relative to conventional diesel by making the switch. Brazil is already the world's leading producer of biofuels, most of which is ethanol produced from sugar cane.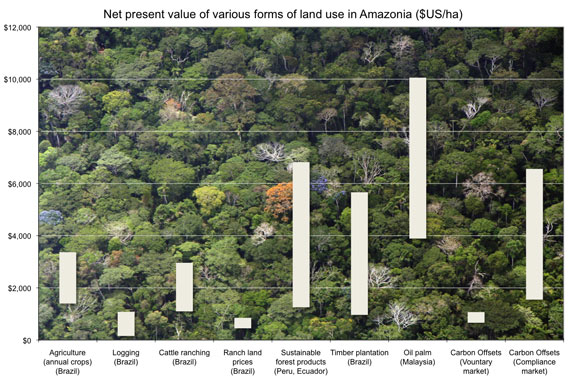 Net present value of different forms of land use in the tropics. Net present value ($US) – defined
as the total present value of income generated from land use for a particular activity – for mechanized agriculture, logging, cattle ranching, ranch land prices, sustainable forest products, timber plantation, oil palm, carbon offsets in voluntary markets, and carbon offsets in potential compliance markets. Background image by R.A. Butler.
The announcement came shortly after Petrobras, Brazil's state-run oil company, said it would invest $315 m in the construction of a palm oil biodiesel facility in the state of Pará. The project would have the capacity to produce 120 million liters (32 m gallons) of biodiesel per year, much of which would be exported to Europe via Portugal. Petrobras said it will acquire 1.1 million palm seedlings for the project and that harvesting would begin in 2014.



The palm oil program marks a new focus for Brazil, which currently produces about 110,000 metric tons of crude palm oil per year, a fraction of the amount produced by market leaders Indonesia (16.9 million metric tons in 2008) and Malaysia (15.8 m tons), according to the FAO. But Brazilian growers could see a boost in the international market if they can cost-effectively produce palm oil without driving direct or indirect deforestation, a concern that has dogged Malaysian and Indonesian producers. Brazil says it will rely on its world-class satellite monitoring system to ensure that expansion does not cause deforestation.











Related articles



Non-Malaysian and Indonesian palm oil producers pledge not to develop peatlands for plantations

(11/04/2009) Palm oil producers outside of Malaysia and Indonesia pledged to stop developing new plantations on peatlands, circumventing an impasse that developed between palm oil producers and environmental groups meeting this week at the Roundtable on Sustainable Palm Oil in Kuala Lumpur. The factions deadlocked over plans to account for emissions from plantation development, delaying the criteria for a year.
Brazil could triple agricultural output without touching the Amazon rainforest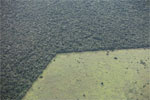 (04/15/2009) Brazil could triple its agricultural without the needing to clear additional rainforest in the Amazon Basin, Roberto Mangabeira Unger, Brazil's Minister of Strategic Affairs, told Bloomberg in an interview. The argument that Brazil can expand its agricultural production without harming the Amazon is a mantra among Brazilian officials. The country has vast tracts of pasture and agricultural land that are being underutilized or have been abandoned, but rapidly appreciating land prices, coupled with poor governance and inconsistent enforcement of environmental laws, means that it is often more profitable to clear new forest land than to rehabilitate pasture.
Malaysian palm oil targets the Amazon

(03/25/2009) Malaysia's Land Development Authority FELDA will soon break ground on a joint venture with a Brazilian firm to establish 30,000-100,000 hectares (75,000 – 250,000 acres) of oil palm plantations in the heart of the Amazon rainforest, reports the Malaysian Star.
Will palm oil drive deforestation in the Amazon?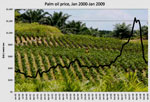 (03/23/2009) Already a significant driver of tropical forest conversion across southeast Asia, oil palm expansion could emerge as threat to the Amazon rainforest due to a proposed change in Brazil's forest law, new infrastructure, and the influence of foreign companies in the region, according to researchers writing in the open-access journal Tropical Conservation Science. William F. Laurance, a senior scientist at the Smithsonian Tropical Research Institute (STRI) in Panama City, Panama, and Rhett A. Butler, founder of environmental science web site Mongabay.com, warn that oil palm expansion in the Brazilian Amazon is likely to occur at the expense of natural forest as a result of a proposed revision to the forest code which requires land owners to retain 80 percent forest on lands in the Amazon. The new law would allow up to 30 percent of this reserve to consist of oil palm.
Palm oil industry moves into the Amazon rainforest

(07/09/2008) Malaysia's Land Development Authority FELDA has announced plans to immediately establish 100,000 hectares (250,000) of oil palm plantations in the Brazilian Amazon. The agency will partner with Braspalma, a local company, to form Felda Global Ventures Brazil Sdn Bhd. FELDA will have a 70 percent stake in the venture. The announcement had been expected. Last month Najib said Malaysia would seek to expand its booming palm oil industry overseas. The country is facing land constraints at home.