El Zoológico del Bronx ha puesto en exhibición los más inusitados batracios: El sapo rociador Kihansi. En primera instancia, este sapo sobrevivió en el desfiladero Kihansi de Tanzania, adaptándose a estas excepcionales áreas, constantemente nubladas por el desfiladero y la caída del agua. Por otro lado, en vez de poner huevos, las ranas rociadoras Kihansi dan a luz a sus bebés. Por último, la especie de batracios rociadores está extinta, al menos en la selva.
Antes de la extincion, 499 de estos batracios fueron sacados de su diminuto hábitat y traídos a los zoológicos americanos, incluyendo el Wildlife Conservation Society's Bronx Zoo. Herpetólogos del zoológico han trabajado por cerca de una década protegiéndolos, con planes para reintroducirlos a sus hábitats naturales.
"La WCS (Wildlife Conservation Society), esta tomando el liderazgo para asegurar que estos batracios no desaparezcan del planeta, desempeñando así un papel activo en su conservación ", dijo en un comunicado de prensa, Jim Breheny, Vicepresidente Ejecutivo de Living Institutions y Director of the Bronx Zoo.
En el 2000, la construcción de una represa hidroeléctrica, financiada por el Banco Mundial, desvió el caudal del río y resecó en un 90 % el habitat del sapo rociador de Kihansi. Por años, la pérdida de hábitat, junto al hongo chytrid (que ha devastado la población de batracios a nivel mundial), llevó a la especie a su extinción.
En un esfuerzo por simular su excepcional microclima, los investigadores han implementado en un hábitat básico, un sistema de riego, pues tienen la esperanza de poner pronto en marcha un plan para su reintroducción.
Hasta antes de la contrucción de la represa, que provee a los habitantes de Tanzania con la tercera parte de sus necesidades energéticas, los sapos rociadores Kihansi eran desconocidos para la ciencia.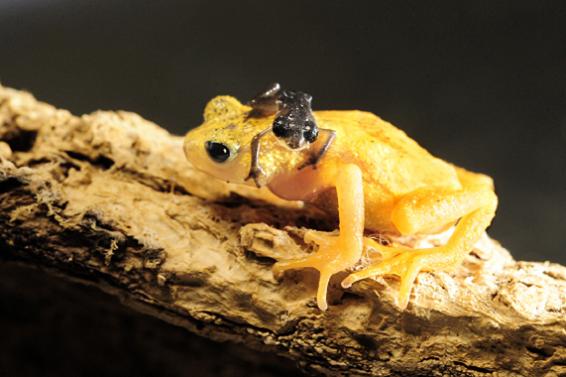 Sapo rociador Kihansi, cargando un diminuto sapo. Photo by: Julie Larsen Maher.