A new estimate by the UN FAO estimates that one billion people are currently going hungry: the highest number in history. Largely exacerbated by the global economic crisis, the number of the world's hungry has risen by 100 million people.



The economic crisis has led to more hunger due to lower wages and layoffs worldwide. In addition, food prices still remain high after the food crisis that began in 2006: food prices remain 33 percent higher today than in 2005.



"A dangerous mix of the global economic slowdown combined with stubbornly high food prices in many countries has pushed some 100 million more people than last year into chronic hunger and poverty," said FAO Director-General Jacques Diouf. "The silent hunger crisis — affecting one sixth of all of humanity — poses a serious risk for world peace and security. We urgently need to forge a broad consensus on the total and rapid eradication of hunger in the world and to take the necessary actions."



Hunger has been on the rise since the mid-1990s, according to FAO statistics.



FAO numbers are driven in part by analysis from the United States Department of Agriculture (USDA) and Economic Research Service (ERS).











Related articles



Rich countries buy up agricultural land in poor countries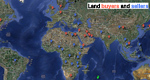 (05/26/2009) Over two-and-half million hectares in the Democratic Republic of the Congo; half a million hectares in Tanzania; and a quarter of a million hectares in Libya: these figures represent just some of the recent international land deals where wealthy countries buy up land in poorer nations for food, and sometimes biofuel, production. The controversial trend has sparked a recent report from the International Food Policy Research Institute (IFPRI) highlighting what nations have to gain—and lose—from participating in such deals.
Congo biochar initiative will reduce poverty, protect forests, slow climate change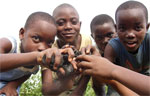 (05/19/2009) An initiative using soil carbon enrichment techniques to boost agricultural yields, alleviate poverty, and protect endangered forests in Central Africa was today selected as one of six projects to win funding under the Congo Basin Forest Fund (CBFF). The scientific committee of the CBFF awarded Belgium's Biochar Fund and its Congolese partner ADAPEL €300,000 to implement its biochar concept in 10 villages in the Equateur Province of the Democratic Republic of Congo. The approach improves the fertility of soils through the introduction of "biochar" — charcoal produced from the burning of agricultural residues and waste biomass under reduced oxygen conditions — thereby increasing crop yields and reducing the need to clear forest for slash-and-burn agriculture.
Organic farming could break cycle of famine and poverty in Africa

(10/22/2008) Organic farming may offer Africa the best opportunity to break out of the devastating cycle of poverty and malnutrition parts of the continent have faced in recent decades, according to a new report from the United Nations.