18,516 new species discovered in 2007
Scientists documented 18,516 previously unknown species in 2007, report researchers from the International Institute for Species Exploration at Arizona State University, who also unveiled the "top 10 new species" described in 2008. The "top 10" species include a pea-sized seahorse, caffeine-free coffee, bacteria that live in hairspray, a tiny snake, a two foot long insect from Malaysia, a fossilized specimen of the oldest known live-bearing vertebrate, a snail whose shell twists around four axes, a ghost slug from Wales, a deep blue damselfish, and a palm that flowers itself to death.





Deep Blue Chromis (Chromis abyssus). Photo by John Earl





The smallest snake, Leptotyphlops carlae, from Barbados). Copyright S. Blair Hedges
The institute also issued the State of Observed Species (SOS), a report card on human knowledge of Earth's species. The SOS report card shows that 75.6 percent of the 18,516 species named in 2007 invertebrate animals. 11.1 percent were vascular plants, 6.7 percent were vertebrates, and the rest were microorganisms like bacteria and protists.



The announcement is timed to coincide with International Biodiversity Day and the anniversary of the May 23 birth of Carolus Linnaeus, who developed the modern system for naming and classifying living organisms.



"Most people do not realize just how incomplete our knowledge of Earth's species is or the steady rate at which taxonomists are exploring that diversity. We are surrounded by such an exuberance of species diversity that we too often take it for granted," Quentin Wheeler, an entomologist and director of the International Institute for Species Exploration at Arizona State University.



"The international committee of taxon experts who made the selection of the top 10 from the thousands of species described in calendar year 2008 is helping draw attention to biodiversity, the field of taxonomy, and the importance of natural history museums and botanical gardens in a fun-filled way."



The "top 10" include a variety of living and extinct organisms (descriptions excerpted from the International Institute for Species Exploration).






Satomi's Pygmy Seahorse (Hippocampus satomiae). Color photo by John Sear; specimen photo by Rudie Kuiter



A tiny seahorse (Hippocampus satomiae) with a standard length of 0.54 inches (13.8 millimeters) and an approximate height of 0.45 inches (11.5 millimeters). Hippocampus satomiae was discovered near Derawan Island off Kalimantan, the Indonesian part of Borneo. It's species name satomiae is "in honour of Miss Satomi Onishi, the dive guide who collected the type specimens."






Tahina spectabilis, growing at its only known site in western Madagascar. Photos courtesy of John Dransfield



A new species and genus of palm (Tahina spectablilis) found only in a small area of northwestern Madagascar. With fewer than 100 individuals it is one of the world's rarest palm species. The plant is notable in that it flowers itself to death, "producing a huge, spectacular terminal inflorescence with countless flowers. After fruiting, the palm dies and collapses." The International Institute for Species Exploration reports that soon after the species was described, "seeds were disseminated throughout the palm grower community, to raise money for its conservation by the local villagers". Tahina spectablilis has since become a highly prized ornamental thus ensuring it will survive in captivity.






Coffea charrieriana Color photos of live plant by François Anthony; photo of preserved specimen courtesy of Piet Stoffelen



A caffeine-free coffee species (Coffea charrieriana – named for coffee researcher André Charrier of the Institut de Recherche pour le Développement) from Cameroon, the first known caffeine-free species from Central Africa.



An extremophile bacteria discovered in hairspray by Japanese scientists. The species (Microbacterium hatanonis) was named in honor of Kazunori Hatano, "for his contribution to the understanding of the genus Microbacterium."






Phobaeticus chani stick insect. Photo by Philip Bragg



A stick insect (Phobaeticus chani), the world's longest insect with a body length of 14 inches (36.6 centimeters) and overall length of 22.3 inches (56.7 centimeters). The species is found in Malaysian Borneo.



The Barbados Threadsnake (Leptotyphlops carlae) is believed to be the world's smallest snake at 4.1 inches (104 millimeters). The species has long been known — but not recognized as a unique species — to local residents in St. Joseph Parish, Barbados, where it was discovered by scientists.






Adult Ghost Slug and it's blade-like teeth each about 0.5mm long). Photos courtesy of Ben Rowson



The ghost slug (Selenochlamys ysbryda) was "a surprising find in the well-collected and densely populated area of Cardiff, Glamorgan, Wales".



| | |
| --- | --- |
| | Shell of Opisthostoma vermiculum. Photo courtesy of Reuben Clements |
A snail (Opisthostoma vermiculum) found in limestone hill habitat in Malaysia, "represents a unique morphological evolution, with a shell that twists around four axes," according to the institute.



A colorful damselfish (Chromis abyssus) made the list as the "first taxonomic act of 2008 and the first act registered in the newly launched taxonomic database Zoobank."



Rounding out the top 10 list is a fossilized specimen (Materpiscis attenboroughi), the oldest known vertebrate to be live bearing (viviparous). The specimen, found in Western Australia, "shows a mother fish giving birth approximately 380 million years ago."






Materpiscis attenboroughi. Images courtesy of John A. Long



Scientists say Earth may be home to more than 10 million species, but estimates range as high as 100 million, reflecting our lack of knowledge of life that shares our planet.



Related articles



Approximately 200 new frogs discovered in Madagascar threatened by political instability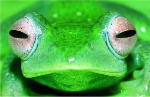 (05/11/2009) Amid the amphibian extinction crisis—where amphibians worldwide are disappearing due to habitat loss, pollution, and a devastating fungal epidemic—the Spanish Scientific Research Council (CSIC) has announced some good news. In a survey of the island-nation of Madagascar they have identified between 129 and 221 new species of frogs. The discovery of so many new species nearly doubles the island's total number of frogs.
New chameleon species named after carbon conservation pioneer

(04/21/2009) A newly discovered species of chameleon from Tanzania has been named after Dorjee Sun, CEO of Carbon Conservation, an outfit which seeks to make rainforest conservation profitable through a carbon market mechanism known as REDD for Reducing Emissions from Deforestation and Degradation.
Undocumented species discovered in Papua New Guinea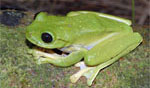 (03/25/2009) Colorful jumping spiders, a tiny frog with a "ringing song" and a striped gecko are among more than 50 previously unknown species discovered during a recent survey in the remote highlands of Papua New Guinea. More than 600 species were documented during the 2008 expedition, which was led by Conservation International (CI) under its Rapid Assessment Program (RAP).
17 new reptile and amphibian species discovered in Tanzania

(01/04/2009) 17 previously unknown species of reptiles and amphibians have been discovered in the rainforests of eastern Tanzania, report Italian and Tanzanian scientists. Conducting surveys of the 'virtually unexplored' forests of the South Nguru Mountains between 2004 and 2006, Michele Menegon of the Natural Science Museum of Trento in Italy and colleagues recorded 92 species of 'herps', of which 17 had never before been documented. The new species — which include chameleons, tree frogs, and snakes, among others — are believed to be endemic to the region.




Google Earth used to find new species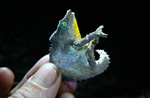 (12/22/2008) Scientists have used Google Earth to find a previously unknown trove of biological diversity in Mozambique, reports the Royal Botanic Gardens in Kew. Scouring satellite images via Google Earth for potential conservation sites at elevations of 1600 meters or more, Julian Bayliss a locally-based conservationist, in 2005 spotted a 7,000-hectare tract of forest on Mount Mabu. The scientifically unexplored forest had previously only been known to villagers. Subsequent expeditions in October and November this year turned up hundreds of species of plants and animals, including some that are new to science.
Green-blooded, blue-boned frog discovered in Cambodia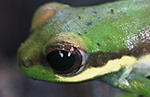 (12/18/2008) Researchers have discovered a previously unknown species of frog in Cambodia. The amphibian is unusual in that is has green blood and turquoise-colored bones, a result of its transparent skin and a pigment that may make the species unpalatable to predators, according to Fauna & Flora International (FFI).
References



Pyle, R.L., J.L. Earle & B.D. Greene. 2008. Five new species of the damselfish genus Chromis (Perciformes: Labroidei: Pomacentridae) from deep coral reefs in the tropical western Pacific. Zootaxa 1671: 3-31.



Dransfield, J., M. Rakotoarinivo, W.J. Baker, R.P. Bayton, J.B. Fisher, J.W. Horn, B. Leroy & X. Metz. 2008. A new coryphoid palm genus from Madagascar. Botanical Journal of the Linnean Society 156: 79-91.



Hedges, S.B. 2008. At the lower size limit in snakes: two new species of threadsnakes (Squamata: Leptotyphlopidae: Leptotyphlops) from the Lesser Antilles. Zootaxa 1841: 1-30.



Clements, R., T.-S. Liew, J.J. Vermeulen and M. Schilthuizen. 2008. Further twists in gastropod shell evolution. Biology Letters 4: 179-182.



Long, J.A., K. Trinajstic, G.C. Young & T. Senden. 2008. Live birth in the Devonian period. Nature 453(7195): 650–652.



Stoffelen, P., M. Noirot, E. Couturon & F. Anthony. 2008. A new caffeine-free coffee from Cameroon. Botanical Journal of the Linnean Society 158: 67-72.



Bakir, M.A., T. Kudo & Y. Benno. 2008. Microbacterium hatanonis sp. nov., isolated as a contaminant of hairspray. International Journal of Systematic and Evolutionary Microbiology 58: 654-658.



Lourie, S.A. & R.H. Kuiter. 2008. Three new pygmy seahorse species from Indonesia (Teleostei: Syngnathidae: Hippocampus). Zootaxa 1963: 54-68.



Rowson, B. & W.O.C. Symondson. 2008. Selenochlamys ysbryda sp. nov. from Wales, UK: A Testacella-like slug new to Western Europe (Stylommatophora: Trigonochlamydidae). Journal of Conchology 39(5):537-552.



Phobaeticus chani Bragg spec. nov. (p.138-141) in Hennemann, F.H. & V.O. Conle. 2008. Revision of Oriental Phasmatodea: The tribe Pharnaciini Günther, 1953, including the description of the world's longest insect, and a survey of the family Phasmatidae Gray, 1835 with keys to the subfamilies and tribes (Phasmatodea: "Anareolatae": Phasmatidae). Zootaxa 1906: 1-316.



species.asu.edu