Brazil could triple its agricultural without the needing to clear additional rainforest in the Amazon Basin, Roberto Mangabeira Unger, Brazil's Minister of Strategic Affairs, told Bloomberg in an interview.



"For every acre under cultivation in Brazil, there are more than four acres given over to low-intensity ranching and much of that has become degraded pasture land," Unger was quoted as saying. "If we could recover even a small part of that territory, we could double the area under cultivation and triple our agricultural output in a brief time without touching a single tree."



| | |
| --- | --- |
| | Over the past decade more than 10 million hectares – an area about the size of Iceland – was cleared for cattle ranching as Brazil rose to become the world's largest exporter of beef. Now the government aims to double the country's share of the beef export market to 60% by 2018 through low interest loans, infrastructure expansion, and other incentives for producers. Most of this expansion is expected to occur in the Amazon were land is cheap and available. 70 percent of the country's herd expansion between 2002 and 2006 occurred in the region. |
The argument that Brazil can expand its agricultural production without harming the Amazon is a mantra among Brazilian officials. The country has vast tracts of pasture and agricultural land that are being underutilized or have been abandoned: by some estimates up to 50 million hectares of degraded pasture could be available for intensive crop production, including oil palm, sugar cane, corn, soy, and tree plantations. But rapidly appreciating land prices, coupled with poor governance and inconsistent enforcement of environmental laws, means that it is often more profitable to clear new forest land — using timber sales as a subsidy — than to rehabilitate pasture. Cleared land is worth more than four times standing forest in parts of the southern Amazon in the states of Mato Grosso and Pará.



Conversion for cattle pasture has lately accounted for more than 80 percent of deforestation in the Brazilian Amazon as the country has rapidly expanded its cattle herd and become the world's largest exporter of beef. Brazil is now also the leading exporter of other agricultural crops, including sugar, coffee, and orange juice, and is the second largest soy producer.



Nearly 20 percent has the Brazilian Amazon has been cleared over the past 30 years. Scientists fear that continued clearing, together with increased incidence and severity of drought and fire due to climate change, could result in a large scale die-off of Earth's largest rainforest by the end of the century.






More about agriculture in the Amazon



Rainforest soy moratorium shows success in the Brazilian Amazon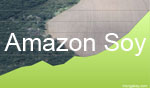 (04/15/2009) An industry-led moratorium on soy plantings on recently deforested rainforest land continues to show success in the Brazilian Amazon, reports a study released Tuesday by environmental groups and Abiove, the soy industry group that formed the initiative and represents about 90 percent of Brazil's soy crush. The satellite-based study showed that only 12 of 630 sample areas (1,389 of 157,896 hectares) deforested since July 2006 — the date the moratorium took effect — were planted with soy.
Brazil: 'Soy King', Environment Minister strike deal on Amazon deforestation

(04/02/2009) Meeting at the Katoomba payments-for-ecosystem-services conference in Cuiaba, Brazil, Carlos Minc, Brazil's Environment Minister, and Blairo Maggi, Governor of the State of Mato Grosso and the world's largest individual soy grower, put aside their ideological differences and agreed to grant a temporary reprieve for ranchers and farmers in the Amazonian state, allowing them up to four years to reforest their holdings to bring them up to legal code. Under Brazilian law landowners in the "legal Amazon" are required to maintain 80 percent forest cover on their holdings, but in practice, the regulation is widely ignored.
Beef consumption fuels rainforest destruction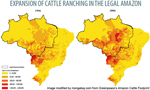 (02/16/2009) Nearly 80 percent of deforestation in the Brazilian Amazon results from cattle ranching, according to a new report by Greenpeace. The finding confirms what Amazon researchers have long known – that Brazil's rise to become the world's largest exporter of beef has come at the expense of Earth's biggest rainforest. More than 38,600 square miles has been cleared for pasture since 1996, bringing the total area occupied by cattle ranches in the Brazilian Amazon to 214,000 square miles, an area larger than France. The legal Amazon, an region consisting of rainforests and a biologically-rich grassland known as cerrado, is now home to more than 80 million head of cattle. For comparison, the entire U.S. herd was 96 million in 2008.
How to save the Amazon rainforest

(01/04/2009) Environmentalists have long voiced concern over the vanishing Amazon rainforest, but they haven't been particularly effective at slowing forest loss. In fact, despite the hundreds of millions of dollars in donor funds that have flowed into the region since 2000 and the establishment of more than 100 million hectares of protected areas since 2002, average annual deforestation rates have increased since the 1990s, peaking at 73,785 square kilometers (28,488 square miles) of forest loss between 2002 and 2004. With land prices fast appreciating, cattle ranching and industrial soy farms expanding, and billions of dollars' worth of new infrastructure projects in the works, development pressure on the Amazon is expected to accelerate. Given these trends, it is apparent that conservation efforts alone will not determine the fate of the Amazon or other rainforests. Some argue that market measures, which value forests for the ecosystem services they provide as well as reward developers for environmental performance, will be the key to saving the Amazon from large-scale destruction. In the end it may be the very markets currently driving deforestation that save forests.