Biologists attacked in Costa Rica
Biologists attacked in Costa Rica

mongabay.com
August 12, 2008




Two ornithologists were attacked by a machete-wielding group while surveying birds in Costa Rica, reports National Geographic.



Dr. Cagan H. Sekercioglu and Dr. Jim Zook — both prominent bird experts — were apparently mistaken for thieves when looking for a Pacific Screech-owl in Liberia, Costa Rica.



Zook, who has lived in the Central American country for 30 years, suffered a cut hand from a machete and bruises after being pummeled by a mob of around ten people. Their car was heavily damaged by rocks and the windshield was shattered.



Costa Rican police eventually arrived to sort out the incident. Zook was taken to the hospital where he was treated and released.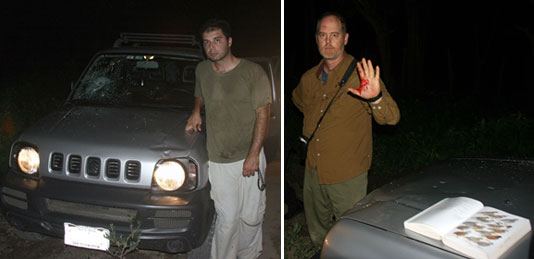 Cagan H. Sekercioglu with the damaged car (left), Jim Zook was cut in the hand and bruised on his back (right). Photos courtesy Cagan Sekercioglu



An interview with ornithologist Dr. Cagan Sekercioglu July 15, 2008
Birds may face higher risk of extinction than conventionally thought, says a bird ecology and conservation expert from Stanford University. Dr. Cagan H. Sekercioglu, a senior research scientist at Stanford and head of the world's largest tropical bird radio tracking project, estimates that 15 percent of world's 10,000 bird species will go extinct or be committed to extinction by 2100 if necessary conservation measures are not taken. While birds are one of the least threatened of any major group of organisms, Sekercioglu believes that worst-case climate change, habitat loss, and other factors could conspire to double this proportion by the end of the century. As dire as this sounds, Sekercioglu says that many threatened birds are rarer than we think and nearly 80 percent of land birds predicted to go extinct from climate change are not currently considered threatened with extinction, suggesting that species loss may be far worse than previously imagined. At particular risk are marine species and specialists in mountain habitats.