Photo: Wild animals need regular physicals just like humans
WCS / mongabay.com
June 25, 2008




Dr. Paul Calle, Wildlife Conservation Society Director of Zoological Health, assisted by Pam Manning Torres, veterinarian technician supervisor, checks little Bella's teeth as part of her regularly scheduled health exam.



Bella is a five-year-old female red panda from WCS's Central Park Zoo, who was due for her annual check-up.



The red panda's natural range covers the mountains of northern Burma and China to the Himalayas. Solitary in the wild, their main diet consists of bamboo.



Sadly, their population is in decline due to habitat fragmentation.



Red pandas can be seen at the Central Park Zoo and the Bronx Zoo 365 days a year.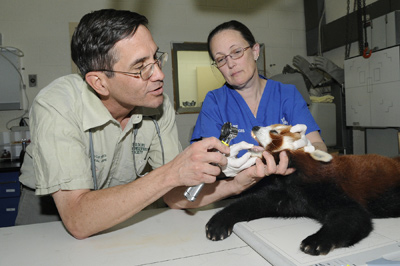 Credit: Julie Larsen Maher © WCS