Malaysia announces $103B development plan for Borneo island
mongabay.com
February 13, 2008




Malaysia announced a $103 billion development plan for Sarawak, a state in northern Borneo.



The initiative calls for massive investment in heavy industries, including biodiesel production in the form of jatropha and palm oil, industrial agriculture and aquaculture, mining, logging, and oil and gas development. Environmentalists have blamed these activities for large-scale destruction of forests in other parts of Malaysia.



Among the deals announced was a $308 million biodiesel plant in Sarawak. The Malaysian-Japanese joint-venture would involve the establishment of about 100,000 hectares (250,000 acres) of oil palm and jatropha plantations and have an annual capacity of about 240,000 tonnes per year, according to Biopact.



The overall plan, dubbed "Sarawak Corridor of Renewable Energy" (SCORE), seeks to reduce poverty and improve income distribution among the people in Sarawak by stimulating economic development in key sectors. Critics say the plan is an effort by Minister Abdullah Ahmad Badawi to boost dwindling support for his unpopular administration ahead of elections in March.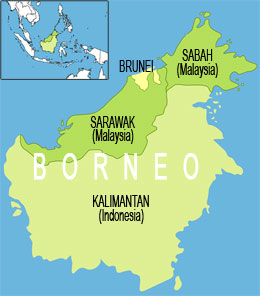 Last month Abdullah unveiled a scheme to attract in $32 billion in investment in neighboring Sabah state.



More details: Malaysian-Japanese joint-venture to invest $308 million in 100,000ha plantation for biodiesel, biogas in Sarawak