Stephen Colbert's sea turtle second in race to Galapagos
mongabay.com
April 25, 2007
Nearing the end of Great Turtle Race, Stephen Colbert's sea turtle "Stephanie Colburtle" was in second place, 18 miles behind "Billie", a turtle sponsored by Offield Center for Billfish Studies. Billie is just 31 miles from the finish line of the 500-mile race.



The Great Turtle Race is a unique sea turtle conservation event that has attracted interest from tens of thousands of adults and children around the world since it began on April 16 in Costa Rica. The event aims to raise awareness of threats to leatherback sea turtles, presently endangered due to coastal development and certain commercial fishing practices.



For the race, 11 female leatherback turtles have been equipped with satellite tags and are being tracked online (www.GreatTurtleRace.com on their regular migrations from their nesting grounds in Playa Grande, Costa Rica to waters near the Galapagos Islands, where the turtles feed on jellyfish, their primary food source.



Leatherbacks are among the planet's oldest marine predators, dating back more than 100 million years.


The Great Turtle Race is organized by Conservation International, the Costa Rica Ministry of Environment and Energy, The Leatherback Trust and the Tagging of Pacific Predators (TOPP) program in a global bid to build awareness, raise funds and collect scientific data to help the Pacific leatherback turtle.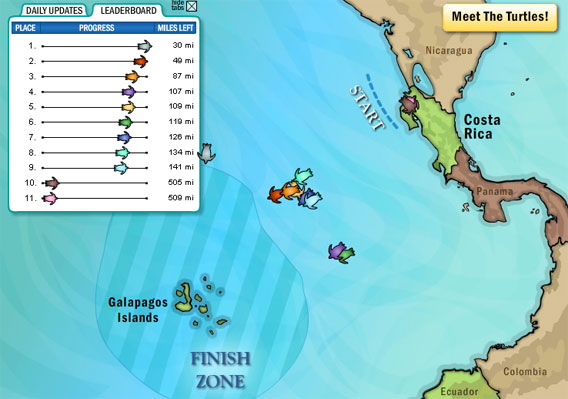 www.GreatTurtleRace.com
---