Jeremy Hance
mongabay.com
July 03, 2013

Ajani and his friends are caught trespassing in the forest in the film 'Lost in the Forest'. Photo courtesy of: Michelle Slavin.



A new series of films aims to protect Uganda's great ape species (mountain gorillas and chimpanzees) by bringing entertaining and educational movies to a rural audience living on the edges of Kibale National Park and Bwindi Impenetrable National Park. Produced with heavy input from locals, these films are acted with an all-Ugandan task to teach those living near great apes about the species and their conservation-needs.

"The films focus on three key conservation issues facing great apes across Africa: habitat loss, snaring and bushmeat," explains Michelle Slavin director of North Carolina Zoo's UNITE for the Environment Program for a recent interview with mongabay.com. "Each film follows Ajani, a young boy who loves great apes, as he encounters human activities that are harming the great apes around his village. Ajani works with his friends to help solve ape conservation problems. This was immensely important because while it is easy to talk about the problems, we focused on giving children solutions as well. These films have the potential to encourage and empower rural children and adults throughout Africa to get involved in the conservation of great apes."

Slavin says that UNITE along with a large number of partner groups chose films as a new medium for conservation education due both to its novelty in the region and its ability to produce powerful messages in story-format.

"Films are a great way to convey conservation messages by grabbing people's attention, especially people who do not usually have access to films. In Uganda lecturing is generally used, and not just in the classroom but in meetings and conferences as well. Films can reach those people who are more visually oriented. They are also a fun way to convey conservation messages, which is vitally important when working with children," she explains. "However, it is important to note that while films are a great way to convey conservation messages, showing the films without any kind of action plan or follow-up may not get the message across. This is especially significant in rural areas where people might be so excited just to see the film that they completely miss the key messages."

Unlike many conservation programs, UNITE focuses solely on conservation education. The program helps connect teachers in North Carolina with their counterparts in Uganda, among many other initiatives.

"So often conservation education, especially in developing countries, is done as an add-on or a one off to already existing conservation programs. The North Carolina Zoo had developed this wonderful model for long-term conservation based on behavioral change and capacity building. This model uses teachers to spread conservation messages through the integration of conservation education into the national curriculum," Slavin says.



Michelle Slavin will be presenting on her work with UNITE at the 2013 Zoos and Aquariums: Committing to Conservation (ZACC) conference on Tuesday, July 9th in Des Moines, Iowa.



AN INTERVIEW WITH MICHELLE SLAVIN



Silverback mountain gorilla in Bwindi Impenetrable National Park. Photo courtesy of Michelle Slavin.

Mongabay: What's your background?

Michelle Slavin: I have a BS in Wildlife Science from the University of Washington where I primarily studied bald eagles. After University I joined the Peace Corps and served as an Environmental Educator in the Philippines. It was there that I realized how much I enjoyed the human component of conservation and began cultivating skills in community organizing and training with a bat conservation captive breeding program at the Center for Tropical Conservation Studies at Silliman University. After my time in the Peace Corps I went back to school and received my Masters from American University in International Affairs and a Masters from the United Nations University for Peace in Natural Resources and Sustainable Development—all along focusing on conservation education. When I finished with graduate school I began working for the Smithsonian on science education reform projects in the Gulf Coast and Alaska. And now here I am in Uganda working for the North Carolina Zoo, helping some really amazing teachers learn to integrate conservation education into Uganda's national curriculum.

Mongabay: What drew you to the great apes of Uganda?


| | |
| --- | --- |
| | UNITE Director Michelle A. Slavin facilitating a GAEP training. Photo courtesy of Michelle Slavin. |
Michelle Slavin: It actually wasn't the great apes that drew me to Uganda. It was the North Carolina Zoo's UNITE for the Environment Program (UNITE). For years I had been working on various kinds of science/conservation education projects and UNITE was the first program I had come across that had made a long-term commitment to conservation education. So often conservation education, especially in developing countries, is done as an add-on or a one off to already existing conservation programs. The North Carolina Zoo had developed this wonderful model for long-term conservation based on behavioral change and capacity building. This model uses teachers to spread conservation messages through the integration of conservation education into the national curriculum. Ultimately, this had been my dream job and prior to coming across the job announcement I hadn't realized it even existed.

Of course, once in Uganda and working for Dr. Richard Bergl of the NC Zoo I gained a deeper understanding of the great apes and their conservation issues. The North Carolina Zoo is home to both chimpanzees and gorillas so they have a strong interest in ensuring that great ape populations remain viable in the wild. UNITE operates just outside Kibale National Park, which is home to East Africa's largest chimpanzee population—approximately 1,400. In the past two years we have also begun partnering with the Max Planck Institute for Evolutionary Biology (MPI) in Bwindi Impenetrable National Park, which is home to half the worlds remaining mountain gorillas. It has been such a wonderful opportunity to work with such charismatic megafauna and the people who have devoted their lives to protecting them.

Mongabay: What are the major threats to these species?

Michelle Slavin: Humans beings! Unsustainable agriculture practices, harvesting firewood from their habitats and pollution are a few issues directly threatening mountain gorillas and chimpanzees in Uganda. Great apes are not usually hunted in Uganda, but poaching of animals such as buffalo, elephant and duikers is an issue because great apes accidentally get caught in snares meant for other animals. In Kibale National Park one in three chimpanzees has a snare injury—one chimp in the Kanyawara group is missing both feet and another in the Ngogo group has had a plastic snare stuck on his wrist for over 15 years. In Bwindi Impenetrable National Park the snaring problem isn't as high, maybe 5% of mountain gorillas are caught in snares, but because of their relatively low numbers even 5% can be dangerous to the population's survival.

Neither Kibale or Bwindi Impenetrable National Parks have experienced major habitat loss over the past 20 years, but Uganda has one of the highest population growth rates in the world so it's not out of the question that in the future habitat loss could become a bigger issue than it currently is.

In other parts of Africa, however, especially in West and Central Africa habitat loss is a huge concern for the survival of chimpanzees and all the gorilla species. Political instability in places like Cote d'Ivoire, Central Africa Republic and the Democratic Republic of Congo is also a threat to the survival of the great apes. Political instability, specifically in the DRC, often leads to the displacement of people who traditionally hunt and eat apes which could mean the spread of these practices to new areas.

Mongabay: Why do you see film as one way to reach locals on great ape conservation?
| | |
| --- | --- |
| | Bunoga Primary School student with a chimpanzee sculpture she made. Photo courtesy of Michelle Slavin. |
Michelle Slavin: Every good educator knows that using a wide variety of teaching methods helps students of all ages learn better. By targeting conservation interventions to specific learning styles an educator can reach a much broader audience. Films are a great way to convey conservation messages by grabbing people's attention, especially people who do not usually have access to films. In Uganda lecturing is generally used, and not just in the classroom but in meetings and conferences as well. Films can reach those people who are more visually oriented. They are also a fun way to convey conservation messages, which is vitally important when working with children.

However, it is important to note that while films are a great way to convey conservation messages, showing the films without any kind of action plan or follow-up may not get the message across. This is especially significant in rural areas where people might be so excited just to see the film that they completely miss the key messages. Ensuring that your film is part of a broader conservation outreach is essential.

Mongabay: What makes these films distinct?

Michelle Slavin: In my opinion, almost everything. The films were developed with people from diverse backgrounds: representatives of local communities, great ape experts, educators and community development experts. The Dutch NGO that made the films our partner, Nature for Kids (NfK) has pioneered this approach to conservation film-making and made sure that members of the target audience (rural communities in Uganda) were involved in the development process. This part of the process was critical to ensure that the films would not only be factually accurate and fun but also culturally appropriate and accessible.

The films are acted by an all Ugandan cast—none of who had ever acted before! They were filmed on location in and around Bigodi, Uganda—UNITE's base of operation adjacent to Kibale National Park. The films were made in English (the national language of Uganda), but have been translated into Runyakitara, a language that combines the two languages spoken in areas where both mountain gorillas and chimpanzees are found in Uganda, as well as French for distribution in Francophone Africa.

The films focus on three key conservation issues facing great apes across Africa: habitat loss, snaring and bushmeat. Each film follows Ajani, a young boy who loves great apes, as he encounters human activities that are harming the great apes around his village. Ajani works with his friends to help solve ape conservation problems. This was immensely important because while it is easy to talk about the problems, we focused on giving children solutions as well. These films have the potential to encourage and empower rural children and adults throughout Africa to get involved in the conservation of great apes.

Mongabay: How have locals reacted to the film education program?



Kasiisi Project teachers demonstrate the similarities between chimpanzee and human handprints. Photo courtesy of Michelle Slavin.

Michelle Slavin: A collaboration between UNITE, NfK, Kasiisi Project and MPI, the Great Ape Education Project (GAEP) has essentially four components: production of the films, training of teachers, film showings and great ape themed activities in schools. Film production was completed early this year and the education outreach has just begun. Prior to the final production of the films we held a test screening in a local school as well as at the Gorillas Across Africa workshop held last November in Musanze, Rwanda. The students who viewed the film picked up most of the key messages and the workshop participants provided suggestions to for making the films more powerful—all of which NfK used when making final edits.

As part of the initial outreach component of the project we recently trained 101 teachers from all the 33 partner schools of UNITE, the Kasiisi Project and MPI as well as six Uganda Wildlife Authority staff. The teachers were trained about great apes in general, how to use films as a teaching tool and how to integrate great ape conservation activities in their classrooms and Wildlife Clubs, a common extracurricular activity in Ugandan schools.

Just like in the states, teachers in Uganda are overworked and underpaid. When a project like this comes along it provides them with the resources they need to do what they are already doing: teaching. The teachers had such great questions about the chimps and mountain gorillas, debated issues and had a tangible energy about the project.

The response was incredibly positive, the teachers were proud that their country and their great apes were featured in the films. We received some great feedback from the teachers after the training through anonymous evaluations:
"The training was so productive that I have changed my bad attitude towards great apes to good."
"I would like you to involve other schools in this program so that we can join hands to conserve the great apes all over the world."
"I shall always look forward to protecting them [the great apes] as our cousins."
"Great apes are similar to humans so they need to be strongly protected like the humans protect themselves."


The GAEP staff began showing the habitat loss film (Lost in the Forest) in the schools this month. A common theme at the UNITE school film showings were students telling us that they need to inform their parents not to farm so close to the national park and encourage them to rotate their crops. They were also surprised to learn that they too are great apes!

Some schools have already begun implementing great ape themed conservation activities in their schools, which teachers chose during the trainings. The teachers chose the activities that were best for their specific situations and included activities such as debates, radio broadcasts, newsletters, art projects, gardening projects and more. They are definitely going to be busy this year! We have already seen a few chimpanzee masks walking around Bigodi, chimpanzee sculptures, and drawings of the great apes.

Mongabay: Do you think this is a project that could be replicated elsewhere for other species?

Michelle Slavin: In embarking on this project our goal was to develop a model that could be replicated at other sites. The films we created and the associated educational and training materials will be made freely available for other conservation education projects to use. While the education outreach component of GAEP is specific to Kibale and Bwindi Impenetrable National Parks in Uganda (chimpanzees and mountain gorillas) the conservation messages in the films and the supporting student materials are applicable to other African great apes. The student magazines, posters and films can easily be translated into local languages found within Africa's great ape countries. The follow-up activities used to emphasize the key messages in the films can be simple and inexpensive; they do not have to be elaborate in order to have an impact.

This is also a model that can be used with species other than the great apes—there are so many fun and educational films out there on a variety of species and topics. Find one that suits your organization then implement it within this framework with the appropriate cultural changes. The result is a powerful and impactful project.

For any organization wanting to replicate GAEP, I highly recommend collaborating with organizations doing similar work. Working together with our partners has given all of us the advantage of reaching far more students, teachers and community members than we ever could have alone.

Mongabay: What can people do to help the great apes of Uganda?

Michelle Slavin: I think education is one the most powerful ways people can help the great apes of Uganda.



Chimpanzees in Kibale National Park. Photo courtesy of Michelle Slavin.

The best thing people outside Uganda can do to help the great apes of Uganda is to educate themselves about the threats facing chimpanzees and mountain gorillas. The more people realize how connected we all are, hopefully, the more they will want to get involved in conservation efforts. Once someone gains that interest they can donate to or volunteer with one of the many conservation organizations working to protect the great apes of Uganda. Everyone has a talent, whether it be fundraising, website development or teaching, and the organizations working here definitely need those people!

Within Uganda, the best thing people can do is educate themselves and make small changes that fit within their lifestyles to ensure the conservation of great apes and their habitat. It's unfair to ask rural Ugandans to conserve great apes when they do not understand why it is important or when they are also faced with issues such as poverty and illness. Education is definitely one way to bridge that gap.


















AUTHOR: Jeremy Hance joined Mongabay full-time in 2009. He currently serves as senior writer and editor. He has also authored a book.
Related articles

Building a new generation of local conservationists: how improving education in Uganda may save one of the world's great forests


(06/20/2013) Conservation work is often focused on the short-term: protecting a forest from an immediate threat, saving a species from pending extinction, or a restoring an ecosystem following degradation. While short-term responses are often borne of necessity, one could argue that long-term thinking in conservation and environmental work (as in all human endeavors) is woefully neglected, especially in the tropics. This is why programs like the Kasiisi Project are so important: by vastly improving education for primary kids near a threatened park in Uganda, the project hopes to create a "generation of committed rural conservationists," according to founder and director, Elizabeth Ross.


New global network bridges gap for primate conservation educators


(05/21/2013) Drawing from her personal experience as a primate educator and the challenges she saw others facing, Amy Clanin envisioned a network that would advance the field of primate conservation education by addressing three needs of educators: connections, resources, and services. It was this vision that led her to create the Primate Education Network (PEN). PEN is at the forefront of primate conservation education, providing a community and collaboration platform for primate educators.


Why responsible tourism is the key to saving the mountain gorilla


(05/13/2013) The sunlight poured through the canopy, casting dappled shade over Makara, a large silverback mountain gorilla, as he cast his eyes around the forest clearing, checking on the members of his harem. A female gorilla reclined on a bank of dense vegetation of the most brilliant green, clutching her three day old infant close to her chest, and elsewhere, two juvenile gorillas played around a small tree, running rings around it until one crashed into the other and they rolled themselves into a roly-poly ball of jet black fluff that came to a halt a few meters in front of our delighted group.


Endangered primates and cats may be hiding out in swamps and mangrove forests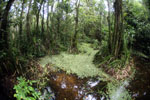 (05/02/2013) What happens to animals when their forest is cut down? If they can, they migrate to different forests. But in an age when forests are falling far and fast, many species may have to shift to entirely different environments. A new paper in Folia Primatologica theorizes that some 60 primate species and 20 wild cat species in Asia and Africa may be relying more on less-impacted environments such as swamp forests, mangroves, and peat forests.


An insidious threat to tropical forests: over-hunting endangers tree species in Asia and Africa


(04/04/2013) A fruit falls to the floor in a rainforest. It waits. And waits. Inside the fruit is a seed, and like most seeds in tropical forests, this one needs an animal—a good-sized animal—to move it to a new place where it can germinate and grow. But it may be waiting in vain. Hunting and poaching has decimated many mammal and bird populations across the tropics, and according to two new studies the loss of these important seed-disperser are imperiling the very nature of rainforests.


Gorilla paradise: new park safeguards 15,000 western lowland gorillas

(01/31/2013) In 2008 the Wildlife Conservation Society (WCS) announced a jaw-dropping discovery: remote swamp forests in northern Republic of Congo contained a stunning population of 125,000 western lowland gorillas that had somehow gone unnoticed by scientists. At the time the President of WCS, Steven E. Sanderson, called the area the "mother lode of gorillas," and expressed hope that the discovery would lead to a new park. Well, late last year, a park was finalized.


Great apes suffer mid-life crisis too


(11/19/2012) Homo sapiens are not alone in experiencing a dip in happiness during middle age (often referred to as a mid-life crisis) since great apes suffer the same according to new research in the Proceedings of the National Academy of Sciences (PNAS). A new study of over 500 great apes (336 chimpanzees and 172 orangutans) found that well-being patterns in primates are similar to those experience by humans. This doesn't mean that middle age apes seek out the sportiest trees or hit-on younger apes inappropriately, but rather that their well-being starts high in youth, dips in middle age, and rises again in old age.


Mountain gorilla population up by over 20 percent in five years

(11/13/2012) A mountain gorilla census in Uganda's Bwindi Impenetrable National Park has a population that continues to rise, hitting 400 animals. The new census in Bwindi means the total population of mountain gorillas (Gorilla beringei beringei) has reached 880—up from 720 in 2007—and marking a growth of about 4 percent per year.


The world's 25 most endangered primates: nearly a quarter in Madagascar


(10/15/2012) A coalition of conservation groups released the biannual Top 25 Primates list today, including nine species not appearing on the 2010 list, at the UN's Convention on Biological Diversity (CBD) in Hyderabad, India. Madagascar tops the list as home to the most threatened primates, including six on the list. Following Madagascar, Vietnam contains five, Indonesia three, and Brazil two. In all, over half (54 percent) of the world's primates, which have been evaluated, are considered threatened by the IUCN Red List.


Is your Halloween candy linked to rainforest destruction?

(10/11/2012) A campaign by the Cheyenne Mountain Zoo hopes to raise awareness about the link between Halloween candy and deforestation in Indonesia and Malaysia. Employing the images of Critically Endangered orangutans, the zoo urges consumer to only buy candy containing eco-certified palm oil by the Round Table on Sustainable Palm Oil (RSPO).