Jeremy Hance
mongabay.com
April 03, 2013
VIDEO SERIES
On an occasional basis mongabay.com highlights a video or film. Any views expressed in these clips are those of the filmmaker/producer and do not necessarily reflect the views or endorsement of mongabay.com.


A new film Nosy Maitso takes a look at the people, researchers, and wildlife connected to Madagascar's Ranomafauna National Park. Apart of a World Heritage Site, the park was established in 1991 after a new species of lemur, the golden bamboo lemur (Hapalemur aureus), was discovered in its forests in the 1980s. The golden bamboo lemur is currently listed as Endangered by the IUCN Red List.

Today the park is one of the island-nation's best known protected areas and helps conserve a rich selection of Madagascar's distinct biodiversity, including 115 species of birds, 90 species of butterflies, and 160 herps (reptiles and amphibians). At least 11 lemur species are found in the park. To see photos from the park: Ranomafauna National Park.



















Related articles

Madagascar's chameleons came from African mainland

(03/29/2013) Madagascar's color-changing chameleons originated in Africa and crossed over to the island some 65 million years ago, concludes a study published this week in the Proceedings of the Royal Society B.


2 'giant' yet tiny mouse lemurs identified in Madagascar

(03/27/2013) Scientists have discovered two new species of mouse lemurs in Madagascar, bringing the total number of diminutive primates known to science to 20.


Researchers sequence Aye-aye genome - lemur is more genetically diverse than humans

(03/26/2013) Scientists sequenced the genome of the aye-aye, a bizarre lemur species, for the first time. The research is published in the journal Proceedings of the National Academy of Sciences (PNAS).


Deforestation in key Madagascar park accelerated after 2009 coup d'etat, finds satellite analysis

(03/18/2013) Deforestation and forest disturbance in Madagascar's largest national park increased significantly less than a year after a coup displaced the country's democratically-elected president in 2009, finds a new study that analyzed forest cover in Masoala National Park.


Dozens of tropical trees awarded new protections at CITES

(03/12/2013) Numerous species of rosewood and ebony from Madagascar, Latin America, and Southeast Asia were granted protection today at the Convention on International Trade in Endangered Species (CITES) in Bangkok, Thailand. The ruling comes one day after CITES granted the first protections ever to sharks and manta rays.


Frogs radio-tracked for first time in Madagascar


(03/01/2013) Researchers have radio-tracked frogs for the first time in Madagascar. Attaching tiny radio transmitters weighing 0.3-0.35 grams (1/100 of an ounce) to 36 rainbow frogs (Scaphiophryne gottlebei), the research team tracked the movement of the colorful frogs through rugged canyons in Madagascar's Isalo Massif. They found that the frogs have a short breeding period that occurs after the first intense rainfall at the start of the rainy season.


Travel in Madagascar: strange wildlife and stunning landscapes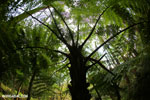 (02/27/2013) The promise of lemurs, lizards, and a bouquet of biodiversity brought mongabay.com founder Rhett Butler to Madagascar sixteen years ago. He was not disappointed by what he found and was inspired to return, many times to experience the wildlife, landscapes, and people of the dynamic island. In 2004, Rhett founded wildmadagascar.org, a site that highlights the spectacular cultural and biological richness of Madagascar and reports on environmental news for the Indian Ocean island nation.


Madagascar and Malaysian Borneo nature pictures go online

(02/17/2013) Yesterday I posted over 10,000 new photos I took during late 2012 in Madagascar and Sabah, Malaysian Borneo. The pictures are available in the picture section of mongabay.com: travel.mongabay.com.


UK authorizes guns for Madagascar despite threat of lemur extinctions

(01/27/2013) Britain has authorized the export of thousands of guns to Madagascar, according to TanaNews.com, sparking concerns that the firearms could be used for hunting endangered lemurs.