Jeremy Hance
mongabay.com
January 02, 2013

Whitebark pine stand. Photo by: Richard Sniezko/U.S. Forest Service.



In the western U.S., few trees generally grow in higher altitudes than the whitebark pine (Pinus albicaulis). Providing shelter and food for bears, squirrels and birds, the whitebark pine ecosystems also help regulate water flow from snowmelt. But, according to a new study in the Proceedings of the National Academy of Sciences (PNAS), climate change has produced a novel threat for these high-altitude forests : mountain pine beetles (Dendroctonus ponderosae).

Mountain pine beetles have already decimated lower altitude forests across the western U.S. and Canada. These tree-killing insects were long held in check by cold spells, but with rising temperatures, especially more mild winters, mountain pine beetles have been able to feast their way through the region's forests. So far much of the destruction has been focused on lower-altitude lodgepole pine (Pinus contorta) forests; these trees, having evolved alongside mountain beetles, sport many natural mechanisms to fend off the predators. But now a warming climate has allowed mountain pine beetles not only to make it through the winter, but to move higher up mountain slopes to whitebark pine forests. Unlike, lodgepole pines, whitebarks have no defenses against the beetle onslaught. In addition, this species is categorized as Vulnerable by the IUCN Red List.

By evaluating forests in the Greater Yellowstone Ecosystem, the scientists found that currently mountain pine beetles still preferred lodgepole pines. Even in forests containing both lodgepole and whitebark pines, the insects favored attacking lodgepole pines.

"Nevertheless, at elevations consisting of pure whitebark pine, the mountain pine beetle readily attacks it," explains lead author Phil Townsend with the UNiversity of Wisconsin-Madison. Historically, these beetles were largely incapable of reaching these forests, since the cold kept them at bay.

Townsend adds that, "A subject of much concern in the scientific community is the potential for cascading effects of whitebark pine loss on mountain ecosystems."

The loss of these forests could pose problems for a number of species, including the tree's chief seed disperser, Clark's nutcracker (Nucifraga columbiana). In addition it could have impacts further down.

"Loss of the canopy will lead to greater desiccation during the winter and faster melting in the summer due to loss of tree canopies for shade," says Townsend. Faster melting could change flood scenarios in some lowlands. By destroying forests, mountain pine beetles are also responsible for significant carbon emissions, creating a positive feedback cycle.

"This is possibly a short-term effect of the loss of whitebark pine," says Townsend. "If—and it is a big if—other tree species replace it, eventually this service may be replaced."



CITATION: Kenneth F. Raffa, Erinn N. Powell, and Philip A. Townsend. Temperature-driven range expansion of an irruptive insect heightened by weakly coevolved plant defenses. PNAS. 2012.



















Related articles

Forest destruction leads to more floods in temperate regions

(10/04/2012) Keeping forests standing would lessen both the number and size of spring floods in temperate regions, according to a new study in Water Resources Research, by slowing seasonal snow melts. In deforested areas, snow melts faster due to a lack of shade causing at least twice as many, and potentially up to four times as many, flood events. The new research highlights a largely unknown ecosystem service provided by temperate forests: flood mitigation.


Saving 'Avatar Grove': the battle to preserve old-growth forests in British Columbia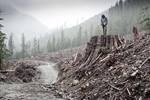 (07/23/2012) A picture is worth a thousand words: this common adage comes instantly to mind when viewing T.J. Watt's unforgettable photos of lost trees. For years, Watt has been photographing the beauty of Vancouver Island's ancient temperate rainforests, and documenting their loss to clearcut logging. The photographer and environmental activist recently helped co-found the Ancient Forest Alliance (AFA), a group devoted to saving the island's and British Columbia's (BC) last old-growth while working with the logging industry to adopt sustainable practices. This February the organization succeeded in saving Avatar Grove—which was only discovered in 2009—from being clearcut. The grove, a rare stand of massive and ancient trees named after the popular eco science-fiction movie, has become a popular tourist destination, providing a new economic incentive for communities to protect rather than cut Canada's last great forests.


Scientist: 'no doubt' that climate change is playing a role in U.S. fires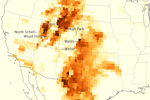 (07/02/2012) A noted climate scientist says there is 'no doubt' that climate change is 'playing a role' in this year's series of record fires in the western U.S. A massive wildfire in Colorado has forced the evacuation of 36,000 people, destroyed over 300 homes, and killed two people. The devastation wrought by the Waldo Canyon Fire even prompted a visit form U.S. President Barack Obama. But this is not the only epic fire in the U.S. this year: less than a month before the Colorado disaster, New Mexico experienced its largest fire on record in Gila Nation Forest; the conflagration burned up 247,000 acres (100,000 hectares). Other major wildfires have occurred in Utah and Wyoming, as well as other parts of New Mexico and Colorado.


Warmer forests expel carbon from soils creating "vicious cycle"


(06/13/2012) As the world warms, temperate forests could become a source of carbon dioxide emission rather than a sink according to a new study in the Proceedings of the National Academy of Sciences (PNAS). Scientists found that two forest sites in the U.S. (Wisconsin and North Carolina) emitted long-stored carbon from their soils when confronted with temperatures 10-20 degrees Fahrenheit (5.5-11.1 degrees Celsius) higher than average.