Rhett A. Butler, mongabay.com
December 08, 2012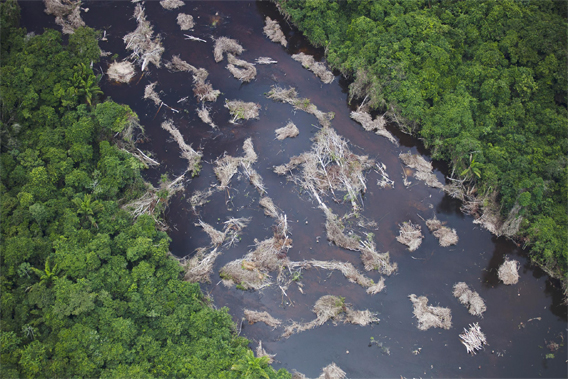 Construction of a canal for the Belo Monte Dam project, near Altamira taken by Daniel Beltrá for Greenpeace. Once completed, the Belo Monte Dam will be the third largest in the world. It will submerge up to 400,000 hectares and displace 20,000 people. Image © Daniel Beltrá / Greenpeace.



Dam-builders seeking to unlock the hydroelectric potential of the Amazon are putting the world's mightiest river and rainforest at risk, suggests a new assessment that charts the rapid expansion of dams in the region.

The report, published as an atlas by 11 NGOs and research institutions that form the Amazonian Network of Georeferenced Socio-Environmental Information (RAISG), shows that Amazon counties have built or are planning to develop more than 400 dams in the Amazon Basin. 171 dams have already been built, while 246 are under construction or planned. Of the 246 new dams, 67 would have a capacity exceeding 30 megawatts.

With 231, Brazil has the most dams in the works. The South American giant estimates the hydroelectric potential of its share of the Amazon at 260,000 MW, or enough to power a quarter of a billion American homes.

Brazil's engineering firms are also building many of the dams in neighboring Amazon countries. Peru has 11 planned dams, while Bolivia has four, according to the report.

The lower and middle parts of the Amazon is the most targeted river for dams, with 79. 16 of the dams would be larger than 30 megawatts. The lower and middle Amazon already has 34 dams. Major hydropower development is also planned for the Tocantins River in Brazil's southern Amazon, where 20 large-capacity dams are on track. The upper reaches of the Amazon may see 13 large dams.

Number of hydropower by country of the Amazon, by type and phase


Planned
Current
Country
< 30MW
> 30MW
Total
< 30MW
> 30MW
Total
Total
Brasil
176
55
231
87
22
109
340
Perú
2
9
11
31
2
33
44
Bolivia
1
3
4
1
9
10
14
Ecuador
10
10
10
Venezuela
6
6
6
Colombia
1
1
1
Guyane Française
1
1
1
Suriname
1
1
1
total
179
67
246
120
51
171
417


Ecologists say there are myriad problems with large dams in tropical ecosystems, especially when built on the scale envisioned in the Amazon. Large dams interfere with the hydrological cycle and nutrient flows through an ecosystem, while restricting or blocking access to breeding and feeding grounds for migratory fish species. Meanwhile areas inundated with water can generate substantial greenhouse gas emissions. Design flaws in some tropical dams, which draw methane from the base of their reservoirs, can exacerbate climate impacts. Finally flooding in the reservoir area can displace communities traditionally dependent on rivers, while creating hardship downstream from reduced fisheries.

But the atlas says many of these issues are typically part of the dialog around dam projects. In fact the understanding of dam impacts of often very poor. For example, politicians have asserted that the controversial 11,233 MW Belo Monte dam in the Southern Amazon isn't part of the Amazon and won't flood any rainforests, when in fact the project will indeed inundate tens of thousands of hectares. According to analysts, in order for the project to be financially viable, two additional dams will need to be built upstream from Belo Monte, an issue that has barely registered in the public debate over the dam. Yet dam supporters claim that giant Amazon dams are a form of "clean energy".

"Dams are a centerpiece of greenwashing here in the Amazon," said Philip Fearnside of Instituto Nacional de Pesquisas da Amazônia in Manaus during a symposium in June 2012 in Bonito, Brazil. "Dams release methane, a gas with a much higher impact on global warming per ton than carbon dioxide, especially during the first decades after construction."

Beyond dams, the atlas reviews other potential threats to the Amazon, including deforestation, a mining boom, expansion of oil and gas exploration and extraction, a proliferation in hydroelectric projects, expanding road networks, and rising incidence of fire.

CITATION: RAISG 2012. Amazonía bajo presión [PDF-Spanish}

















Related articles

Deforestation rate falls across Amazon rainforest countries


(12/06/2012) The average annual rate of deforestation across Amazon rainforest countries dropped sharply in the second half of the 2000s, reports a comprehensive new assessment of the region's forest cover and drivers of deforestation. While the drop in deforestation in the Brazilian Amazon has been widely reported, several other Amazon countries saw their rates of forest loss drop as well, according to the report, which was published by a coalition of 11 Latin American civil society groups and research institutions that form the Amazonian Network of Georeferenced Socio-Environmental Information (RAISG).


Brazilian bank approves $10.8 billion loan for controversial Amazon rainforest dam

(11/30/2012) Brazil's National Development Bank (BNDES) on Monday announced it has approved a $10.8 billion (22.5 billion Brazilian reais) loan to the consortium that is building the controversial Belo Monte dam in the state of Par´ in the heart of the Amazon rainforest, reports International Rivers, a group that is campaigning against the dam. The loan in the largest in the bank's 60-year history, according to the group.


Dams are 'centerpiece of greenwashing' in the Amazon

(06/25/2012) Brazil's ambitious plans to build 30 dams in the Amazon basin could trump the country's efforts to protect the world's largest rainforest, said a leading Amazon scientist speaking at the annual meeting of the Association for Tropical Biology and Conservation (ATBC) in Bonito, Brazil.


Protesters dig canal through Belo Monte dam in Brazil (Photos)

(06/16/2012) In an symbolic protest of the giant Belo Monte Dam, Friday morning some 300 locals dug a channel in an earthen dam that blocks a portion of the Xingu River and serves as the first step of the controversial hydroelectric project, reports Amazon Watch.


Pictures: Destruction of the Amazon's Xingu River begins for Belo Monte Dam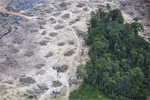 (04/18/2012) The Xingu River will never be the same. Construction of Belo Monte Dam has begun in the Brazilian Amazon, as shown by these photos taken by Greenpeace, some of the first images of the hugely controversial project. Indigenous groups have opposed the dam vigorously for decades, fearing that it will upend their way of life. Environmentalists warn that the impacts of the dam—deforestation, methane emissions, and an irreparable changes to the Xingu River's ecosystem—far outweigh any benefits. The dam, which would be the world's third largest, is expected to displace 16,000 people according to the government, though some NGOs put the number at 40,000. The dam will flood over 40,000 hectares of pristine rainforest, an area nearly seven times the size of Manhattan.


Belo Monte Dam: A spearhead for Brazil's dam-building attack on the Amazon?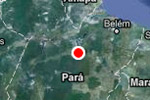 (03/23/2012) Brazil's Belo Monte Dam on the Xingu River is now under construction despite its many controversies. The Brazilian government has launched an unprecedented drive to dam the Amazon's tributaries, and Belo Monte is the spearhead for its efforts. Brazil's 2011-2020 energy-expansion plan calls for building 48 additional large dams, of which 30 would be in the country's Legal Amazon region1. Building 30 dams in 10 years means an average rate of one dam every four months in Brazilian Amazonia through 2020. Of course, the clock doesn't stop in 2020, and the total number of planned dams in Brazilian Amazonia exceeds 60.


Last chance to see: the Amazon's Xingu River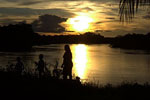 (06/15/2011) Not far from where the great Amazon River drains into the Atlantic, it splits off into a wide tributary, at first a fat vertical lake that, when viewed from satellite, eventually slims down to a wild scrawl through the dark green of the Amazon. In all, this tributary races almost completely southward through the Brazilian Amazon for 1,230 miles (1,979 kilometers)—nearly as long as the Colorado River—until it peters out in the savannah of Mato Grosso. Called home by diverse indigenous tribes and unique species, this is the Xingu River.


Brazil's shame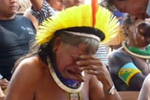 (06/03/2011) As an American I know a lot about shame — the U.S. government and American companies have wrought appalling amounts of damage the world over. But as an admirer of Brazil's recent progress toward an economy that recognizes the contributions of culture and the environment, this week's decision to move forward on the Belo Monte dam came as a shock. Belo Monte undermines Brazil's standing as a global leader on the environment. Recent gains in demarcating indigenous lands, reducing deforestation, developing Earth monitoring technologies, and enforcing environmental laws look more tenuous with a project that runs over indigenous rights and the environment.