mongabay.com
November 17, 2012
UPDATE: The detained activists were granted conditional release on November 18. See this post from the Rights and Resources Initiative (RRI) for more details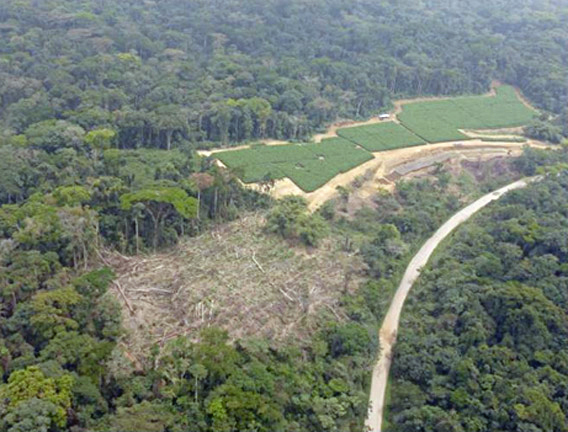 Aerial photographs of Talangaye oil palm nursery in Nguti subdivision of Herakles Farms planned oil palm plantation. Photographs taken in February 2012. Photographer wishes to remain anonymous.



Activists protesting conversion of rainforest to an oil palm plantation have been arrested in Cameroon, reports Greenpeace.

Nasako Besingi, the director of Struggle to Economise Future Environment (SEFE), was arrested November 14 with three others in the town of Mundemba. An emailed statement from Greenpeace calls Besingi a "vocal and peaceful critic of the plans and working practices of US-based company Herakles Farms." It adds that "the activities of SEFE have always been based on legal court actions and peaceful social dialogue around the only real tangible asset of people in the region – land."

The environmental group is calling for an immediate release of Besingi and his colleagues.

The Herakles project has emerged as a battleground for environmentalists seeking in deter conversion of rainforests for oil palm plantations in West and Central Africa. Green groups say the project is opposed by some local communities and risks destroying large tracts of rainforest. Herakles says the plantation, which will cover some 70,000 hectares in southwest Cameroon, will bring much needed development to the region. It also maintains that it will not convert high conservation value forest, although the New York-based company recently pulled out of the Roundtable on Sustainable Palm Oil, which sets basic standards for environmentally-responsible practices.

















Related articles

Palm oil company in Cameroon drops bid for eco-certification of controversial plantation

(09/05/2012) Herakles Farm, a U.S.-based agricultural developer, will no longer seek eco-certification of its 70,000-hectare oil palm plantation in Cameroon, reports the Roundtable on Sustainable Palm Oil (RSPO). The move comes amid criticism from environmental groups that Herakles is converting high conservation value rainforest for the plantation.


Scientists say massive palm oil plantation will "cut the heart out" of Cameroon's rainforest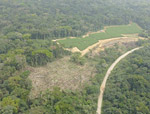 (03/15/2012) Eleven top scientists have slammed a proposed palm oil plantation in a Cameroonian rainforest surrounded by five protected areas. In an open letter, the researchers allege that Herakles Farm, which proposes the 70,000 hectare plantation in southwest Cameroon, has misled the government about the state of the forest to be cleared and has violated rules set by the Roundtable on Sustainable Palm Oil (RSPO), of which it's a member. The scientists, many of whom are considered leaders in their field, argue that the plantation will destroy rich forests, imperil endangered species, and sow conflict with local people.


Palm oil, poverty, and conservation collide in Cameroon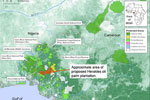 (09/13/2011) Industrial palm oil production is coming to Africa, its ancestral home. And like other places where expansion has occurred rapidly, the crop is spurring hope for economic development while generating controversy over its potential impacts. The world's most productive oil seed has been a boon to southeast Asian economies, but the looming arrival of industrial plantations in Africa is raising fears that some of the same detriments that have plagued leading producers Malaysia and Indonesia—deforestation, greenhouse gas emissions, biodiversity loss, conflicts with local people, social displacement, and poor working conditions—could befall one of the world's most destitute regions. While there is no question that oil palm is a highly lucrative crop that can contribute to economic development, there is also little doubt that conversion of native forests for plantations exacts a heavy toll on the environment. The apparent conflict seems to pit agroindustrial goliaths against greens, with communities falling somewhere in between. But Herakles, a New York-based investment firm planning to construct a 60,000-hectare plantation in the Central African country of Cameroon, says its approach will bridge this gap between economic development and the environment. Social and environmental campaigners are skeptical.


A Huge Oil Palm Plantation Puts African Rainforest at Risk

(09/12/2011) As global agricultural companies turn to Africa, a U.S. firm is planning a massive oil palm plantation in Cameroon that it says will benefit local villagers. But critics argue that the project would destroy some of the key remaining forests in the West African nation and threaten species-rich reserves.