mongabay.com
November 02, 2012

The 'logjam' on the Rajang river, Sarawak, October 2010. The 50km-long logjam occurred downriver from an area logged by WTK group, an HSBC client.



HSBC has earned tens of millions financing the destruction of rainforests and invasion of indigenous land in the Malaysian state of Sarawak on the island of Borneo, alleges an explosive new report from Global Witness.

The report, titled In the Future There Will Be No Forests Left, says that HSBC has violated its own sustainability policies in providing financial services to companies linked to large-scale deforestation and "widely suspected of systematic bribery and corruption". Global Witness estimates HSBC has earned $130 million in fees and interest from lending to the companies.

"HSBC has bankrolled some of the world's worst logging companies and in some cases got them off the ground with their first commercial loans. The destruction they have caused simply couldn't have happened without the services and kudos the bank provided," said Tom Picken, Global Witness Forest Campaign leader.

The report says that that HSBC's activities may have breached international anti-money laundering regulations. Several of HSBC's clients are "closely connected" to Sarawak's Chief Minister Abdul Taib Mahmud, who is currently under investigation by Malaysian authorities for corruption. Ongoing divorce proceedings between Taib's son and his ex-wife has shed some light on the extent of Taib family holdings, which are estimated to exceed $20 billion dollars, according to an investigation by the Bruno Manser Fund, an environmental NGO. Global Witness adds that it "has obtained strong evidence showing Taib and members of his family are engaged in systemic corruption and money laundering."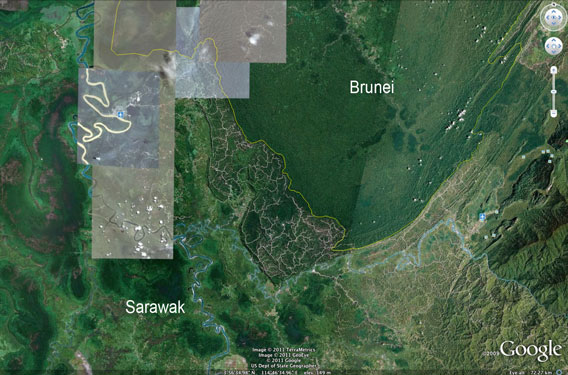 Logging roads and damaged forest in Sarawak compared with the healthy forest of Brunei. Photo courtesy of Google Earth.

The report details how four of HSBC's current clients in Sarawak have violated the bank's 2004 forest policy, which "required the bank to drop clients that did not have a credible likelihood of having 70 per cent of their operations certified to the Forest Stewardship Council (FSC) or equivalent standard by 2009," according to a statement from Global Witness, which notes that "not none of HSBC's Sarawak forestry clients investigated by Global Witness hold a single FSC certificate."

Global Witness blasted the apparent failures by HSBC, which has traditionally marketed its social and environmental commitment.

"In 2004 HSBC brought in progressive world-wide forest policies designed to avoid precisely these sorts of commercial relationships and make the bank a market leader on sustainability," said Pickens. "It has consistently traded on these commitments in public, yet failed to meet them in practice. The bank should hold its hands up, drop these clients immediately and compensate the victims for the mayhem it has helped cause."

Reached by The Economist for comment on the report, HSBC "declined to discuss its clients because of confidentiality". The bank did however say that "it is 'not accurate' to state that its clients are in violation of its forestland and forest-products policy."

The Economist went on to note that it's not clear how much HSBC is lending to its logging clients in Sarawak, but that "its continued involvement, however modest, allows logging firms to claim credentials they don't deserve." For example, Ta Ann group, which is accused of clear-cutting critically endangered orangutan habitat in the "Heart of Borneo", advertises that it holds a "HSBC Forest Policy" certificate, when in fact HBSC is not a forest certifier.

Rob Sherman of HSBC's New York City office told mongabay.com that the bank is in the process of "exiting" its relationships with clients that don't meet its 2004 forest commitment.

"HSBC remains committed to sustainable banking. We have had a forestry policy since 2004 and we use independent checks to monitor the compliance of our customers. Among all of our customers in the forestry sector, 99% are compliant or near compliant with our policy. We are in the process of exiting our relationship with the remaining 1%."

Sherman also pointed to a statement issued by HSBC Global, which says Global Witness has mischaracterized its clients' compliance with policy.

"In brief, it is not accurate to state that HSBC's clients are in violation of HSBC's Forest Land and Forest Products Policy," he said.

Editor's note: this story was updated with HSBC North America's comments about 40 minutes after its initial posting.
















Related articles