Jeremy Hance
mongabay.com
October 10, 2012

Wind turbine in Minnesota, U.S. Photo by: Tiffany Roufs.



According to a new poll, 74 percent of Americans agree that climate change is impacting weather in the U.S., including 73 percent who agreed, strongly or somewhat, that climate change had exacerbated record high temperatures over the summer. The findings mean that a large majority of Americans agree with climatologists who in recent years have found increasingly strong evidence that climate change has both increased and worsened extreme weather events.

In the poll the majority of Americans say climate change likely worsened a number of recent extreme weather events, including 71 percent for the current drought and last year's unusually mild winter; 70 percent for this year's heatwave-rocked spring; and 64 percent for the derecho, an especially fierce and long-lasting windstorm, that hit the northeast in June.

"Americans have just experienced two years of record-setting extreme weather events, and are increasingly connecting extreme weather in the United States to global warming," explains Anthony Leiserowitz of Yale University. The poll of over a thousand adults was conducted by the Yale Project on Climate Change Communication and the George Mason University Center for Climate Change Communication.

Along with extreme weather events, recent years have also seen a dramatic upswing in climatologists exploring the link between climate change and weather. A recent study in the Proceedings of the National Academy of Sciences (PNAS) found that between 1981 and 2010 the occurrence of extreme heatwaves had increased by 50 to 100 times. Climate change was the only statistically logical explanation behind the incredible jump in extreme heatwaves, according to the scientists. Another study found that a recent drought in Texas was made 20 times more likely due to climate change, while an incredibly warm winter in Britain was made 60 times more likely.

Despite these findings, and the fact that most Americans accept the science, the current presidential campaigns have been largely silent on both sides regarding climate change. Barack Obama has rarely mentioned climate change since a failed attempt to pass climate legislation, although he has been consistent in expressing the climate change is a global threat. Mitt Romney, who accepted the science behind climate change while governor, has recently questioned whether or not the global rise in temperatures is manmade, i.e. connected to greenhouse gas emissions, even though the vast majority of scientists say this is so. A Romney surrogate, Oren Cass, has since said that the ex-governor does not see reducing greenhouse carbon as a legitimate concern for the federal government. Romney has also made ending subsidies to green energy companies apart of his campaign.

















Related articles

Nary a mention of climate change during U.S. presidential debate

(10/04/2012) The hour-and-a-half long debate between President Barack Obama and ex-governor Mitt Romney last night ended without a single reference to climate change. Frustrated with the lack of discussion on the issue from both candidates, environmental activists sent a petition with over 160,000 signatures to debate moderator, Jim Lehr, urging him to ask a question about climate change. The petition fell on deaf ears.


Arctic sea ice is 'toast' as old record shattered

(09/19/2012) Some twenty days after breaking the record for the lowest sea ice extent, the Arctic sea ice has hit a new rock bottom and finally begun its seasonal recovery. In the end, the Arctic sea ice extent fell to just 3.4 million square kilometers (1.32 million square miles) when only a few months ago scientists were wondering if it would break the 4 million square kilometers. The speed of the sea ice decline due to climate change has outpaced all the computer models, overrun all expert predictions, and shocked even the gloomiest scientists.


United States ranks near bottom on first ever energy efficiency scorecard

(08/15/2012) Last month, the American Council for an Energy Efficient Economy released its first ever international energy efficiency scorecard, which gave the United Kingdom the top score. Using data points honed over years of rating U.S. states, the organization hoped to inspire nations to learn from each others' effective policies, as well as encourage "friendly competition" in the spirit of lowering global carbon emissions. At number one, the United Kingdom achieved a score of 67 out of 100 points, followed by Germany, Italy and Japan. As a whole, the European Union tied with China and Australia, and nine points below them, the United States came in with a score of 47 out of 100.


July 2012: hottest month in U.S. history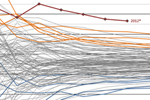 (08/08/2012) Last month was not only the hottest July in U.S. weather history, but the hottest month ever recorded in the contiguous U.S, besting a record struck in July 1936 during the Dust Bowl, according to new data from the National Oceanic and Atmospheric Administration (NOAA). The average temperature last month over the contiguous U.S. was 77.6 degrees Fahrenheit, or 3.3 degrees Fahrenheit above the 20th Century average. Making matters worse, crippling drought continued to spread over 63 percent of the lower 48 states.


Extreme heatwaves 50 to 100 times more likely due to climate change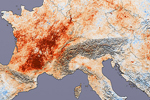 (08/05/2012) A recent rise in deadly, debilitating, and expensive heatwaves was caused by climate change, argues a new statistical analysis published in the Proceedings of the National Academy of Sciences (PNAS). Climatologists found that extreme heatwaves have increased by at least 50 times during the last 30 years. The researchers, including James Hansen of NASA, conclude that climate change is the only explanation for such a statistical jump.


Drought, heat, fires push more Americans to accept reality of climate change

(07/19/2012) Record temperatures, wildfires, drought, and crop failures have is helping convince more Americans that climate change is real and occurring, reports Bloomberg.