Jeremy Hance
mongabay.com
September 27, 2012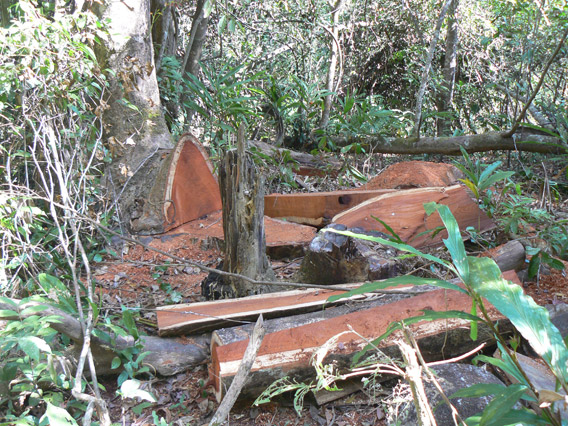 Illegal logging of rosewood, a highly sought luxury timber, in Virachey National Park in Ratanakkiri Province. Photo by: Greg McCann.



Two weeks after an environmental journalist was found murdered in the trunk of his car, another journalist has been brutally attacked in Cambodia. Ek Sokunthy with the local paper Ta Prum says he was beaten in his home by three assailants by a pistol and a stick. The attack follows swiftly after the high-profile murder of 44-year-old forest journalist Hang Serei Oudom.

Ta Prum's Phum Chesda told the Phnom Penh Post that Sokunthy had written an article on illegal logging last month. Sokunthy received three death threats after publishing the article.

Sokunthy described his assailants as "illegal loggers," telling the Post that, "I have never written of their case. I didn't know the reason why they beat me because I always wrote stories favorable to authorities and am fearful now."

Police are currently searching for the three attackers, one of whom was allegedly a former police officer.

Both Sokunthy and Oudom covered illegal logging in Ratanakkiri Province. In early September, Odum was found dead in the trunk of his car in a cashew plantation in Ratanakkiri. Police believed he was killed by axe blows to his head.

Attacks against environmental journalists and campaigners is becoming an epidemic in Cambodia, where illegal logging and land conflict between foreign companies and local communities are rife. Also this month, three journalists saw their motorcycles damaged when they took photos of illegal logging. And earlier this year, Chut Wutty a longtime forest activist was shot and killed while escorting two journalists to an area known for illegal logging. Various stories have been put forward of Wutty's shooting, but no official investigation has been started.

A government program of handing out 'economic land concessions' to companies for logging, mining, and agriculture has added fuel to the fire. According to The Cambodian Human Rights and Development Association (Adhoc) two million hectares (4.9 million acres) of Cambodia—comprising over 10 percent of the country's total land area—have been handed out, some of which is in protected areas.

Cambodia has lost nearly a quarter (22 percent) of its forest cover in the past 20 years. As of 2010, around 57 percent of the country was covered in forest, but only 3.2 percent of this was primary forest.

















Related articles

Environmental journalist investigating illegal logging murdered in Cambodia

(09/13/2012) Less than five months after high-profile forest activist, Chut Wutty, was killed in Cambodia, an environmental journalist, Hang Serei Oudom, has been found slain in the trunk of his car, possibly murdered with an ax, reports the AFP. Oudum, who worked at the local paper Vorakchun Khmer Daily, was known for writing stories on epidemic of illegal logging in Cambodia, often linking the crime to business people and politicians. The car and body were found in a cashew nut plantation in Ratanakiri province, an area rife with logging.


Cambodia's largest lowland rainforest spared from new land concessions

(08/06/2012) Four economic land concessions have been cancelled in Cambodia's Prey Lang forest, known as the largest intact lowland forest in Southeast Asia, reports the Phnom Penh Post. The economic land concessions, totaling over 40,000 hectares, would have been used for rubber plantations.


Flouting moratorium, Cambodia approves four land concessions in protected areas

(06/27/2012) A month-and-a-half after Cambodian Prime Minister, Hun Sen, declared a moratorium on on new economic land concessions, the government has announced four new concessions, each located in protected areas. Economic land concessions have come under the microscope in Cambodia after large-scale protests by local people and the recent murder of forest activist Chut Wutty. Critics say the concessions, which last year totaled two million hectares (4.9 million acres) sold off to foreign corporations, have resulted in local land conflict and environmental degradation.


Over 700 people killed defending forest and land rights in past ten years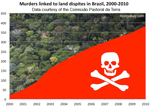 (06/19/2012) On May 24th, 2011, forest activist José Cláudio Ribeiro da Silva and his wife, Maria do Espírito Santo da Silva, were gunned down in an ambush in the Brazilian state of Pará. A longtime activist, José Cláudio Ribeiro da Silva had made a name for himself for openly criticizing illegal logging in the state which is rife with deforestation. The killers even cut off the ears of the da Silvas, a common practice of assassins in Brazil to prove to their employers that they had committed the deed. Less than a year before he was murdered, da Silva warned in a TEDx Talk, "I could get a bullet in my head at any moment...because I denounce the loggers and charcoal producers."


Cambodia suspends economic land concessions

(05/07/2012) Cambodian Prime Minister Hun Sen announced today that Cambodia would be temporarily suspending new economic land concessions and would revoke any concessions from companies involved in illegal logging, the evictions of locals or land-grabbing. The announcement comes two week after the high-profile death of local forest activist, Chut Wutty, who was shot and killed by military police while investigating illegal logging with two journalists.


Exploring Asia's lost world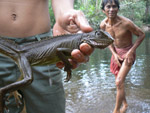 (05/03/2012) Abandoned by NGOs and the World Bank, carved out for rubber plantations and mining by the Cambodian government, spiraling into a chaos of poaching and illegal logging, and full of endangered species and never-explored places, Virachey National Park may be the world's greatest park that has been written off by the international community. But a new book by explorer and PhD student, Greg McCann, hopes to change that. Entitled Called Away by a Mountain Spirit: Journey to the Green Corridor, the book highlights expeditions by McCann into parts of Virachey that have rarely been seen by outsiders and have never been explored scientifically, including rare grasslands that once housed herds of Asian elephants, guar, and Sambar deer, before poachers drove them into hiding, and faraway mountains with rumors of tigers and mainland Javan rhinos.


Assassinated forest activist Chut Wutty: 'I want to see people live with freedom'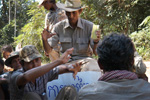 (05/02/2012) Chut Wutty, a dedicated Cambodian activist, was shot dead at an illegal logging site by military police, last Thursday. At the time Wutty was driving with two journalists, who wrote a shocking eye-witness account of his death, revealing that he was physically and verbally abused, then shot whilst trying to drive away, and left to die. His death reveals the brutal power of logging syndicates and companies, which are looting the country's natural wealth, and employing the military to silence their opponents.


Forest activist shot dead in Cambodia allegedly over photos of illegal logging

(04/26/2012) Chut Wutty, a prominent activist against illegal logging and deforestation, has been killed in the Koh Kong province of Cambodia. Wutty was shot dead at a military police checkpoint while traveling with two journalists with The Cambodia Daily. The journalists are currently being held for questioning by the military police.


Blood rosewood: Thailand and Cambodia team up to tackle illegal logging crisis and save lives

(04/11/2012) Cambodian and Thai officials have agreed to work together to combat illegal logging of rosewood and resulting violence between Cambodian loggers and Thai rangers, reports MCOT online news. Officials with both nations met on Tuesday and spent three hours discussing the issue.