mongabay.com
July 02, 2012

Infant lowland gorilla in the Congo basin rainforest. Photo by Rhett A. Butler.



Central Africa has the newest World Heritage site.

On Tuesday, the United Nations Education, Science, and Cultural Organization (UNESCO) declared the Sangha Tri-National Protected Area complex (TNS) as a World Heritage Site for its density and diversity of rainforest wildlife. Formed by three contiguous national parks covering 10,000 square miles (25,000 sq km) in Republic of Congo (Brazzaville), Cameroon, and the Central African Republic, TNS is the first World Heritage Site to span three countries.

"The TNS is the wild heart of the Congo Basin Rainforest. It contains some of the last great populations of African forest elephants, gorillas, chimpanzees, and other endangered species," James Deutsch, WCS Director of Africa Programs, said in a statement. "We applaud the World Heritage Committee for acknowledging the area as a global treasure and congratulate the governments of the Republic of Congo, Cameroon, and Central African Republic for their foresight. As everywhere in Central Africa, this global treasure is under threat from unsustainable resource extraction, including the illegal ivory trade, and we hope that the TNS's listing will re-energize global efforts to save it."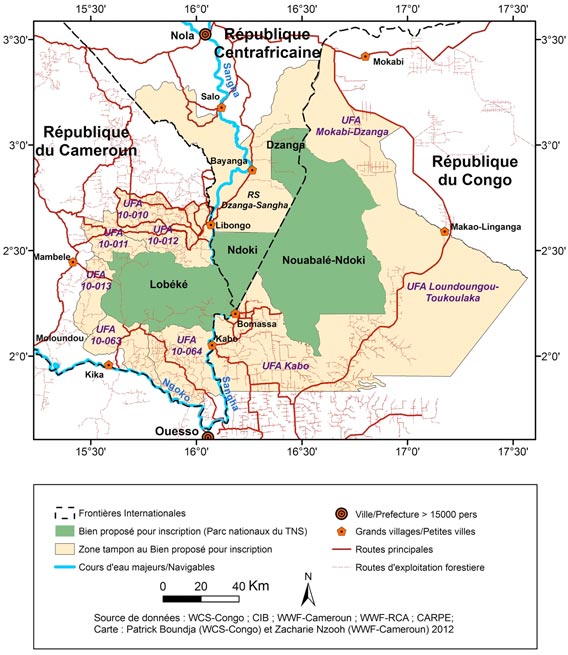 The World Heritage listing for TNS was pushed by a coalition of conservation groups and donors. The parks have received financial and technical assistance from the Wildlife Conservation Society (WCS), World Wildlife Fund (WWF), the TNS Foundation (FTNS), UNESCO's World Heritage Centre, the UN Great Apes Survival Partnership (GRASP), the governments of the U.S., Germany, France and Spain, and private donors.

TNS has a range of habitats including lowland rainforests, swampy wetlands, and natural forest clearings known as bais, where forest elephants are known to gather.

TNS is made up of Dzanga-Ndoki National Park in Central African Republic, Lobéké National Park in Cameroon, and Nouabalé-Ndoki National Park in Congo. The core area is augmented by a 17,880 sq km buffer zone is managed for selective logging.















Related articles