mongabay.com
March 27, 2012
Note: this article was amended shortly after posting to include APP's denial and demand for retraction of the Eyes on the Forest report.



Asia Pulp & Paper (APP) has broken "legally binding" debt restructuring agreements by continuing to clear native forests in Sumatra, alleges a new report from Eyes on the Forest, a coalition of Indonesian environmental groups.

The report, "APP Default on Environmental Covenant," [PDF] says that agreements signed with international creditors in that aftermath of its $13.9 billion default committed APP to protecting high conservation forest. The paper giant also promised to source 100 percent of its fiber from plantations by 2007. Instead, APP has continued to clear increasingly endangered Sumatran rainforest for pulp and new plantations.

"2007 was the year APP's wood suppliers began clearing the very areas of high conservation value forest in central Sumatra's Pulau Muda, a rain forest in the Kerumutan tiger landscape, that had been highlighted by APP as an example of a new 'scientific basis for the sustainable development of our plantations and the management of our conservation areas,'" said Eyes on the Forest in a statement.

"Despite APP's praise for the independent mapping of the high conservation value forest in the Pulau Muda rainforest, our analysis of recent satellite imagery shows a third of the identified 34,000 hectares has now been drained and cleared," added Muslim Rasyid, co-ordinator of Jikalahari (Forest Rescue Network Raiu), a member of Eyes on the Forest.

APP has missed two other deadlines for phasing out rainforest fiber. Accordingly, Eyes on the Forest says APP can't be trusted. The report urges investors not to support APP by financing further expansion.

"This is a company that defaulted on its debts and defaulted on the environmental covenants it agreed to as a condition of restructuring its debts," said Nazir Foead, Conservation Director of WWF-Indonesia, a member of the coalition. "Any support to its plans to expand risks history repeating itself, with any new pulp mills adding to the over-capacity driving the assault on Sumatra's natural forests and wildlife."

"This is not a business model that should be financed by any prudent financial institution or investor for replication in Borneo, Papua or anywhere else."

Earlier this year RISI, a forest products trade publication, reported that an APP affiliate is planning to build a large pulp mill in South Sumatra. The mill, which would effectively double APP's processing capacity, may require more than $1 billion in outside finance.

For its part, APP strongly denies the claims in the Eyes on the Forest report and has asked the coalition to retract the report based on what it calls "baseless" and "inaccurate" claims.

"This report is wholly inaccurate and the allegations made in it are completely without foundation," APP said in a statement. "APP is in the process of taking steps to address these mistaken claims with Eyes On The Forest and wanted immediately to assure all our stakeholders that the allegations in the Report are baseless. At this point we are calling for Eyes On The Forest to immediately withdraw this inaccurate Report from the public domain."

















Related articles

Ministry of Forestry signed off on clearing of forest with protected species in Indonesia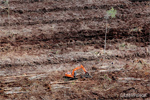 (03/15/2012) Indonesia's Ministry of Forestry signed off on a plan by Asia Pulp & Paper (APP) suppliers to log areas of forest that contained protected ramin species, according to documents released by Greenomics-Indonesia, an activist group. The micro-delineation documents, which are required to win approval for forestry projects in Indonesia, confirm that APP suppliers were aware that ramin trees were present in the concessions, which have since been converted to wood-pulp plantations.


Investigation links APP to illegal logging of protected trees


(03/01/2012) A year-long undercover investigation has found evidence of Asia Pulp and Paper (APP) companies cutting and pulping legally protected ramin trees, a practice that violates both Indonesian and international law. Found largely in Sumatra's peatswamp forests, the logging of ramin trees (in the genus Gonystylus) has been banned in Indonesia since 2001; the trees are also listed under Appendix II of the Convention on International Trade in Endangered Species (CITES) and thus require special permits to export. The new allegations come after APP, an umbrella paper brand, has lost several customers due to its continued reliance on pulp from rainforest and peatland forests in Sumatra.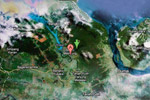 (02/15/2012) Beleaguered paper giant Asia Pulp & Paper was sharply criticized Wednesday for its claims that its operations are certified sustainable by independent auditors. WWF said its survey of certifiers and certification schemes shows that none apply to 'the most controversial operations' of APP's suppliers: clearing of rainforests and peatlands that are home to endangered tigers, elephants, and orangutans. In responding to complaints from environmentalists that its operations are responsible for large-scale destruction of native forests, APP often touts various certification standards which it says demonstrate its commitment to sustainability. Yet the new WWF survey found that these standards don't apply across all of the paper giant's operations — APP's suppliers in Indonesia continue to harvest and convert natural forests. Nor do the certification standards necessarily prove that APP's forest management practices are 'sustainable'.


Some toilet paper production destroys Indonesian rainforests, endangering tigers and elephants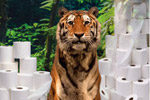 (02/09/2012) American consumers are unwittingly contributing to the destruction of endangered rainforests in Sumatra by purchasing certain brands of toilet paper, asserts a new report published by the environmental group WWF. The report, Don't Flush Tiger Forests: Toilet Paper, U.S. Supermarkets, and the Destruction of Indonesia's Last Tiger Habitats, takes aim at two tissue brands that source fiber from Asia Pulp & Paper (APP), a paper products giant long criticized by environmentalists and scientists for its forestry practices on the Indonesian island of Sumatra. The brands — Paseo and Livi — are among the fastest growing, in terms of sales, in the United States.