mongabay.com
November 01, 2011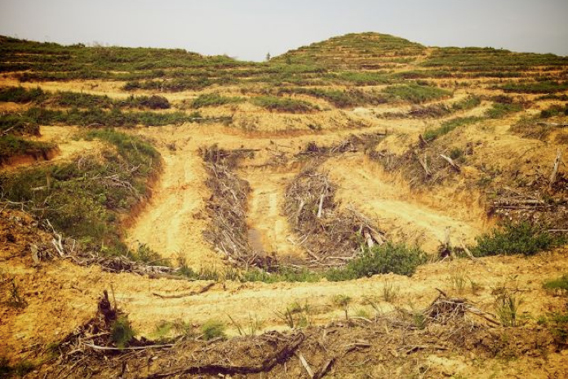 Deforestation for oil palm near Muara Tae, West Kutai, East Kalimantan. Courtesy of Telapak.



A palm oil company has forcibly evicted an indigenous community from one of the last tracts of rainforest near Jempang in Indonesia's East Kalimantan province on the island of Borneo, reports Telapak, a group that advocates community forest management.

The incident, which allegedly took place last week, pitted villagers of Muara Tae against plantation developer PT Munte Waniq Jaya Perkasa after the company acquired 638 hectares of disputed land. Munte Waniq Jaya Perkasa was backed by state security forces.

Abdon Nababan, General Secretary of the Alliance of Indigenous Peoples Archipelago (AMAN), said the conflict arose from the government's failure to recognize traditional ownership of the forest land, which has been used for generations by Dayak Benuaq people.


| | |
| --- | --- |
| | Asuy and the coal mine. Courtesy of Telapak. |
Ambrosius Ruwindrijarto, President of Telapak, demanded that the government of Indonesia halt the eviction process.

"The government must immediately stop the activity of PT Munte Waniq Jaya Perkasa," he said in a statement.

Much of the area around Muara Tae has already been converted for plantations and coal mines. According to Telapak, the establishment of these operations has also resulted in conflict with communities.

Large-scale plantation development -- including oil palm and wood-pulp plantations -- in Indonesia has often displaced traditional forest users. The Ministry of Forestry, which controls roughly 70 percent of Indonesia's forest estate, generally doesn't recognize traditional land claims, despite laws requiring it to do so. Instead, the ministry grants these community lands to developers, who pay for the privilege of converting the forest. When conflicts arise, developers may receive state security forces to intimidate or even forcibly displace villagers.

Oil palm concessions are generally granted by local officials, who have been known to turn a blind eye to strong-arm tactics by developers.

Earlier this year, Kuntoro Mangkusubroto, head of the Indonesian President's REDD+ Task Force, said the government would immediately work to implement a decade-old law that requires recognition of adat or customary rights. The effort will include developing a land tenure map so government agencies can better understand how communities are using land and delineating the legal status of the Indonesia's forest area. Only 12 percent of the Indonesia's forest area has been legally delineated, according to Kuntoro.

















Related articles