Jeremy Hance
mongabay.com
October 06, 2011
The US Fish and Wildlife Service announced yesterday that the believe two species in Florida have vanished into the long dark night: the South Florida rainbow snake (
Farancia erytrogramma seminola
) and the Florida fairy shrimp (
Dexteria floridana
). The species were under review for possibly being added to the Endangered Species Act (ESA), but it's likely the review came decades too late.
"We don't have anything in our files that indicates that they've been seen in 50 years or more," said Chuck Underwood, a spokesman for the Fish and Wildlife Service. "We don't think they're out there anymore."
A subspecies of the rainbow snake, the South Florida rainbow snake was known from Fisheating Creek, near Lake Okeechobee. Whereas, the Florida fairy shrimp was known from pools south of Gainesville. The pools, and subsequently, the species were likely destroyed by development.
The review of the species came from a petition filed by the Center for Biological Diversity (CBD) to the government to look at over 400 aquatic species in the US. In addition, the organization recently reached a legal decision with the US Fish and Wildlife Service to speed up decisions on 757 species that may warrant protection under the ESA. Many species linger for decades before being granted a scientific hearing on their eligibility for protection under the ESA.
"It's heart-wrenching to learn that these two unique Florida species have been lost forever," said Tierra Curry, a conservation biologist with CB, adding that "like most species that go extinct, these two were not protected under the Endangered Species Act, which is the most powerful tool we have for saving our nation's plants and animals from disappearing."
Scientists warn that the Earth is entering a mass extinction period with extinction levels jumping to 100 to 1,000 times the average rate over the past 500 million years. Unlike other mass extinction events, however, this one is due largely to the actions of one species: humans. Species are imperiled by habitat loss, deforestation, climate change, pollution, overexploitation, invasive species, among other impacts.
Related articles

Over 80 percent of rediscovered species still face extinction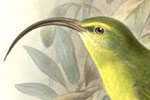 (08/18/2011) Imagine if your job was to locate extinct species. In 2010, biologists with The Search for Lost Frogs set out on a tropical mission hoping to confirm the existence of frog species not seen in decades. The team recovered proof of four out of a hundred missing species, including a toad among the expedition's Top Ten Amphibians list. According to a new study study in the open access journal PLoS ONE, such biological surveys are critical conservation tools to prevent the 'romeo error': the abandonment of conservation efforts due to belief that a species is extinct. The study, the first of its kind, found that rediscovered species are especially in danger of vanishing again, this time altogether, without targeted conservation measures.


Climate change to push over 10 percent of the world's species to extinction by 2100

(07/11/2011) Scientists have predicted for decades that climate change could have a grave impact on life on Earth, which is already facing numerous threats from habitat loss, over-exploitation, pollution, invasive species, and other impacts. However, empirical proof of extinctions--and even endangerment--due to climate change have been difficult to come by. A new study in the Proceeding of the National Academy of Science has found that by the time today's infants are 90 years old (i.e. the year 2100) climate change could have pushed over 11 percent of the world's species to extinction.


Last search for the Eskimo curlew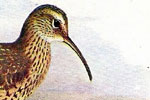 (06/29/2011) The Eskimo curlew is (or perhaps, 'was') a small migratory shorebird with a long curved beak, perfect for searching shorelines and prairie grass for worms, grasshoppers and other insects, as well as goodies including berries. Described as cinnamon-colored, the bird nested in the Arctic tundra of Alaska and Canada during the summer and in the winter migrated en masse as far south as the Argentine plains, known as the pampas. Despite once numbering in the hundreds of thousands (and perhaps even in the millions), the Eskimo curlew (Numenius borealis) today may well be extinct. The US Fish and Wildlife Service (USFWS) has decided to conduct a final evaluation of the species to determine whether its status should be moved from Critically Endangered to Extinct, reports Reuters.