Commentary by Elfian Effendi, special to mongabay.com
July 29, 2011
The following is a commentary from Elfian Effendi, Director of Greenomics, an Indonesian NGO. Effendi's views are his own and do not necessarily reflect the views of mongabay.com.



The slideshow titled "APP: Establishing the Facts" would indeed be laughable if they were not so sad. In the slides on "Investing in Biodiversity," Asia Pulp & Paper (APP) appears to want to show how innovative it is in the conservation arena by focusing on the Javan rhino. The slides depict photos of wildlife and the Javan Rhino Sanctuary.

I met today with the Indonesian Rhino Foundation (YABI) Director Widodo Ramono, who spoke to me about the differences of opinion among stakeholders as regards the fencing in of Ujung Kulon National Park, ostensibly for the purpose of developing the "Javan Rhino Sanctuary and Conservation Area" (JRSCA).

I don't intend to dwell on these differences of opinion here as Greenomics Indonesia is still engaged in discussions with other stakeholders. Rather, I only want to convey the surprise I got when I asked Widodo Ramono about APP's involvement in the campaign to save the Javan rhino. I then showed him the APP slides on "Innovation in Active Conservation," including the "Javan Rhino Sanctuary of 76,000 hectares."

Why was I surprised? Because Widodo, as well as one of his assistants, stated categorically that the photo of a Javan rhino used by APP was not in fact a Javan rhino at all, but rather a Sumatran Rhino. I was taken aback, to say the least.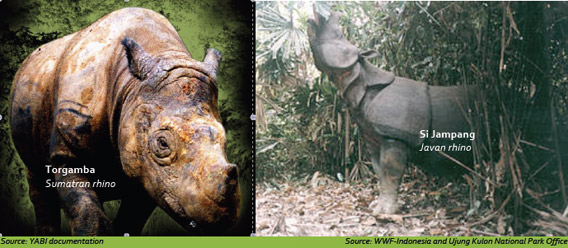 Javan and Sumatran rhinos

Widodo and his assistant were virtually reduced to hysterics. Not only could they identify the animal as a Sumatran rhino, they could even put a name on him. It was Torgamba. Shaking their heads, both confessed to being astounded that a Sumatran rhino could be confused for a Javan rhino.

However, the mirth and astonishment turned sadness after they recalled that Torgamba had passed away at the end of April. Widodo then opened his laptop and showed me photos of Torgamba when he was still alive.

He also showed me a photograph of two animals, one from each species, so as to highlight the differences between the Sumatran and Javan rhino. The Sumatran rhino in the photo was none other than Torgamba.


| | |
| --- | --- |
| | APP says it is supporting rhino conservation by providing funds to communities that live in the vicinity of Ujung Kulon National Park. |
After the meeting, I remembered APP's consistent assertions that they only use degraded land for the development of their pulpwood plantations. The reality is, however, that they are undeniably felling natural forest and digging up peatland to expand their plantation operations. This is proven beyond all doubt by the data and maps produced by the Indonesian Minister of Forestry. Nevertheless, APP continues to try to defend the indefensible.

I am now more convinced than ever that misrepresentations, and even outright lies, are the rule rather than the exception in APP's publicity campaigns. They will apparently stop at nothing, even trying to claim that a Sumatran rhino is a Javan rhino! Are they now going to compound their guilt by persisting with this claim?

















Related articles