Jeremy Hance
mongabay.com
March 02, 2011
The Eastern cougar, a likely subspecies of the mountain lion, was officially declared extinct today by the US Fish and Wildlife Service, ending 38 years on the Endangered Species List (ESA). The cougar, which once roamed the Eastern US, had not been confirmed since 1930s, although sightings have been consistently reported up to the present-day.

"We recognize that many people have seen cougars in the wild within the historical range of the eastern cougar. However, we believe those cougars are not the eastern cougar subspecies. We found no information to support the existence of the eastern cougar," explained the Service's Northeast Region Chief of Endangered Species Martin Miller.

Cougars sighted in the area may be western mountain lions expanding their range or escaped pets.

Remaining cougar subspecies in the US include the North American cougar, inhabiting the western US, and the Florida panther, which is considered Critically Endangered by the IUCN Red List, and survives in a few protected areas in Florida.

The Eastern cougar is not the first megafauna subspecies to vanish in the US. Both the Eastern elk and Merriam's elk were killed off in the late nineteenth century; the California golden bear vanished in the 1920s while the Mexican grizzly bear became extinct in the 1960s; and a number of contested subspecies of wolf have also vanished in the US including the Florida black wolf, the cascade mountain wolf, and the southern Rocky Mountains wolf.

















Related articles

American cougars on the decline: 'We're running against the clock,' says big cat expert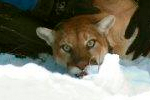 (01/17/2011) It holds the Guinness World Record for having the most names of any animal on the planet, with 40 in English alone. It's also the widest-ranging native land animal in the Americas, yet is declining throughout much of its range. Mongabay talks with big cat expert Dr. Howard Quigley about the status and research implications of the elusive, enigmatic, and unique cougar.


Conservation groups propose ban on lion parts in US

(03/02/2011) It's not widely known that the African lion ((Panthera leo) is currently threatened with extinction in the wild, but listed as Vulnerable by the IUCN Red List, the king of animals has declined by over 90% in the past 50 years (from 450,000 lions to between 20,000 and 40,000 today). While conservation work to save the species is on-going in Africa, efforts have now moved to the US as well, where a coalition of conservation groups are filing a petition with the US Department of the Interior to list lions as 'endangered' under the Endangered Species Act (ESA). Such a listing would make it illegal to bring lion parts in the country, including those killed by recreational trophy hunters.


Asia's last lions lose conservation funds to tigers

(01/24/2011) The last lions of Asia and the final survivors of the Asiatic lion subspecies (Panthera leo persica) are losing their federal conservation funding to tiger programs, reports the Indian media agency Daily News & Analysis (DNA). While the Asiatic lion once roamed Central Asia, the Middle East, and even Eastern Europe, today the subspecies survives only in India's Gir Forest National Park in the north-western state of Gujarat.